Cyprus' housing market continues to recover
September 02, 2017

After eight long years of house price falls, Cyprus' housing market is now stabilizing, amidst an improving economy. During the year to Q1 2017, the nationwide residential property price index increased slightly by 0.14% (-1.74% inflation-adjusted), after y-o-y declines of 0.94% in Q4 2016, 1.21% in Q3, 1.71% in Q2 and 1.6% in Q1, according to the Central Bank of Cyprus.

On a quarterly basis, residential property prices rose by 0.27% (0.12% inflation-adjusted) in Q1 2017.

By district:

Nicosia, Cyprus' capital, residential property prices were unchanged during the year to Q1 2017 (-1.9% when adjusted for inflation)
In Limassol, prices increased 0.9% y-o-y to Q1 2017 (-1% inflation-adjusted)
In Larnaca, prices declined by 0.9% y-o-y to Q1 2017 (-2.7% inflation-adjusted)
In Paphos, prices dropped 1.3% y-o-y to Q1 2017 (-3.2% inflation-adjusted)
In Farmagusta-Paralimni, residential property prices dropped 3.6% y-o-y to Q1 2017 (-5.4% inflation-adjusted)

By property type, apartment prices increased 1.6% during the year to end-Q1 2017 (-0.3% inflation-adjusted). On the other hand, nationwide houseprices dropped 0.3% (-2.1% inflation-adjusted) over the same period.

Demand is now rising sharply. During the first seven months of 2017, property sales in Cyprus rose by 19.6% to 4,349 units from a year earlier. Sales to the domestic market rose 12.6% and sales to the overseas market were up by 41.3%, based on figures from the Department of Lands & Surveys.

Likewise, the number of dwelling permits soared 41% y-o-y to 1,889 units during the first five months of 2017, according to the Statistical Service of Cyprus.

This across-the-board housing market improvement is partly driven by Cyprus' recovering economy. In 2016, the economy grew by 2.8%, an improvement from an annual growth of 1.7% in 2015 and y-o-y declines of 1.5% in 2014, 6% in 2013, and 3.2% in 2012, according to the International Monetary Fund (IMF). The economy is projected to expand by 2.5% this year, and by another 2.3% in 2017.

The Cyprus real estate market has historically been divided into the major urban centres of Nicosia, Limassol and Larnaca (primarily driven by local demand); and the seaside resort areas of Paphos and Famagusta, which are mostly driven by foreign demand. The economic decline of recent years affected both areas.

The housing market is expected to continue to improve in the coming months, amidst continued economic growth and improvements in the banking system.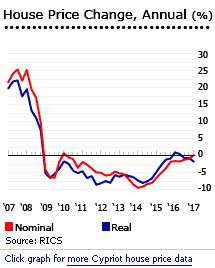 "We expect property prices to broadly stabilise over the coming quarters, and the demand for property to increase gradually from low levels," said Moody's Investor Service.

Foreigners can buy one home in Cyprus, and are entitled to hold land freehold, but there is a maximum limit on land ownership of 3 donums (4,014 sq m).