The Belgian housing market is felt by many analysts to be overvalued. But Belgium's house prices continue to rise, amidst strong demand and slowing residential construction activity.

During the year to Q3 2019, the nationwide house price index in Belgium rose by 3.93% (2.73% inflation-adjusted), after rising 2.54% in the equivalent period last year, according to the Statistics Belgium. Quarter-on-quarter, the index increased 2.92% in Q3 2019 (3.03% inflation-adjusted).

Existing dwelling prices increased 4.37% y-o-y in Q3 2019 (3.17% inflation-adjusted). New dwelling prices rose by 2.09% over the same period (0.92% inflation-adjusted).

Belgium's housing market remains vibrant. The number of transactions for houses rose by 3.6% y-o-y during the first three quarters of 2019, according to Statistics Belgium. Likewise, apartment transactions increased 8.5% over the same period.

Despite rising demand, residential construction activity is slowing in Belgium. During the first eight months of 2019, the number of dwelling permits fell by almost 19% y-o-y to 36,126, and residential building permits issued also declined by 10.5% to 18,157, according to Statistics Belgium.

During Belgium's housing boom (2000-Q3 2008), nationwide house prices soared by 129% (86% inflation-adjusted). Since the crisis, house prices have followed the economy. When the economy was strong, house prices rose. When the economy was weak, house prices stagnated.

When the economy emerged from recession in 2011, the housing market bounced back strongly with Brussels house prices surging by 9.58% (5.7% inflation-adjusted). House prices rose slowly post-recession, by 1.12% in 2012, 1.13% in 2013, 0.96% in 2014, and 1.52% in 2015.

Since then the pace has quickened. House prices rose by 2.54% in 2016, 3.55% in 2017, and 2.52% in 2018, amidst improved economic growth.

Belgian house prices are projected to rise by about 3.2% in 2019 and by another 2% in 2020, according to ING Bank.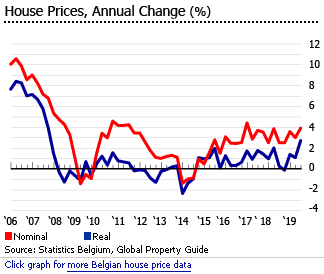 However in 2019, the Belgian economy was estimated to have expanded by only 1.3%, the lowest growth since 2013, based on the latest projections released by the National Bank of Belgium (NBB). The European Commission is even more pessimistic, projecting a minuscule real GDP growth of 1.1% for the country in 2019, amidst a slowing global economy. But this remains at par with Belgium's average economic growth of 1% annually from 2008 to 2018.

There are no foreign ownership restrictions in acquiring Belgian property.