Trinidad and Tobago's property prices are now rising modestly
May 22, 2016

In 2015, residential property prices in Trinidad and Tobago rose by about 6%, according to Patricia Phillips of Island Investments Company Ltd. However Phillips noted that "the market is still on the road to recovery, and it's still a buyer's market."

Property prices fell 20% from 2007 to 2009 due to the global crisis. Trinidad and Tobago's property prices started to rise again in 2014, after a lacklustre performance over the past several years, according to the Association of Real Estate Agents (AREA).

The country did not recover as quickly as some Caribbean nations mainly due to a government mandate issued in 2007 requiring foreign investors to obtain a license for all land purchases in Tobago. Foreign homebuyers, who mostly come from Britain, Germany, the United States and Canada, declined sharply. The problem was exacerbated by the global crisis, according to Walter Zephirin of Seventh Heaven Properties.

House prices in the islands range from around TT$1.5 million (US$240,000) to TT$8 million (US$1.26 million), depending on size, location and amenities - though of course there are super-luxurious and also low-end houses that fall well outside this range.

In Trinidad, the price of three-bedroom single-storey home starts at around US$310,000 in January 2016, according to Sarah Joseph, a real estate broker with Sunrise Properties. In the more desirable neighborhoods of West Trinidad, modern homes are priced from about US$550,000.

At The Crossings, located on the outskirts of the bustling town of Arima in Trinidad, three bedroom houses are currently being offered from around TT$1.76 million (US$265,000) to TT$2.2 million (US$330,000). On the other hand, residential land in The Crossings sells for less than TT$120.5 (US$19) per square foot (sq. ft.).

In Tobago, the price of small condominiums starts at around US$390,000 while single-family homes start at about US$550,000.

Despite improving conditions, falling oil prices may hinder a full-scale recovery of the housing market this year, according to local real estate experts. The economy is largely dependent on the country's large oil and gas reserves, particularly in Trinidad.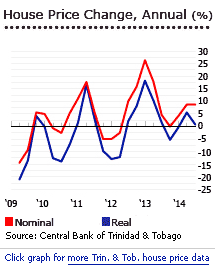 In 2015, the economy contracted by 1.8%, after falling 1% in 2014.  Before that, there was growth of 1.7% in 2013 and 1.4% in 2012. The economy is projected to contract again by 1.1% this year, according to the International Monetary Fund (IMF).

In Trinidad, foreign real estate buyers can buy up to one acre of property for residential use without a license. In Tobago, by contrast, no license have been issued to foreign buyers since a requirement for licenses was introduced in October 2007.

Buyers are required to pay 5% to 10% stamp duty, plus legal fees.


Analysis of Trinidad and Tobago Residential Property Market »