St. Lucia's thriving property market
July 27, 2016

St. Lucia's property market is vibrant once more, thanks to continued growth in tourism, coupled with the introduction of the Citizenship by Investment program. The property market is largely dependent on tourism, because most buyers of luxury homes start out as tourists.

Property buyers who invest in St. Lucia "are persons who have visited and have developed a love affair with the destination," said Jason Applewhite of Christie's International Real Estate. Most foreign homebuyers in St. Lucia come from the United States, Canada, and the United Kingdom.

Aside from the increased interest from foreign homebuyers, developers and investors are also starting to return to St. Lucia, according to local property experts.

Property prices dropped 20% to 30% from 2009 to 2014, due to the global crisis. The housing market started to pick up only at the end of 2014.

"People have recognized that we have hit the bottom, and there literally has not been a better time to buy property in St. Lucia than right now," said Christos Poravas, CEO of St. Lucia Sotheby's International Realty.

Overall, the property market remains a buyer's market. However, some sellers have recently "raised their asking price by 25 percent" as the property market continues to pick up, Poravas added.

The higher-end residential market is the strongest. Larger apartment prices have risen from US$2.15 million maximum in 2011, to more than US$3 million in recent months.

Currently, residential property prices in St. Lucia vary from US$700,ooo to US$15 million, with most luxury homes in the US$2 million range, according to Poravas.

Three-bedroom apartments in a five-star resort are priced at around US$2 million
Six-bedroom villas located on Rodney Bay are selling for about US$5 million

In The Landings, in Rodney Bay on St Lucia's northwest, two-bedroom apartment prices now start at US$700,000. The Landings was St. Lucia's first residential private yacht harbour. It opened in December 2007. About 70% of buyers are British.

In the Allamanda, villas now sell at US$1.95 million, slightly up from US$1.9 million in 2014 and from US$1.85 million in 2011. The Allamanda is in Anse Galet, on St Lucia's northernmost tip.

In Mount du Cap estate, situated in Gros Islet, three to four-bedroom luxury homes are priced from US$2.5 million. Also located in Cap Estate, Gros Islet is the Tradewinds Golf Villas development, where prices of high-end villas start from US$1.1 million.

In the Windjammer Landing, located in the Gros Islet, prices of private suites and villas ranging from one to four bedrooms start from US$700,000. At The Ocean Breeze development on Mount Layau, prices of three to four-bedroom villas start from US$437,000.

Villa Atlantis, a six-bedroom villa with a 60ft infinity pool, is currently selling for US$3.99 million. On the other hand, one of the Glenconner Beach Residences, located in Sugar Beach, is on sale for US$16 million.

The lower-end market is also strong. Condominiums located in Rodney Bay, which range from US$200,000 to US$550,000, are always in demand, said Maria Buchner of Blue Reef Real Estate.

Tourist arrivals in St. Lucia continue to rise. In 2015, the total number of visitor arrivals in St. Lucia increased 3.8% to 1,073,019, after rises of 7.6% in 2014 and 3.2% in 2013, according to the St. Lucia Tourist Board.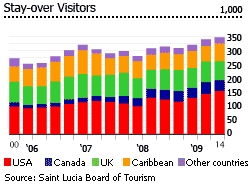 In addition, in January 1, 2016, St. Lucia started to accept applicants to its Citizenship by Investment program, joining Dominica, Grenada, Antigua & Barbuda, and St. Kitts & Nevis, as a Caribbean country offering citizenship to foreign investors.

In 2015, the economy grew by 1.6%, after minimal GDP growth of 0.46% in 2014 and 0.14% in 2013 and a contraction of 1.1% in 2012. St Lucia's economy is expected to expand by 1.4% this year and by another 1.9% in 2017, according to the International Monetary Fund(IMF).