Puerto Rico's property market remains depressed, amidst continued economic woes
August 02, 2017

Demand continues to fall, amidst continued economic woes, massive debt, and population loss. During the year to end-Q1 2017, the seasonally-adjusted purchase-only house price index fell by 5.01% (6.96% inflation-adjusted), compared to a y-o-y decline of 6.25% a year earlier, according to the Federal Housing Finance Agency (FHFA). On a quarterly basis, house prices dropped 1.03% (-1.62% inflation-adjusted) in Q1 2017.

In April 2017, the total number of houses sold in Puerto Rico fell by 4.6% to 893 units from the same period last year, according to the Puerto Rico Planning Board. Sales of newly-built housing units fell 28%.

The total value of real estate loans outstanding fell 4% to US$22.67 billion in 2016, after y-o-y declines of 12% in 2015, 2% in 2014 and another 12% in 2013, according to the Government Development Bank (GDB).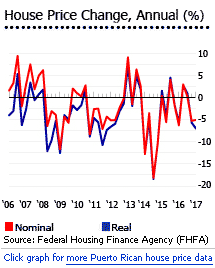 Residential construction activity remains weak. In2016, the value of residential construction was US$609.8 million, up 2.8% from a year earlier but far below the peak of US$2.33 billion recorded in 2007.

"The real estate in Puerto Rico has not recovered and continues to go down," said Joanna Rolston of AbroadDreams.com.


Analysis of Puerto Rico Residential Property Market »