Booming tourism buoys Jamaica's housing market
Jamaica's housing market continues to strengthen, thanks to booming tourism. In 2018, the island received a record-breaking 4.32 million visitors. With TripAdvisor ranking Jamaica among the world's 25 best tourist destinations for 2019, visitor arrivals are expected to set a new record this year.
"We anticipate that we'll be seeing many more tourists in our capital city and many more real estate investors," said Andrew Issa of Coldwell Banker Jamaica Realty.
Vacation homes located in Montego Bay area, Ocho Rios, and Negril are attracting foreign homebuyers. Port Antonio is also slowly gaining popularity after an airport expansion in the area, according to Nicola Delapenha of Coldwell Banker Jamaica. Vacation homes are priced from US$ 800,000 to US$10 million, according to Seventh Heaven Properties managing director Walter Zephirin.
Foreign investors dominate the high-end market, while young Jamaican professionals who are first-time homebuyers fuel demand for mid-income bracket properties.  The recent reduction of mortgage interest rates and increased loan limits in some banks is boosting housing demand this year.
"In the residential market, you have first-time homebuyers who now qualify to buy based on their NHT mortgage points and low-interest rate mortgage instruments being offered," Issa noted.
Demand for homes costing J$25 million (US$ 185,600) and below showed strong growth in recent years, while houses worth above J$40 million (US$297,000) had the least growth. There was an increase in demand for townhouses, apartments, and for properties in gated communities.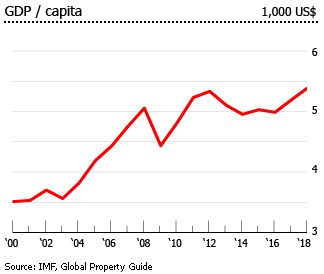 "I predicted 2019 will be a very strong year for real estate as demand continues to be driven by stable, strengthening economy with low mortgage rates. Jamaica has been back on the international list as a country in which to invest from early 2018," said Issa. "While crime did slow the momentum, it appears that Jamaica's economic indicators are within the parameters for foreign investors."
There are no restrictions on foreign ownership of property in Jamaica.
Rental yields appear to be high
Gross rental yields on apartments range from 9.67% to 13.24%, according to the Global Property Guide research. The gross rental yield is the rental return that a landlord will make on his property, before repairs, taxes, empties, and other costs. But our understanding of yields in Jamaica is weak, because the data dates back to December 2013.
There have been small increases in housing rents in Jamaica recently. In April 2019, monthly housing rents in the country rose by 0.3% from the same period last year, based on the nationwide consumer price index released by the Bank of Jamaica.
Low mortgage rates combined with competition among leading mortgage providers have spurred real estate sector performance, notes Carlene Sinclair, President of the Realtors Association of Jamaica and a Property Solutions Limited broker.
Booming tourism
Tourism is Jamaica's largest earner of foreign exchange and the second largest employer in the country.  Stay-over visitor arrivals rose 9.1% to reach 1.87 million people in the first 9 months of 2019 compared to the same period last year, causing tourism revenues to surge 12% y-o-y to US$2.39 billion.
"Tourism is growing at a phenomenal rate," said Jamaica's Minister of Tourism Edmund Bartlett. "The impact of this is seen in the growth of the small and medium enterprises across Jamaica."
Most visitors came from the United States, Canada, and Europe.  Stay-over visitors are expected to reach 2.68 million this year, an increase of 8.4% over 2018.
Starting December 2, 2019, LATAM Airlines will commence service between Lima, Peru and Montego Bay, with three flights per week, increasing the number of flights out of South America to 14, with COPA Airlines currently operating 11 weekly flights between Jamaica and Panama. Both American Airlines and Delta Airlines are planning to open new direct services from New York and Detroit in December 2019. Two Russian-based carriers have also shown interest to operate weekly flights from Moscow to Montego Bay.
New developments expected to boost the hotel sector's room stock include:
AC Hotel by Marriott opened in June 2019 with 220 rooms in Kingston
Half Moon's 57 new rooms and suites in Montego Bay is opening by December 2019
The RIU in Ocho Rios has reopened in September 2019 with its 790 refurbished rooms and an additional 45 family rooms
The new Oceans by H10 Hotel Group in Trelawny is scheduled to open in November 2019, with its first 500 rooms
Karisma is also planning the construction of a 3,000-room hotel project in St. Ann.
In 2015, the United Nations Educational, Scientific and Cultural Organization (UNESCO) designated Jamaica´s Blue and John Crow mountains as world heritage sites and awarded Kingston membership in its Creative Cities Network in the field of music.
Mortgage rates falling
In July 2019, the average interest rate for mortgage loans in commercial banks in the country was 7.88%, down from 8.53% a year earlier and the lowest level in more than eight years, according to the Bank of Jamaica. For building societies, the average mortgage loan rate stood at 8% in June 2019, down from 8.46% in June 2018 and 8.89% two years ago.
For foreign currency-denominated loans:
For USD-denominated mortgage loans, the average mortgage loan rate dropped to 7.15% in June 2019, from 7.57% a year earlier
For CAD-denominated loans, the average mortgage loan rate was unchanged at 5% in June 2019.
For GBP-denominated loans, the average mortgage loan rate was 7% in June 2019, up from 6.29% a year ago.
The maximum loan-to-value (LTV) ratio for foreigners is about 70% of the appraised value of the property, with a term period of 20 years.
However the mortgage market is really small, at around 1.4% of GDP in the past three years. High unemployment and weak disposable income are to blame, says the central bank.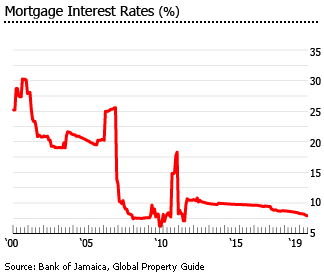 A government-owned company, the National Housing Trust (NHT), leads the mortgage market with around 90% market share in 2018, based on the figures from the BOJ.  Credit unions have a market share of 8.8%, insurance companies have 1%.
In 2019:
The National Housing Trust (NHT) increased its loan ceiling from J$5.5 million (US$40,915) to J$6.5 million (US$48,354).
The NHT´s interest rate was lowered by 100 basis points for all categories of borrowers.
NHT's minimum income band was raised from J$12,000 (US$89) per week to J$15,000 (US$112) per week at the same zero interest rate, allowing more persons to access the home grant.
Construction loans will be set at the value of a two-bedroom house in the scheme where the service lot is purchased instead of the difference between the cost of the lot and the NHT loan limit.
Recently, the NHT also introduced intergenerational mortgages, with a loan period of 60 years. The aim of is for the child or younger sibling to agree to carry the mortgage obligation when the older mortgagor retires or dies.
In October 2013, the Jamaican Cabinet approved an amendment to the Mortgage Insurance Act, raising the Mortgage Indemnity Insurance to 97% of the appraised value, up from 90%. The amendment means buyers are required to deposit only 10% of a property's value, including stamp duty and transfer tax, instead of the previous 15%.
NHT-initiated housing projects
The NHT is the main government body mandated to increase the available housing stock in Jamaica, as well as to provide financial assistance to homebuyers. US$40 billion has been allocated to construct over 8,000 housing units nationwide in FY2019/20 – the largest ever in the agency's 43-year history. NHT aims to build 23,000 housing units by 2021. In 2018, housing completions under the National Housing Trust (NHT) surged 88% to 2,277 units from a year earlier.
NHT Projects Under Construction

Project Name
Location
No. of Units
Date of Completion
Colbeck Castle
St. Catherine
1,323
2021
SilverSun Estate
St. Catherine
1,200
2023
The Estuary, Phase 1
St. James
1,500
2019
Brompton Manor
St. Elizabeth
54
2020
Cashew Grove (serviced lots)
St. James
181
TBA
Friendship Phase 1
St. Elizabeth
246
2020
Heathfield Palms
St. Catherine
98
TBA
Hellshire 2 (serviced lots)
St. Catherine
92
2019
Hellshire 3
St. Catherine
113
2019
Hummingbird Meadows (Sevens 1) (serviced lots)
Clarendon
150
TBA
Industry Manor
Hanover
62
2019
Masemure
Westmoreland
97
2019
Monymusk 2 (serviced lots)
Clarendon
351
2019
Monymusk Glades
Clarendon
85
2019
Ruthven Housing Devt. (Phase 1)
St. Andrew
86
2020
Savannah Park
Westmoreland
41
2019
The Orchards
St. Catherine
150
2020
Villa Nova
St. Catherine
31
2020
Vineyard Town
St. Andrew
14
2019
Vineyard Town Projects (Third & Central Ave.)
Kingston
14
2019
Windsor
Trelawny
198
2019
Source: National Housing Trust
Is Jamaica now on a more hopeful path?
Despite these positives, the Jamaican economy has performed very poorly for a long time, and the country is still on International Monetary Fund (IMF) life support because of its high debt levels.
Jamaica is estimated to have grown by 1.4% in 2018, after miniscule growth of 0.7% in 2017, 1.5% in 2016 and 0.9% in 2015, according to the International Monetary Fund (IMF).
Longer-term, the numbers are even worse. Jamaica grew by only 1.3% annually from 1998 to 2007. There was a GDP contraction by 0.8% in 2008, when it was the only Caribbean country aside from the Bahamas to experience recession. GDP fell by 3.4% in 2009, followed by a 1.4% decline in 2010. After weak growth of 1.4% in 2011, the economy slipped again into recession in 2012, contracting by around 0.5%.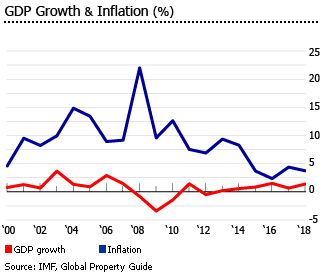 The economy is projected to grow by around 1.7% this year and by another 1.9% in 2020, based on IMF estimates.
Things may be changing. There´s been a sea-change in attitudes over the past few years, and in September 2019, Jamaica completed the final review of its three-year US$1.6 billion precautionary stand-by arrangement (SBA) with the IMF, which will expire on November 8, 2019.
"Budget discipline combined with a reorientation of the fiscal system, including the shift from direct to indirect taxes pioneered by this government, has helped put public debt on a sustained downward path," said the IMF.
While government gross debt was still high at 99.4% of GDP in 2018, it was already a significant improvement from 138.7% of GDP in 2013.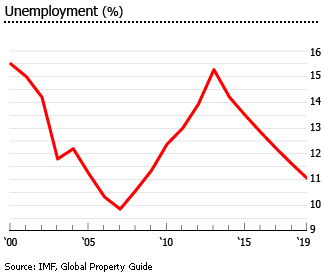 Upon approval of the review an additional US$220 million will be made available, bringing Jamaica´s total accessible credit to about US$1.63 billion.
The country´s inflation rate slowed to 2.4% last year, from an annual average of 10.7% from 2001 to 2014.
Unemployment stood at 7.8% in April 2019, down from 13.7% in April 2016, according to STATIN.
In September 2019, Standard & Poor's Global Ratings raised Jamaica's long-term foreign and local currency sovereign credit ratings to 'B+' from 'B', with a stable outlook.  Moody's and Fitch had both upgraded Jamaica's credit ratings earlier.
The Jamaican Logistics Hub
But if further growth is to come, the real hope is the Jamaican Logistics Hub. In April 2014, Jamaica agreed with China on this US$15 billion project, which aims to make Kingston the fourth node in the global logistics chain, along with Singapore, Dubai, and Rotterdam.
If this really works out, this alone could solve most of Jamaica's economic problems. The 20-year master development plan was proposed by the Jamaica Chamber of Commerce to the government and World Bank (WB) in January 2013. The WB agreed and granted funding. The Jamaica Observer reported that the plan includes developments in:
Kingston Harbour shoreline - Port Royal to Kingston to Hellshire
Transportation systems for Kingston and Montego Bay
Caymanas logistics hubs
Montego Bay and Falmouth
In May 2018, the Cabinet finally approved the master plan and implementation strategy for the Jamaica Logistics Hub Initiative (JLHI). The master plan recommends land use and infrastructure improvements, including the creation of zones and the development and upgrade of ports.
The project entails about 3,900 hectares of development across the country costing US$28 billion, and has the potential to create around 87,000 direct jobs.
The Special Economic Zone (SEZ) law, already enacted, will "provide the legislative framework to attract manufacturing companies and technology firms to engage in value added activities on goods trans-shipped through Jamaica". A Free Zone Council has already been created to watch over the enactment of the new rules.
Crime and violence
Petty theft and pick pocketing remain common in tourist areas, particularly in the downtown "Hip Strip" of bars, clubs, and vendors in Montego Bay. While most criminal activity is "Jamaican on Jamaican" violence involving gangs and organized criminal elements, foreigners should remain cautious. In fact the US Department of State Travel Advisory recently warned visitors to avoid some areas of Kingston, Montego Bay, and Spanish Town due to violent crime.
Kingston's high-crime areas include Mountain View, Trench Town, Tivoli Gardens, Standpipe, Cassava Piece, Grants Pen, and Arnett Gardens. In Montego Bay, visitors must avoid Flankers, Canterbury, Norwood, Rose Heights, Clavers Street, and Hart Street, according to Overseas Security Advisory Council (OSAC).
Jamaica has one of the highest per capita murder rates in the world, mainly due to gang-related violence. Homicide rate fell to 47 per 100,000 in 2018, from 56 per 100,000 in 2017, but remains three times higher than the average for Latin America and the Caribbean, according to the OSAC´s Crime and Safety Report.
Recently, the IMF cited crime as the number one impediment to economic growth.
CRIMES IN JAMAICA, 2018

Total
Annual change (%)
Murders
1,287
-21.9
Shootings
1,154
-22.3
Aggravated Assaults
369
-12.8
Rapes
432
-12.2
Robberies
1,085
-15.0
Break-ins
1,150
-3.9
Source: OSAC
Sources:
Jamaica - More data and information