Jamaican housing market remains strong
October 05, 2017
"Growth isn't just occurring in our backyards, it is occurring in all corners of the market." That's the view of Coldwell Banker Jamaica's agency director, Andrew Issa. 2016 was an incredible year, he adds, as the Jamaican housing market continues to strengthen.
Foreign investors dominate the high-end market, while young Jamaican professionals who are first-time homebuyers fuel demand for mid-income bracket properties.
"Just a few weeks ago, the New York Times mentioned Kingston as one of its 52 Places To Go In 2017. We anticipate that we'll be seeing many more tourists in our capital city and many more real estate investors. And apart from the Kingston market, investor confidence is building island-wide," stated Issa in a recent Coldwell Banker Jamaica publication.
Vacation homes located in Montego Bay area, Ocho Rios, and Negril are attracting foreign homebuyers. Port Antonio is also slowly gaining popularity after an airport expansion in the area, according to Nicola Delapenha of Coldwell Banker Jamaica. Vacation homes are priced from US$ 800,000 to US$10 million, according to Seventh Heaven Properties managing director Walter Zephirin.
Turning to domestic buyers, the recent reduction of mortgage interest rates and increased loan limits in some banks beefed up housing demand in 2016. Demand for homes costing J$25 million (US$ 192,986) and below showed strong growth over the past year, while houses worth above J$40 million (US$ 308,777) had the least growth, according to the Jamaica National Bank (JNB, formerly the Jamaica National Building Society).
Similarly, BNS Jamaica Ltd (Scotiabank) saw higher demand for units ranging from J$20 million (US$ 154,388) to J$25 million (US$ 192,986). The bank also noted that there was an increase in demand for townhouses, apartments, and for properties in gated communities. 
Some property developments that broke ground this year targeting professionals include the Ruthven Towers apartments in St. Andrew, whose 226 apartments are set to be completed in July 2019. The starting price of the apartments is estimated to be at around J$18 million (US$ 138,950). Another is Wihcon Ltd's residential housing scheme "Lofts", a 128-unit apartment complex on Arthur Wint Drive, Kingston, priced from J$13.8 million (US$ 106,528) for a studio apartment to J$21 million (US$ 162,108) for a two-bedroom unit.  
Rental yields appear to be high
Gross rental yields on apartments range from 9.67% to 13.24%, according to the Global Property Guide research.  The gross rental yield is the rental return that a landlord will make on his property, before repairs, taxes, empties, and other costs.  But our understanding of yields in Jamaica is weak, because the data dates back to December 2013.
There have been small increases in housing rents in Jamaica recently. In December 2016, monthly housing rents in the country rose by 0.5% from the same period last year, based on the nationwide consumer price index released by the Bank of Jamaica.
Low mortgage rates combined with competition among leading mortgage providers have spurred real estate sector performance, notes Carlene Sinclair, President of the Realtors Association of Jamaica and a Property Solutions Limited broker.
However, the mortgage market is tiny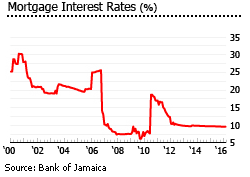 In March 2017, the average interest rate for mortgage loans in the country was 8.92%, according to the Bank of Jamaica.
For building societies, the average mortgage loan rate dropped to 9% in 2016.  This is down from 9.5% in 2015, 9.7% in 2014, 10% in 2013, 10.2% in 2012, 11.1% in 2011, and 12.5% in 2010.
For commercial banks, the average mortgage loan rate fell to 9.4% in 2016.  
As inflation has slowed to 1.7% in 2016, down from 3.7% in 2015, 6.4% in 2014, 9.5% in 2013, 8% in 2012, and an average of 12.5% from 2004 to 2010, interest rates are likely to fall further.
The maximum loan-to-value (LTV) ratio for foreigners is about 70% of the appraised value of the property, with a term period of 20 years.
However the mortgage market is really small.  From around 2% of GDP in 1999, the ratio of mortgages to GDP rose to 3% in 2006, then slid back to around 2% of GDP and has been at that level since then.
A government-owned company, the National Housing Trust (NHT), leads the mortgage market with around 49.2% market share in 2015, based on the figures from the BOJ.
Building societies owns 41.3% of the market.
Credit unions have a market share of 7.7%.
Insurance companies have the lowest market share at only 1.8%.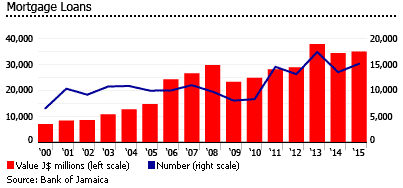 Aside from external factors, the central bank noted that the weak performance of mortgage loans was due to:
Affordability challenges caused by weak real disposable income
High unemployment levels
Several mortgage market initiatives have only had minor effects:
In October 2013, the Jamaican Cabinet approved an amendment to the Mortgage Insurance Act, raising the Mortgage Indemnity Insurance to 97% of the appraised value, up from 90%. The amendment means buyers are required to deposit only 10% of a property's value, including stamp duty and transfer tax, instead of the previous 15%.
The National Housing Trust (NHT) increased its loan ceiling by J$1 million (US$ 7,830) to J$5.5 million (US$ 43,067) on November 1, 2015, in an effort to help Jamaicans purchase their own houses. This means two contributors can jointly access J$11 million (US$ 86,133).  Moreover, NHT's interest rate was also lowered by 100 basis points for all categories of new borrowers.
Prime Minister Andrew Holness has announced the following NHT housing initiatives for 2017:
About 8,000 new loans worth J$ 17.8 billion (US$ 138.9 million) for financial year 2017/2018.
Home buyers who wish to purchase housing units produced by the NHT will enjoy 100% mortgage financing.
The NHT has also started a Housing Microfinance initiative for low-income households providing credit for self-built homes and repairs.
The government is also looking at developing a secondary-mortgage market. "That will ultimately have the effect of bringing down mortgage rates," said Holness. However the government is aware of the risks entailing subprime lending, and will be cautious in introducing such a policy.
Jamaica's poor economic performance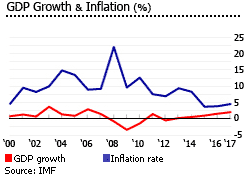 Despite these positives, investors must reckon with the fact that the Jamaican economy has performed very poorly for a long time, and the country is still on International Monetary Fund (IMF) life support because of its high debt levels. Jamaica is estimated to have grown by 1.4% in 2016, after 1% growth in 2015, according to the Planning Institute of Jamaica (PIOJ). 
Longer-term, the numbers are even worse. Jamaica grew by only 1.5% annually from 1999 to 2007.  There was a GDP contraction by 0.8% in 2008, when it was the only Caribbean country aside from the Bahamas to experience recession. GDP fell by 3.4% in 2009, followed by a 1.5% decline in 2010. After weak growth of 1.4% in 2011, the economy slipped again into recession in 2012, contracting by around 0.5%. Jamaica grew by only 0.5% and 0.2% in 2014 and 2013, respectively, according to the International Monetary Fund (IMF).
The economy is projected to grow by around 2% in 2017, according to the World Bank.
A 4-year IMF Extended Fund Facility (EFF) support package of US$932 million recently ended. It came with the usual strings of an economic reform programme.
Jamaica under new leadership
Jamaica Labour Party's (JLP) leader Andrew Holness became Jamaica's Prime Minister in the February 2016 general elections, as his party, the JLP, won by a narrow margin against the People's National Party (PNP). The JLP won 32 seats, while PNP got 31 seats.
Prime Minister Holness is serving for the second time as Jamaica's prime minister. The first was after he succeeded Bruce Golding, serving from October 2011 to January 5, 2012. His pledge of creating more jobs, improving health care and education, and cutting taxes resonated with voters, as opposed to the austerity measures implemented during former Prime Minister Portia Simpson-Miller's reign.
Simpson-Miller, who served as prime minister from January 2012 to March 2016, implemented austerity measures and tight partnerships with its international partners, such as the IMF. Although a leader of the socialist PNP, Miller implemented harsh fiscal policies such as cutting debt and wage freezes as a condition for an IMF loan in 2013. Prior to Simpson-Miller's term in 2012, Jamaica's economy had already been stagnating, and has a huge debt burden, which as of March 2017, was around 115% of GDP.
Jamaica's structural and economic reforms under Simpson-Miller gained international support, including IMF's four-year Extended Fund Facility (EFF) providing a support package amounting to US$932 million; World Bank and Inter-American Development Bank providing US$510 million each; and the International Finance Corporation (IFC) and Multilateral Investment Guarantee Agency (MIGA) providing support for the country's private sector development.
"The reform programme being implemented in Jamaica is beginning to bear fruit: Institutional reforms and measures to improve the investment climate have started to restore confidence in the Jamaican economy," according to the World Bank. "The country's credit rating has improved, and Jamaican bonds trade at a premium in international markets. Continued prudent macroeconomic policies and careful liability management reduced total government debt to 122 per cent of gross domestic product (GDP) by the end of 2016."
Crime and violence
Petty theft and pick pocketing remain common in tourist areas, but visitors to the island are largely untouched by violent crime, since much of the criminality occurs in Kingston. Resort areas such as Montego Bay and Negril have been less affected. Most criminal activity is "Jamaican on Jamaican" violence involving gangs and organized criminal elements. Murders and shootings reportedly increased in 2016 due to gang-related violence, but other serious violent crimes have declined, according to the Overseas Security Advisory Council's Crime and Safety Report.
Is Jamaica now on a more hopeful path?
In November 2016 Moody's raised several Jamaican government debt ratings from Caa2 to B3, citing "sustained fiscal consolidation and the government's strong commitment to continued reforms to reduce its high debt burden". In February 2016, Fitch Ratings also upgraded Jamaica's credit rating to B with positive outlook, up from B-.  
A new standby agreement with the IMF was reached in October 2016, providing Jamaica with a US$1.7 billion worth of funding for the next three years. This replaced the EFF, which was due to end in March 2017. Prime Minister Andrew Michael Holness stated that the agreement is intended to be "an insurance policy against unforeseen economic shocks".
The Jamaican Logistics Hub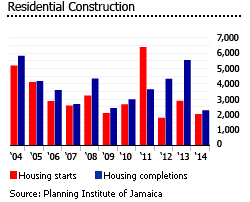 But if further growth is to come, the real hope is the Jamaican Logistics Hub.  In April 2014, Jamaica agreed with China on this US$15 billion project, which aims to make Kingston the fourth node in the global logistics chain, along with Singapore, Dubai, and Rotterdam.
If this really works out, this alone could solve most of Jamaica's economic problems.  The  20-year master development plan was proposed by the Jamaica Chamber of Commerce to the government and World Bank (WB) in January 2013. The WB agreed and granted funding. The Jamaica Observer reported that the plan includes developments in:
Kingston Harbour shoreline — Port Royal to Kingston to Hellshire
Transportation systems for Kingston and Montego Bay
Caymanas logistics hubs
Montego Bay and Falmouth
In order to make Jamaica a centre for logistics the government has appointed a team headed by Economic Growth Council chairman Michael Lee Chin.  The Special Economic Zone (SEZ) law, already enacted, will "provide the legislative framework to attract manufacturing companies and technology firms to engage in value added activities on goods trans-shipped through Jamaica". A Free Zone Council has already been created to watch over the enactment of the new rules. Aside from the SEZ law, the revision of the Customs Act is also underway to provide more support on the development of the country's logistics operations.
A contract to develop a trans-shipment hub in Portland Bight was signed in March 2014 with China Harbour Engineering Company (CHEC). Gulfray America's Manufacturing Limited will develop and manage the US$350-million Spanish Town Free Zone.
Tourist arrivals slightly up, more room stock in 2017
Jamaica's tourist arrivals rose 3.9% to 3,837,249 people in 2016, according to the Bank of Jamaica. 57% of the tourists are stay-over visitors, while 43% are cruise passengers.  Most visitors came from the United States (1,298,249), Canada (355,078), and Europe (278,221).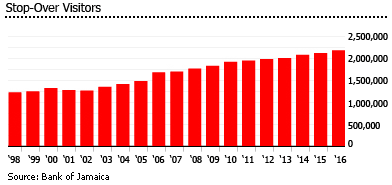 Jamaica's tourism outlook is predicted to enjoy robust growth in 2017. "Our overall growth projection for 2017 is over 6% in total visitor arrivals over 2016," said Jamaica Tourist Board Director Paul Pennicook.
A number of new developments have boosted the hotel sector's room stock in 2016. These include:
RIU Reggae's 454-room adults only hotel in Montego Bay,
Royalton Blue Waters' 228 all-suites hotel in Trelawny, Montego Bay,
Royal Decameron Cornwall Beach Resort's 142-room hotel, and
AM Resort's 150-room Breathless Resort in Montego Bay.
In 2017, more than 1,000 new rooms are expected to be included in the room stock.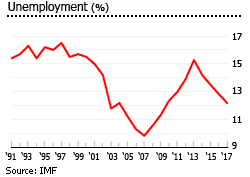 The Royalton Negril Resort & Spa and the Hideaway at Royalton are expected to add a total of 600 rooms, while 150 rooms will be added to the Azul 7 Beach Resort. Renfrew Hotel in New Kingston will be adding 32 high-end rooms, while Wyndham Kingston hotel is expected to contribute 303 additional rooms in the market. A 120-room Spanish Court Montego Bay Hotel, formerly known as Breezes Montego Bay Hotel, is slated to open in summer 2017.
In 2015, the United Nations Educational, Scientific and Cultural Organization (UNESCO) designated Jamaica's Blue and John Crow mountains as world heritage sites and awarded Kingston membership in its Creative Cities Network in the field of music.
Unemployment stood at 12.2% in April 2017, lower than last year's 13.7%, according to STATIN.
Inflation slowed further to 1.7% in 2016, from 3.7% in 2015, 6.4% in 2014, 9.5% in 2013, 8% in 2012, and 6% in 2011, according to the Bank of Jamaica. The country's inflation rate averaged 12.5% from 2004 to 2010.
Jamaica - More data and information