Property prices are rising strongly in Cayman Islands
November 05, 2017

After several challenging years, Cayman Islands' property market is now growing rapidly again, amidst increased consumer and investor confidence. House prices are rising strongly. Property transactions are picking up. Residential property construction is also improving dramatically.

During the second quarter of 2017, the average value of freehold property transfers rose by 9.6% to KYD406,817 (US$496,118) over the same period last year, based on figures from the Lands & Survey Department. The average value of freehold property transfers surged by 42% y-o-y last year, after rising by 6.7% in 2015 and declining by 9.5% in 2014.

The average sale price of residential properties sold through the Cayman Islands Real Estate Brokers Association's Multiple Listing System (MLS) was KYD564,552 (US$688,478) in 2016.

Growth is centered along Seven Mile Beach for condominiums, and Cayman Kai, on the island's north, for single-family homes. The most expensive housing are along Seven Mile Beach, a coral-sand beach located on the western end of Grand Cayman island, where property prices can reach as high as KYD1,200 (US$1,463) per square foot (sq. ft.).

At The Meridian, a collection of 32 super luxurious oceanfront villas located on the Seven Mile Beach, the average sales price of villas was KDY1.45 million (US$1.77 million) in 2016, up by 3% from the previous year.
At The Pinnacle, a luxury beachfront development on Grand Cayman's Seven Mile Beach, the average sales price of condominium units was KYD1.62 million (US$1.98 million) in 2016, down by 3% from a year earlier, according to Charterland, Ltd;
At the Regal Beach Club, a beachfront condominium development of 57 units in six, 3-storey blocks located on the Seven Mile Beach, the average sales price rose by around 9% y-o-y to KYD570,185 (US$695,348). Residential property values have been rising since 2013.
At The Grandview, a seafront development of 60 condo units in 12, three-storey blocks in Seven Mile Beach, the average sales price increased 11% y-o-y to KYD526,427 (US$641,984) in 2016, following an 8% rise in 2015.
In George Town's Garden, Coco, Mystic and Sunset Retreat, the average sales price of two-bedroom inland townhouses was stable at about KYD193,000 (US$235,366) in 2016.

With strong demand, coupled with limited supply, the housing market is now turning into a seller's market.

Property demand remains robust. The total number of open market property transfers in the Cayman Islands rose by 4% to 1,616 units in 2016 from the previous year, based on a property review conducted by Charterland, Ltd. Likewise, the value of real estate transactions surged by 16% y-o-y to KYD622 million (US$758.5 million). Then during the first eight months of 2017, the number of freehold property transfers increased 8.8% while the value of transfers fell slightly by 2.3% from the same period last year, based on figures released by Cayman Islands' Lands and Survey Department.

Residential construction activity continues to improve, with an increase in luxury condominium developments. In the first quarter of 2017, residential project approvals in Cayman Islands increased, both in number and value, by 37% and 140%, respectively, according to Cayman Islands Planning Department. Building approvals for condominiums more than tripled to KYD94.7 million (US$115.5 million) in Q1 2017 from a year earlier. Likewise, building approvals for houses increased 46.3% to KYD37.6 million (US$45.9 million) over the same period.

During the past decade, the movement of the average value of property transfers has been erratic. This can be attributed to large-scale acquisitions made by some property developers in a particular period, which distort the property market. For instance in 2011, Dart Group made significant acquisitions which represented about 28% of the total value of all the property transfers for that year.

Caymans' property market is expected to remain buoyant in the coming months, especially along Seven Mile Beach and in residential developments such as the Crystal Harbour, Grand Harbour, Vista Del Mar, and the Yacht Club, according to local real estate experts.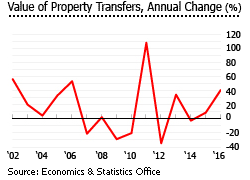 "The outlook for the market still looks positive for the 2017 and onwards," said CIREBA. "The rental market is growing along with the population of the islands. Cayman tourism is doing well with both stay over and cruise tourism numbers remaining steady in addition to development across the island."

"I believe that when you look at how things are trending in Cayman on a macro level – taking things such as real estate sales, public and civic development, improvements to infrastructure and the favorable laws in this country with respect to taxation and private business – you see the Cayman Islands continuing to grow, prosper and move in a positive direction with respect to future growth and economic  stability," said CIBERA president Jeanette Totten.