Barbados' two-tiered housing market
Barbados' housing market is now two-tiered, with the high-end West Coast market still experiencing plummeting house prices while the South Coast is already showing signs of improvement.
In the famous West Coast, which caters primarily to super-wealthy foreigners, beachfront condo prices fell by 13.8% in 2018 from a year earlier, following y-o-y declines of 10.9% in 2017 and 13.3% in 2016, based on Terra Caribbean's Beachfront Condo Price Index (BCPI), which the company launched in January 2015.
"Our index indicates that achieved prices for west coast condos have been in decline since 2016 and with the continued oversupply, seeing price growth in this segment is unlikely," said Terra Caribbean in its 2019 report.  However, sales volumes are rising on the West Coast, as elsewhere.
On the other hand, in the South Coast, which caters to the mid-market, the BCPI rose by a modest 2.4% in 2018 from a year earlier, an improvement from y-o-y declines of 0.2% in 2017 and 7.3% in 2016.
"The addition of The Sands to the beachfront condominium pool on the south coast has accounted for several sales on this coast and the Crane Private Residences has also been enjoying measured success since the launch of Phase 3 of their planned development," noted Terra Caribbean.
Barbados´ housing market suffered a decade-long decline following the global financial crisis. Residential property prices in Barbados, especially in the high-end market, are still between 20% and 30% below their peak levels seen before the crisis.
The median price of beachfront condos on the West Coast was US$536 per square foot (sq. ft.) in 2018, down from US$622 in 2017, US$698 in 2016, US$805 in 2015 and US$ 728 in 2014.
The median price of South Coast's beachfront condos was US$417 per sq. ft. in 2018, up from US$408 in 2017 and US$409 in 2016 but still down from US$441 in 2015 and US$426 in 2014.
Overall sales transactions are now rising
In 2018, overall transaction volumes in Barbados rose by almost 10% to about 2,600 units from a year earlier, amidst improved market sentiment, according to Hayden Hutton, COO of Terra Caribbean. This was the first increase in four years, after y-o-y sales declines of 0.1% in 2017, 3.8% in 2016 and 10% in 2015. However, it remains far below the peak levels of 4,250 transactions seen in 2007.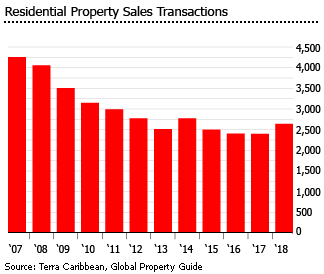 "The return of confidence to the market is reflected in the fact that sales volume was up in each quarter YOY following the election bell," said Terra Caribbean. Sales volume almost doubled y-o-y in Q2 2018, and rose by 21% and 10% in Q3 and Q4, respectively.
During 2018:
In the West Coast, sales volumes of beachfront condos rose by 15.8% to 22 transactions.
In the South Coast, sales of beachfront condos also increased 5.6% to 38 transactions.
This is not surprising given booming tourism. In 2018, tourist arrivals rose by 2.7% y-o-y to a historic high of 681,197 visitors, according to the Barbados Tourism Marketing Inc. (BTMI). Then during the first five months of 2019, stay-over visitor arrivals increased further by 4.5% to 324,551 people compared to the same period last year.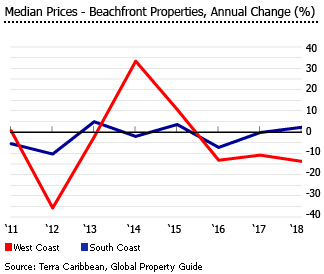 "It would appear that after ten years of sluggish market conditions, and with a noted increase in trading volume and sentiment over 2018, we can say that the trajectory of the market appears to be changing," said Hutton. "Perhaps 2019 is as good a time as any to get back into the market."
Generally there are no restrictions on foreign ownership in Barbados except for one formality: nonresidents must obtain permission from Barbados' Central Bank if they want to buy property. This is pro forma, but failing to do so will void your purchase.
Property market very dependent on foreign buyers
Barbados attracts a lot of foreign homebuyers. Properties in St. James and in St. Peter are popular with British buyers, while properties in south coast's Christ Church parish attract Americans and Canadians, according to Cherita O´Dell of Million Dollar Homes.
"We live on foreign exchange and one of our biggest foreign exchange earners is selling properties to foreigners," said Lee Gooding of Seaside Realty Inc. "Overall it's very significant. I would say 40% of our customers are from overseas," he added.
During 2018, there were about 85 sales transactions in Barbados' foreign luxury market amounting to around US$149.28 million – well beyond the original estimates from a survey of real estate brokers in the market, according to Terra Caribbean.
In 2012, a new residency permit was introduced, offering indefinite residency to investors who purchase a property worth at least US$2 million and have a net worth in excess of US$5 million.
Mortgage borrowing steady, despite falling interest rates
Currently, the average mortgage interest rate stand at 5.36%, down from 5.62% a year earlier and the lowest mortgage rate ever recorded by the central bank.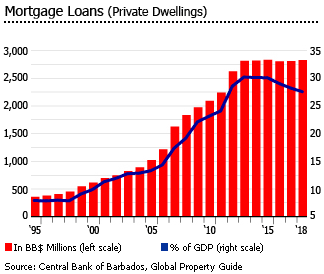 Despite this, mortgage borrowing is more or less steady. In 2018, the total amount of mortgage loans outstanding for private dwellings increased by a meager 0.7% to BB$2.83 billion (US$1.4 billion) from a year earlier.
By type of lending institution:
Commercial banks: mortgage loans for private dwellings rose by 9.5% y-o-y to BB$2.68 billion (US$1.33 billion) in 2018
Trust and mortgage finance companies: mortgage loans plummeted by almost 60% y-o-y to BB$144 million (US$71.5 million) in 2018
Non-residents can get mortgages with loan-to-value (LTV) ratios ranging from 50% to 70% (minimum loan of US$250,000) of the value of the real property, with maximum terms of up to 25 years, according to Terra Luxury:
60% - 70% LTV for US dollar mortgages up to US$2.5 million; and
50% LTV for mortgages more than US$2.5 million.
Only a few mortgage lenders offer mortgages denominated in US dollars, including the Royal Bank of Canada and First Caribbean International Bank.
In order to qualify for a local-currency mortgage, borrowers must have been continuously resident for three years, according to Central Bank of Barbados rules. Foreign borrowers who do not qualify can only obtain foreign currency mortgages.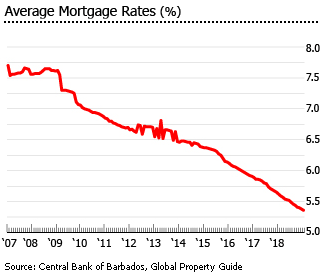 Mortgage interest rates in Barbados range from 5% to 8.5%. Foreign buyers often end up obtaining financing externally, because mortgage interest rates in Barbados are often higher than in European and North American countries. Over the past few years, US dollar loans have been attractive, especially for UK and European nationals. Their interest rate is linked to three-month US LIBOR plus the lender's mark-up.
Since 1975, the Barbados dollar has been pegged to the US dollar at BBD2 = US$1.
Rental market boom
Barbados has a thriving rental market, due to the large number of tourists. Renting is more attractive for most people than getting a loan to buy, due to high mortgage interest rates.
Rents vary enormously between properties and location-apartments vs. houses vs. villas, furnished vs. unfurnished, inland vs. beachfront, West Coast vs. South Coast vs. East Coast. Rents for beachfront properties are higher than inland properties. Long-term rental properties are difficult to find in Barbados during the winter periods from November to April, and rents are much higher than usual.
The least expensive long-rentals can be found on the East Coast, while prices are increasing in the South Coast. The most expensive properties are generally on the West Coast.
On the South Coast, an unfurnished three-bedroom house can be rented starting at US$ 1,350 per month. Rents for furnished three-bedroom houses range from US$ 1,500 to US$ 2,500 per month, while four-bedroom houses can be rented from US$ 3,000 to US$ 5,000.
Three-bedroom houses located in the West Coast can be rented from US$ 1,500 to US$ 5,000 per month. Five-bedroom houses have monthly rents ranging from around US$ 4,000 to US$ 9,000.
Luxury villa rentals range from US$2,500 to US$100,000 per week.
Gross rental yields in Barbados - the return on the cost of buying a property - are moderate, at 5.5% for 2-3 bedroom houses in St James, according to a research conducted by the Global Property Guide. Larger properties yield less.
Tourism at a record high
In 2018, tourist arrivals rose by 2.7% y-o-y to a historic high of 681,197 visitors, according to the Barbados Tourism Marketing Inc. (BTMI). Stop-over arrivals from the United States, the top source market for Barbados, were up by 8.4%, the highest y-o-y growth among the country's visitor markets. Tourism from the Caribbean Community and Common Market (CARICOM) (excluding Trinidad & Tobago) rose by 4.6%, followed by growth in the Canadian market (1.8%), and the UK (1.4%).
According to BTMI CEO William Griffith, the booming tourism was mainly due to strategic marketing initiatives and increased airlift.
Copa Airlines launched a new twice-weekly service from Panama last July 17, 2018.
Virgin Atlantic recommenced its twice-weekly service from London Heathrow in December 2018.
Thomas Cook resumed its weekly flight from London Gatwick in winter 2018-19.
American Airlines added a third flight from Miami in December 19, 2018, as well as a daily flight from Charlotte.
WestJet recorded an 8% increase in seats between May and October 2018.
Air Canada increased capacity out of Montreal by 75% last winter via a large aircraft and three weekly flights.
Then during the first five months of 2019, stay-over visitor arrivals increased further by 4.5% to 324,551 people compared to the same period last year, according to Minister of Tourism Kerrie Symmonds.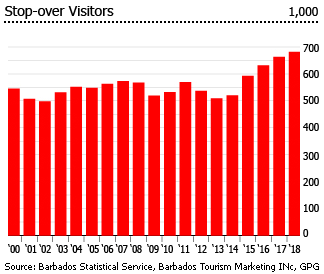 In addition, tourists are on average spending more money. Total expenditure was over US$1.1 billion in 2018, up from US$1 billion in 2017, US$984.3 million in 2016, and US$901.3 million in 2015.
Tourism is expected to remain strong in the coming years, with the coming of several international hotel brands.
The 220-suite Sandals Royal Barbados on Maxwell Beach has recently opened;
The 450-room Sam Lord's Castle Barbados, the first Wyndham-branded resort on the island, will open this year;
Hyatt and Beaches properties are also expected to open on the island in the coming years;
Sea Breeze, Fairmont Royal Pavilion, Treasure Beach and The House were refurbished last year.
Tourism accounts for around 12% of the country's GDP every year and more than 12% of the country's total employment.
Economic growth remains sluggish, but public finances improving
The economy of Barbados contracted by 0.5% in 2018, its second year of negative growth, according to the International Monetary Fund (IMF). Then during the first six months of 2019, economic activity declined further by about 0.2%.
"The impact of fiscal consolidation on demand together with weaker than desired investment offset the gains from a robust tourism performance," said CBB Governor Cleviston Haynes.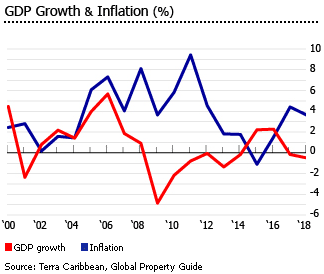 In 2019, the economy is expected to post a minuscule 0.25% growth, at best, according to the central bank. Yet all the news is not bad.  After a serious over-indebtness crisis,  the government is on track to achieve a primary surplus of 3.3% of GDP for the FY2018/19, thanks to the country's ongoing fiscal reforms and debt restructuring. Likewise, the government's overall debt, while remains high, is now noticeably declining. Gross debt stood at 124.5% of GDP in 2018, down from 157% of GDP in 2017 and the lowest level since 2012.
Rising unemployment is a serious problem. The overall jobless rate increased to 11.6% in the fourth quarter of 2018, from 10.7% in the previous quarter and 8.2% a year earlier, according to the Barbados Statistical Service.
In the first half of 2019, government revenues increased 7.9% to reach BB$725.6 million (US$359.5 million) as compared to the same period last year. During the fiscal year 2019/20, the government expects total revenues of BB$3.1 billion (US$1.54 billion).
Foreign reserves are also improving. By end-2018, gross international reserves more than doubled to BB$1 billion (US$500 million), from BB$473.4 million (US$234.5 million) a year ago. Then during the first half of 2019, the islands' reserves increased further to BB$1.2 billion (US$600 million), equivalent to 15.3 weeks of import – higher than the international benchmark of 12 weeks.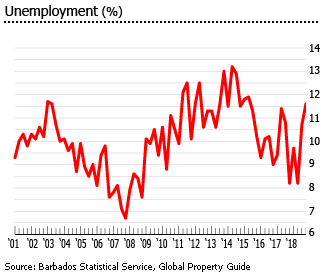 Given the favourable results of debt restructuring and increasing international reserves, Moody's upgraded its credit rating for Barbados to Caa1 in July 2019 from Caa3, with a stable outlook. Earlier, Standard & Poor's also raised the islands' long-term domestic credit rating to B- in November 2018 from selective default (SD) in June 2018 following the government's decision to default on its Eurobonds.
The famous West Coast
The West Coast, also called Platinum Coast, extends from the outskirts of Bridgetown (the country's capital) in the south to Harrisons in the parish of St. Lucy in the north.
Many homes belonging to famous celebrities and super-wealthy foreigners can be found here, as can one of the most exclusive resorts in Caribbean, Sandy Lane hotel and residences, a member of The Leading Hotels of the World (LHW). It is home to one of the most expensive golf courses ever built, designed by Tom Fazio - The Green Monkey. Five-bedroom luxury villas here can fetch prices ranging from US$10 million to US$25 million.
Royal Westmoreland, in the parish of St James on the west coast of Barbados, is the only completed gated community in Barbados. It has colonial-style homes and cottages among its 225 properties, a golf course and a beach club. The prices of apartments and villas in Royal Westmoreland range from US$595,000 to over US$4 million. In addition, fractional units, offering part ownership, are also available, starting at US$50,000. Currently, two- to three-bedroom Royal Apartments are offered in the market for US$595,000.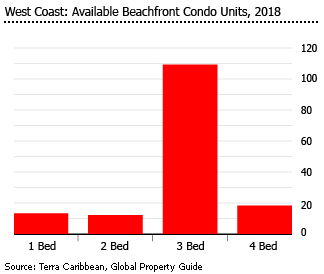 The Waterside, located on the pristine shores of Paynes Bay Beach, is an exclusive development that features 26 one and two-bedroom condominiums and 1 five-bedroom penthouse suite. Prices range from US$625,000 to US$2 million. The Beach View, a condominium complex that is also located on the Paynes Bay Beach, offers 36 two- and three-bedroom condo units with prices ranging from US$499,000 and US$749,000.
Port Ferdinand Marina and Luxury Residences, in Six Mens, St. Peter, is a two-phased development completed in 2015 consisting of 82 luxury residences and 120 berths. It offers two- to five-bedroom houses with private berths costing from US$ 2.1 million to US$ 7.75 million.
In the Apes Hill Club, a 470 acre-luxury development with a world-class 18-hole golf course and enjoys views of both the West and East Coasts, lots can be purchased starting at U$ 350,000. Prices of villas range from US$ 795,000 to US$ 3.2 million.
In Port St. Charles, prices of one-bedroom unit start around US$550,000. In Saint Peter's Bay, which is located near Port St. Charles, is comprised of 57 private beachfront homes, including 6 penthouse suites and 3 deluxe penthouse suites. Its three-bedroom homes can be bought starting at US$ 1.8 million.
A relatively new lifestyle community in St. Peter, Vuemont, is one of the developments that target families looking for affordable homes. It has 77 residences that costs starting from US$ 275,000 for two-bedroom apartments, and starting from US$ 362,500 for three-bedroom villas.
In the Mullins Bay, a complex located near the Mullins Beach, St. Peter that features 26 elegantly furnished townhouses and villas, prices range from US$1.1 million to US$1.5 million.
In St. James, four-bedroom villas are priced from US$2.5 million to US$3 million. Villas On The Beach, a luxury beachfront development located in Holetown, St. James, consists of 18 one, two and three-bedroom apartments and four-bedroom penthouses. Three-bedroom apartments are priced starting at US$1.8 million. In the Merlin Bay, located in the exclusive area of The Garden, St. James, three-bedroom Mediterranean-styled villas are priced from US$1.3 million to US$1.6 million.
There were a total of 480 beachfront condo units in the West Coast by end-2018, according to Terra Caribbean. Of which, 150 units are still available in the market.
Developments on the South Coast
The South Coast, which begins at Carlisle Bay in Bridgetown and heads towards East Point on the Atlantic east coast, is less busy and has a more local feel. It caters mostly to the mid-market and has seen tremendous growth, with numerous developments already completed and delivered.
According to Cherita O´Dell, Million Dollar Homes and Barbados Real Estate 246 broker, luxury beachfront condominiums in the south coast range from US$3.75 million to US$ 5 million. Meanwhile, condominiums across from the beach cost from US$ 450,000 to US$ 650,000.
The Crane Resort and Residences, built in 1887, is one of the oldest resorts in Barbados. Its residential component has expanded over the years, and new villa-style residences have been completed in 2009. Full ownership homes in the Crane are sold at prices ranging from US$777,000 to US$1,946,000, according to Terra Caribbean.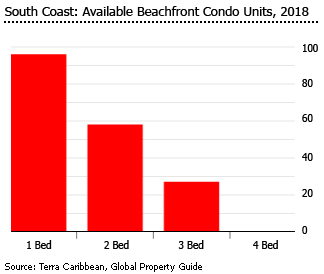 The Sands, a new condominium development in Worthing, Christ Church offers 87 stylish and spacious contemporary beachfront residences. Prices range from US$220,000 to US$496,000.
The Ocean One, a six-storey apartment complex located within the popular South Coast area of Maxwell, currently offers three-bedroom units from US$685,000 to US$700,000 and penthouses for US$2.2 million.
Palm Beach, a new condominium development in Christ Church, currently offers three-bedroom beachfront apartments for US$1,325,000. In Sapphire Beach, another newly built condo development situated on the fabulous Dover Beach, prices of residences range from US$1,179,000 to US$1,350,000.
The Palisades development in Enterprise, which consists of 16 townhouses and one cliff-top house, enjoys extensive ocean views of the South Coast. Prices of residences start at US$ 750,000.
In the Mistle Cove complex, which consists of 14 contemporary residences on a secluded beach in Christ Church, a two-bedroom ground floor apartment is sold for US$625,000.
The Maxwell Beach Villas, a complex of cozy villas and apartments in Christ Church, currently offers two-bedroom apartments for US$575,000 to US$800,000.
In the Cotton Bay Close, a private community located within a quiet neighborhood near Oistins and several other amenities, prices of three-bedroom homes start at US$397,500.
The Terraces, a modern apartment complex located minutes away from the well-known Dover Beach in the heart of St. Lawrence Gap, Christ Church, consists of 16 two- and three-bedroom residences. Prices start at US$297,500.
There were about 550 beachfront condo units in the South Coast in 2018, according to Terra Caribbean. Of the total, 181 units are still available.
East Coast to remain "local"
The East Coast on the Atlantic side of Barbados is better known for its rugged beauty. Because of huge Atlantic waves crashing along the shorelines, swimming is not advisable. However, beaches on the east coast are popular for walking, surfing and beachcombing.
Much of the eastern coastline is protected land, part of a National Park. Hence, though foreign investment interest in the area has significantly increased in the past years, it is difficult to obtain building or planning permission.
Some popular East Coast beaches include the Bathsheba beach, Cattlewash beach, and Crane beach.
The Villa Nova Plantation in St. John, an approximately 15-acre property of tropical forest and gardens with a total of 28 rooms, is currently for sale at around US$10 million. The property has an industrial kitchen and restaurant, spa treatment cottages, large pool with bar and gazebo, two tennis courts, and conference facilities.
In Bathsheba, St. Joseph, a boutique hotel with magnificent ocean views Sea-U Guest House, which consists of 10 individual rooms, can be bought for US$ 1.35 million.
Sources: