Barbados' housing market is now two-tiered, with the high-end West Coast market still experiencing plummeting house prices while the South Coast is already showing signs of improvement.

In the famous West Coast, which caters primarily to super-wealthy foreigners, beachfront condo prices fell by 13.8% in 2018 from a year earlier, following y-o-y declines of 10.9% in 2017 and 13.3% in 2016, based on Terra Caribbean's Beachfront Condo Price Index (BCPI), which the company launched in January 2015.

"Our index indicates that achieved prices for west coast condos have been in decline since 2016 and with the continued oversupply, seeing price growth in this segment is unlikely," said Terra Caribbean in its 2019 report.  However, sales volumes are rising on the West Coast, as elsewhere.

On the other hand, in the South Coast, which caters to the mid-market, the BCPI rose by a modest 2.4% in 2018 from a year earlier, an improvement from y-o-y declines of 0.2% in 2017 and 7.3% in 2016.

"The addition of The Sands to the beachfront condominium pool on the south coast has accounted for several sales on this coast and the Crane Private Residences has also been enjoying measured success since the launch of Phase 3 of their planned development," noted Terra Caribbean.

Barbados' housing market suffered a decade-long decline following the global financial crisis. Residential property prices in Barbados, especially in the high-end market, are still between 20% and 30% below their peak levels seen before the crisis.

The median price of beachfront condos on the West Coast was US$536 per square foot (sq. ft.) in 2018, down from US$622 in 2017, US$698 in 2016, US$805 in 2015 and US$ 728 in 2014.

The median price of South Coast's beachfront condos was US$417 per sq. ft. in 2018, up from US$408 in 2017 and US$409 in 2016 but still down from US$441 in 2015 and US$426 in 2014.

In 2018, overall transaction volumes in Barbados rose by almost 10% to about 2,600 units from a year earlier, amidst improved market sentiment, according to Hayden Hutton, COO of Terra Caribbean. This was the first increase in four years, after y-o-y sales declines of 0.1% in 2017, 3.8% in 2016 and 10% in 2015. However, it remains far below the peak levels of 4,250 transactions seen in 2007.

This is not surprising given booming tourism. In 2018, tourist arrivals rose by 2.7% y-o-y to a historic high of 681,197 visitors, according to the Barbados Tourism Marketing Inc. (BTMI). Then during the first five months of 2019, stay-over visitor arrivals increased further by 4.5% to 324,551 people compared to the same period last year.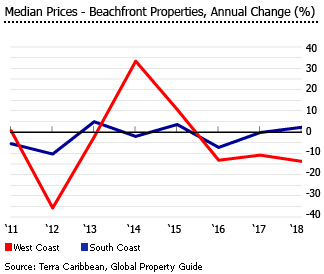 "It would appear that after ten years of sluggish market conditions, and with a noted increase in trading volume and sentiment over 2018, we can say that the trajectory of the market appears to be changing," said Hutton. "Perhaps 2019 is as good a time as any to get back into the market."

Generally there are no restrictions on foreign ownership in Barbados except for one formality: nonresidents must obtain permission from Barbados' Central Bank if they want to buy property. This is pro forma, but failing to do so will void your purchase.