Bahamas Gov't's proposed $1M residency bar likely to spook foreign buyers
April 08, 2017
It´s not a crisis, but it is worrying.  Bahamas´ property prices saw an average correction of 20% from peak after the financial crisis, with some areas seeing declines of as such as 60%, according to Bahamas Realty. Local agents say house prices dropped by 30% to 40% from 2007 to 2010 (there are no official house price figures).
Half a decade later, challenges remain – uncertainty over the Trump presidency, and property oversupply in some regions. In 2016, inward property investment flows fell to $163.2 million, with net purchases amounting to -$49.9 million due partly to the exit of foreign buyers. Foreign investment inflows fell from $1.20 billion in 2014, the year of peak Baha Mar construction (more on this later), to $250.3 million in 2015, with net purchases of -$42.2 million. But Bahamian Central Bank Governor John Rolle downplays the significance of the outflows, suggesting that the Central Bank's data was "still plagued by incomplete coverage of foreign residential construction".
The net outflows, nonetheless, are a source of concern given that overall foreign direct investment (FDI) in the Bahamas has been relatively depressed for the past two years.
This is especially worrying given the government's decision, in the Homeowners Protection Bill, to try to attract "cream of the crop" ultra-high net worth individuals by raising to $1 million the permanent residency threshold.
Foreign Affairs Minister Fred Mitchell describes the current $500,000 investment threshold for permanent residency consideration as "absolutely too low". "The cost of a work permit is $12,500 for someone who is a managing director of a bank for one year, and then you're giving permanent residency to someone because he could pay $500,000 for a house. Something is wrong with that."
However, the consensus among real estate brokers is that eliminating buyers purchasing between the $500,000 and $1 million price points, and disregarding developers who have invested in developing properties targeting clients in the $500,000 to $1 million price range, could produce wider ripple effects in the economy.
George Damianos, Sotheby International Realty's president has warned that Bahamas must compete against Caribbean rivals offering products the Bahamas does not, such as economic citizenships, implying that the proposed "doubling" of the permanent residency threshold would reduce the nation's competitiveness.
Some developers do not dismiss the plan altogether but suggest that the government provide a lead time before implementing the change. Jason Kinsale, the developer behind ONE Cable Beach and the Balmoral, emphasizes that it is vital for the Government to introduce the plan in gradual steps, maybe prompting a one-time property-buying surge.
On the plus side, the Bahamas' pristine beaches and private islands continue to attract the world´s elite.  In 2016, travel and tourism contributed 44.8% or $4.017 billion to the Bahamian economy, according to the World Travel and Tourism Council (WTTC). So tourism is, by far, the Bahamas´ largest industry, and it continues to grow.
Celebrity Paradise
The Bahamas boasts the highest concentration of celebrity-owned private islands anywhere in the world. Its more than 700 islands and cays have attracted well-known celebrities such as Johnny Depp, who filmed Pirates of the Caribbean in Exumas and purchased Little Hall's Pond Cay in 2004 for a reported $3.6 million; magician David Copperfield who bought up to 11 islands for $50 million; music stars Faith Hill and Tim McGraw, who purchased 17-acre Goat Cay in 2006; director, actor and screenwriter Tyler Perry, who bought 20-acre White Bay Cay in 2009 for $6.4 million and business magnate Prince Aga Khan IV, who spent up to $100 million for 349-acre Bell Island, also in 2009.
The Bahamas has no income, inheritance, capital gains or corporate taxes.
Aside from its cities - the capital, Nassau, located on New Providence Island, and Freeport, which is on Grand Bahama - some of the most sought-after properties in the Caribbean are on the ´Out Islands´ including Abaco, Andros, Acklins and Crooked Island, Bimins, Berry Islands, Cat Island, Eleuthera, the Exumas, Inaguas, Mayaguana, and San Salvador.
The country is accessible from New York within 2.5 hours and from Florida within 45 minutes. The Bahamas' economy is considered one of the most stable in the Caribbean thanks to its close ties and proximity to the US.
Some property hotspots are:
Abacos: Found in the Northern Bahamas region, the Abacos form a 120-mile chain of islands stretching over 650 square miles. The most popular of the islands are the Great Abaco Island and Little Abaco.
Property samples in Abacos:
A 5-bedroom, 5-bathroom 3,675 sq.ft. single family home in Treasure Cay sells for $2.5 million
A 125,322 sq.ft. single family home located in Man-O-War Cay with 2 private beach coves sells for $1.95 million.
A 4-bedroom, 3-bathroom, 1,900 sq.ft. single family home in Elbow Cay sells for $990,000.
A 3-bedroom, 2-bathroom 1,500 sq.ft. property off the coast of Green Turtle Cay sells for $749,000.
Andros: The largest island in the Bahamas, Andros is hailed as the world's bone fishing capital and has the third largest fringing barrier reef in the world. It is the least developed among the group of islands in the Bahamas, making it the perfect escape for people who want to get away from the city bustle.
Property samples in Andros:
4-bedroom, 5-bedroom 4,000 sq.ft. single family home in Staniard Creek sells for $1.84 million
1,400 sq.ft. Kamalame Cay home with 2 bedrooms and 2.5 bathrooms sells for $990,000
2-bedroom, 2-bathroom 1,753 sq.ft. property in Congo Town sells for $450,000
Eleuthera: 50 miles east of Bahamas' capital Nassau is Eleuthera, boasting a stunning reef system and 110 miles of pink and white sands.
Property samples in Eleuthera:
4-bedroom, 4-bathroom 76,230 sq.ft. single family home sells for $4.5 million
A 2-bedroom, 2-bathroom 4,200 sq.ft. single family home sells for $4 million
Exumas: Exuma consists of over 360 islands, many of which are still untouched and are less explored than the prime destinations of Grand Bahama and Nassau.
Property samples in Exumas:
A 7-bedroom, 9-bathroom 5,000 sq.ft. single family duplex off the shore of Tar Bay sells for $4.9 million
A 4,800 sq.ft. single family home with 6 bedrooms and 1 bathroom sells for $3.3 million
Grand Bahama: The fourth largest island and considered the most known island in the Bahams, Grand Bahama is home to every conceivable amenity and property type. It has a commercial and tourism centre called Freeport located near the international airport. It is the second most populated city in the archipelago and is popular among vacationers and shoppers.
Property samples in Grand Bahama:
A 3-bedroom, 2.5-bathroom single family home measuring 6,200 sq.ft. in Bahamia sells for $700,000
A 7,000 sq.ft. property with 6 bedrooms and 7 bathrooms in Fortune Cay sells for $2.2 million
Nassau: Located on New Providence is the capital of the Bahamas, Nassau, a 21-mile long island which is linked to neighboring Paradise Island, home to the Atlantis resort, by a bridge. A full-service luxury development housing waterfront properties called Ocean Club Estates can be found at the easternmost tip of Paradise Island.
Located just at the western tip of New Providence is Lyford Cay, a gated community which has long been home to some of the world's wealthiest individuals. It has a private international school and a mile-long beach that can only be enjoyed by a select few.
Just east of Lyford Cay lies Old Fort Bay, a modern private waterfront community with iconic Poinciana trees.
Property samples in Nassau:
A 5-bedroom, 6-bathroom 2,522 sq.ft. single family home in Old Fort Bay sells for $2.75 million
A 4-bedroom, 5-bathroom 5,694 sq.ft. single family home in Lyford Cay sells for $2.45 million
The long-delayed Baha Mar project
The $3.5 billion 1,000-acre megaresort Baha Mar has announced that it will open next month, after many hitches during more than a decade´s gestation - but a quick check shows that the Hyatt Baha Mar is not yet taking reservations.
The story stretches back to the 1990s when Bahamian Prime Minister Perry Christie convinced U.S. investor Phil Ruffin to buy a large swathe of Cable Beach in Nassau, and then to sell to a development group led by commodity billionaire Sarkis Izmirlian.  In 2008 the company dissolved in a credit meltdown, but construction nevertheless began in 2011 with China Construction America as builder.  A buyer emerged in 2016 in the shape of Hong Kong's Chow Tai Fook Enterprises, the private vehicle of late multi-billionaire Cheng Yu-ung's family, a company involved in Macau with suspected underworld connections.  In March this year Bahamian politicians were still arguing that the announced sale to Chow Tai Fook Enterprises was illegitimate, and have pledged to sell the resort "to a qualified and respectable purchaser who believes in Bahamians."
The resort encompasses multiple properties, including a 1,000-room casino hotel, a 300-room SLS Lux, a 200-room Rosewood and a 700-room Grand Hyatt. It also features a Jack Nicklaus-designed golf course and a 30,000-square-foot spa. The project has been billed as an economic driver since its inception and is expected to improve the country's GDP by 12%.  But projections of economic growth have so far gone unfulfilled, as the resort has missed multiple opening dates.
Bahamas attractive for stable returns
The Global Property Guide´s research on gross rental yields in Bahamas - the research is now alas a few years old - suggests returns of between 5% and 10% on rental properties.  Though the research is dated, its results are in line with current reports from realtors.
Lower priced rental properties yield the highest of return, according to real estate broker Andrea Brownrigg.
"The major carrying costs – condo fees and real property tax – are lower on one-bedroom units than upscale larger ones, yet the least expensive rental rate is more often 10-12% per annum of the property value," says Brownrigg.
Colin Lightbourn, managing director of Coldwell Banker Lightbourn Realty, suggests populated smaller islands offer the best opportunities for investment and appreciation - places such as Paradise Island, Harbour Island, the Abaco Cays and some areas of New Providence. 
Likewise, islands such as Abaco, Eleuthera, Long Island, Cat Island and San Salvador offer great opportunities for affordable investment.
Doing Business Report
According to World Bank's Doing Business 2017 report, registering property in the Bahamas requires 7 procedures, takes 122 days and costs 4.7% of the property value.  The Bahamas ranks 166th out of 190 economies, well below the regional average rank of 118.
A complete buying guide by Global Property Guide is available here.
Mortgage interest rates are falling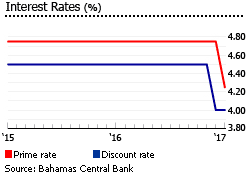 The Central Bank has cut the discount rate to 4%. According to the Bank, this move was also intended to spur the domestic housing market, and effectively ordered the Bahamian commercial banks to "follow suit" by reducing the prime rate, the rate at which they lend to each other, by the same magnitude – from 4.75% to 4.25%.  Average mortgage interest rates have dropped from 9.25% in 2009, to 6.34% today.
Residential loans declined by 35.5% in 2016 to $20.0 million, according to the Central Bank.   
National Debt could soar to 70% of GDP by end of fiscal year 2017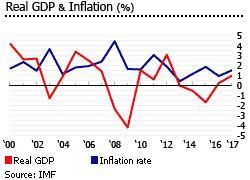 Economic growth remains sluggish in Bahamas, with national revenue just matching national debt. According to the Central Bank, national debt increased by $373.1 million during 2016 to break the $7 billion mark at year-end, closing at $7.042 billion.
Many point to the recent Hurricane Matthew as a major contributor. Matthew's Category Three-Four storm surge and winds forced the Government into unanticipated borrowing amounting to $130 million from a syndicate of commercial banks.
International credit rating agency Moody's, in its latest quarterly assessment of the Bahamas' sovereign creditworthiness, gave an insight into the extent of Matthew's impact on the Government's finances by projecting a deficit equivalent to 3.6% of GDP for 2016-2017, from 2.8% the previous year. The rating agency forecasts another $300 million-plus fiscal deficit this year.
"As the Government will incur additional borrowing to cover reconstruction spending for public infrastructure, we now expect the central government debt-to-GDP ratio to reach 70% by end of fiscal year 2017," Moody's said.
Economic growth went into negative territory in 2015 at -1.6%, after -0.5% in 2014. The economy is believed to have grown by 0.26% in 2016.  The IMF´s forecast is for 0.99% growth in 2017.
Bahamas - More data and information