Bahamas property market largely stable; but high-end segment on an uptrend
After several years of housing slump, the Bahamas' property market is improving. Sales are rising and property prices have already stabilized. Residential construction is also increasing again.
"It's not on fire, and it's not in the doldrums," said George Damianos of Damianos Sotheby's International Realty. Overall prices have been stable in the past three years, with almost balanced supply and demand, Damianos noted.
Bahamas' property prices saw an average correction of 20% from peak after the financial crisis, with some areas seeing declines of as such as 60%, according to Bahamas Realty. Local agents say house prices dropped by 30% to 40% from 2007 to 2010 (there are no official house price figures).
"Since then, it's been up and down, but it's slowly getting better and better," said John Christie of H.G. Christie Ltd.
The property market is on a slight upswing, reflected in increased sales volume in the past two years, according to Christine Wallace-Whitfield, the president of the Bahamas Real Estate Association.
The luxury market has bounced back strongly, thanks in part to foreign investors who see the islands as safe investment. High-end property prices have increased by an average of US$200 a square foot (sq. ft.) in the past couple of years, according to Christie. In 2018, luxury homes in The Bahamas start at about US$1 million, with prices typically ranging from US$750 to US$2,000 per sq. ft.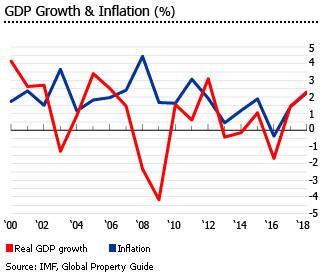 In Old Fort Bay, an exclusive waterfront community in New Providence, sales and prices of luxury homes have risen 10% to 15%, according to Richard Sawyer of Damianos Sotheby's International Realty. Prices of luxury properties in Old Fort Bay start at US$2 million.
Ocean front units in the Royal Ocean Club, situated on Grand Bahama, are now priced at about US$150,000. In the Bahamas Rum Cay, one and two-bedroom beach cottages start at US$125,000.
In the Lyford Cay, a private gated community on the New Providence, a six-bedroom colonial-style home, Cuckoo's Nest, is priced at US$6.5 million.
In the Elbow Cay, an eight-mile-long cay in the Abaco Islands, houses are priced from US$300,000 at the lower-end of the market, while beachfront properties are valued from US$1 million to US$8 million.
In the other Family Islands, prices range from US$395,000 to US$595,000 for condominium units while house prices range from US$439,000 to US$4.5 million. Oceanfront properties are priced from US$1.8 million.
Most foreign homebuyers come from the United States, Canada, France, Britain, and Italy.
There are no restrictions on foreigners buying property, except that a permit from the Government is required before the transaction, if the property is on undeveloped land with an area greater than five acres (20,234 sq. m.).
Foreigners who own properties in the Bahamas are eligible for a homeowner's residence card (renewable annually) and those who purchase properties valued at least US$500,000 are given priority in permanent residence applications. However, neither permanent nor annual residence gives a foreigner the right to work in the country.
The Bahamas enjoyed GDP growth of 3% p.a. from 1997 to 2007. Growth halted in 2008 (-2.3% GDP) and 2009 (-4.2% GDP), due to the global financial crisis. The economy had an annual average growth of just 0.7% from 2010 to 2017.
Finally in 2018, the economy expanded by 2.3%, the highest growth since 2012, according to the International Monetary Fund (IMF). The growth was mainly driven by the opening of Baha Mar, new foreign direct investment, and post-hurricane construction activity. The economy is expected to grow by 2.1% this year and by another 1.6% in 2020.
Tourist arrivals rising again
After its lackluster performance in recent years, tourism bounced back strongly last year. In 2018, total visitor arrivals in the Bahamas rose by 7.9% to about 6.6 million people from a year earlier, in contrast to a decline of 2.1% in 2017, based on figures from the Ministry of Tourism.
During 2018:
Visitor arrivals by sea increased 5.5% y-o-y to 5,063,929 people, in contrast to a 1.5% drop in the prior year.
Arrivals by air soared by 16.6% y-o-y to 1,558,085 people in 2018, in contrast to a 4% decline in 2017.
In fact, the major hotels in Nassau and Paradise Island, the islands' primary tourism hub, saw a 34% growth in room revenues last year – gains not seen in the last decade, according to the Ministry of Tourism.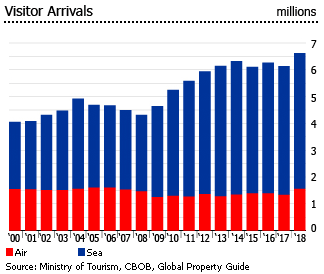 "Over the last eighteen months, we have had several top brand hotels come on stream, namely the full opening of Baha Mar with its signature brands, the Rosewood, the Grand Hyatt and SLS," said Bahamas Tourism Minister Dionisio D'Aguilar. "The increased room inventory has generated increased airlift."
Tourism accounts for around 60% of Bahamas' GDP, and 50% of employment. Bahamas' second-largest industry is financial services, which accounts for 20% of GDP.
Baha Mar continues to boost tourism and foreign investment
The $4 billion 1,000-acre megaresort Baha Mar finally opened in April 2017, after many hitches over more than a decade.
The resort encompasses multiple properties, including a 1,000-room casino hotel, a 300-room SLS Lux, a 200-room Rosewood and a 700-room Grand Hyatt. It also features a Jack Nicklaus-designed golf course and a 30,000-square-foot spa. The project has been billed as an economic driver since its inception and is expected to improve the country's GDP by 12%. In fact, in 2018, Baha Mar successfully buoyed tourist arrivals in the Bahamas – which resulted to increased interest from foreign homebuyers.
"What happens when you have a new product like this it creates excitement in the marketplace and then it creates demand for our destination," said Tyrone Sawyer of the Ministry of Tourism. "Those are things that drive airlift."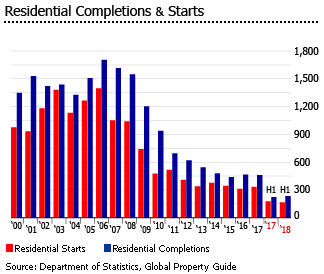 This was seconded by Prime Minister Perry Christine, who estimated that Baha Mar will "generate an additional 315,000 air passenger seats annually, an increase of 19% over our 2015 record of arrivals and signaling in the marketplace the revitalization of The Bahamas tourism brand."
In Q1 2019, occupancy levels at Baha Mar were at record highs, in line with strong growth in tourist arrivals in The Bahamas.
Since opening, Baha Mar has been recognized globally, receiving several industry accolades. Recently, Baha Mar was recognized as the 2019 Wedding Property of the Year for The Americas by The Destination Wedding Planner Congress. Also, SLS Baha Mar and Rosewood Baha Mar have landed on the coveted Travel + Leisure's It List and Condé Nast Traveler's Hot List. The development has also been featured in various TV shows including The Bachelorette, Real Housewives of Beverly Hills, The TODAY Show and The Ellen DeGeneres Show.
Prices of one-bedroom residences in this multi-billion dollar development range from US$1.5 million to US$3 million, while three-bedroom beachfront residences can cost as much as US$8 million.
Rental yields are good
Property rental yields in Bahamas are moderate to good, according to Global Property Guide research.
Nassau tends to have the highest average gross rental yields, with inland condominiums yielding around 8%, while waterfront condominiums yield an average of around 7%. Smaller waterfront condominiums have higher yields. Condos of around 120 sq. m. yield around 8.16% p.a., while 300 sq. m. condominiums yield less, at 5.70% p.a. Yields in Abaco and Grand Bahama waterfront are moderate, ranging from 3.57% to 4.45%.
Monthly rents for waterfront condominiums in Nassau range from US$2,500 to US$ 6,500 per month. In Abaco and Grand Bahama, rents for waterfront condominiums are US$ 1,200 to US$ 3,500 per month.
The Rent Control Act applies only to dwellings with a total value of US$75,000 or below, stipulating that rents shall not exceed 15% (p.a.) of the assessed value of the property, and 20% for furnished residences. Luxury vacation rents are not covered by this act.
Residential construction activity rising
During the first half of 2018, residential construction permits increased 5% to 526 compared to the same period last year, according to the Department of Statistics of The Bahamas. In fact, their value more than doubled to BSD214.65 million (US$214.6 million) over the same period.
Great for the Bahamas, because it's been a terrible decade. With the global recession in 2009 construction was 26% down. The decline continued, with permits falling by 22% in 2010, 2% in 2011, 7% in 2012 and 27% in 2013. After stabilizing in 2014, activity fell again by 12% in 2015 and 11% in 2016. It was only in 2017 that permits increased again by more than 15%.
From 2007 to 2017, residential starts fell by an average of 10.9% every year while completions dropped by an annual 10.7%.
However residential construction activity is now rising again.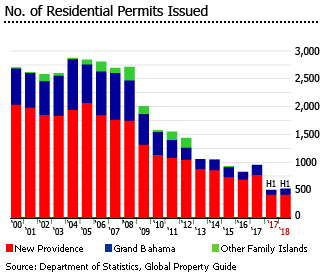 More than 78% of the residential construction permits issued during the first half of 2018 were in New Providence, and 22% in Grand Bahama. There were no permits issued in other Family Islands.
During the second quarter of 2018:
Residential starts fell by 17.8% y-o-y to 83 properties, but the value of residential starts increased 3.2% to BSD24.22 million (US$24.21 million) over the same period.
Residential completions rose by 7.7% y-o-y to 126 properties while the value of residential completions fell by 23.4% to BSD35.21 million (US$35.2 million) over the same period.
Declining mortgage interest rates
The average residential mortgage interest rate was 5.11% in March 2019, down from 5.49% in March 2018 and 6% in March 2017, according to The Central Bank of The Bahamas (CBOB). Mortgage rates were around 8% in 2007 to 2010, 7.4% in 2011 to 2014 and 6% in 2015 to 2018. The central bank's bank rate stood at a record low of 4% in March 2019.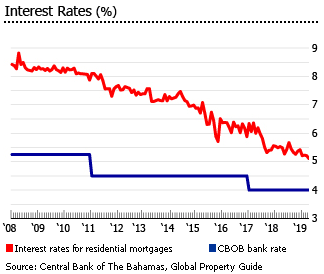 Despite falling interest rates, the mortgage market continues to shrink. In 2018, the size of the mortgage market was equivalent to 23.4% of GDP, down from 24.4% in 2016, 28.1% in 2014, and 30.2% in 2011, based on Global Property Guide estimates. In fact, it was the lowest level since 2006.
Residential mortgage commitments are falling:
For single dwellings, the number of commitments fell by 16.3% y-o-y to 729 in 2018 and the value dropped 10.4% to BSD 102.47 million (US$ 102.45 million).
For duplexes and rows, commitments fell by 4.3% to 157 during 2018 while its value plummeted by 31.6% to BSD 21.33 million (US$21.33 million)
Yet, the total amount of outstanding residential mortgages rose by 4% to almost BSD 3 billion (US$3 billion) in 2018 from a year earlier, in contrast to annual declines of 0.4% in 2017, 4.9% in 2016, 1.2% in 2015 and 0.7% in 2014, according to the CBOB.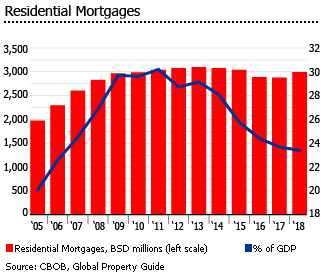 Local banks lend largely to Bahamian households, in local currency (BSD1 = USD1). Real estate purchases by wealthy foreign buyers are mostly in cash. Domestic currency mortgages make up 98% of all outstanding mortgage loans.
Real property tax changes
On July 1, 2018, the government introduced changes to real property tax system, in an effort to boost real demand, but at the same time prevent speculative buying. The policy change was outlined in the 2018-19 National Budget.
Increased tax rate for foreign-owned vacant land. The annual real property tax for undeveloped land owned by foreigners was raised from 1.5% to 2%, to discourage land speculation and encourage the development of the property.
Exemption for first-time homeowners. The exemption from stamp duty for first-time homeowners has now been extended until June 30, 2023.
New stamp duty rates. All conveyances of real property are now subject to stamp duty at 2.5% of its value if the consideration is less than $100,000 and 10% if the consideration exceeds $100,000. Conveyances include the sale, lease, assignment or other transfer of real property from one owner to another.
Value-added tax on real property transfers removed. The Value Added Tax Act was amended to make all transfers of real property (except commercial leases) exempt from VAT.
Government plans to raise investment threshold
Recently, the government unveiled a plan to try to attract "cream of the crop" ultra-high net worth individuals by raising to US$750,000 the permanent residency threshold, from the current US$500,000. Accelerated consideration is given to purchasers of property valued in excess of US$1.5 million
Foreign Affairs Minister Fred Mitchell describes the current US$500,000 investment threshold for permanent residency consideration as "absolutely too low". "The cost of a work permit is $12,500 for someone who is a managing director of a bank for one year, and then you're giving permanent residency to someone because he could pay $500,000 for a house. Something is wrong with that."
The benefits of Bahamian residency include:
Right to reside in the Bahamas without further renewal of permits
Right to enjoy all privileges enjoyed by citizens of Bahamas except for the right to vote.
Right to purchase property in the islands
Liberal tax regime
Easy travel to Commonwealth nations, members of the Caribbean Community and the members of the Organization of American States
Eligible to apply for Citizenship of Bahamas after fulfilling residence requirements
Economy improving, unemployment falling
The economy was estimated to have expanded by 2.3% last year, the highest growth since 2012 and an improvement from an annual average growth of 0.04% in 2007 to 2017, according to the IMF. The growth was mainly driven by the opening of Baha Mar, new foreign direct investment, and post-hurricane construction activity.
Baha Mar resort and residential development has created about 4,000 jobs, helping to reduce the overall unemployment rate to 9.2% in 2018 – the lowest level since 2008. Valued at US$4 billion, Baha Mar is the largest and priciest resort development in the Caribbean. It includes about 300 condominium units, more than 1,000 hotel rooms, three spas, retail and entertainment facilities, a casino and a Jack Nicklaus-designed golf course.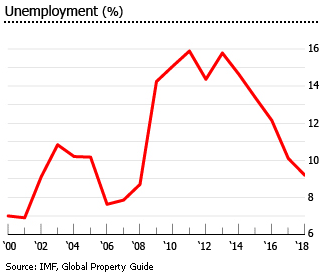 In February 2019, Baha Mar's occupancy level was over 90% and airlift was 26.4% higher than the same period last year. A water park on the site of the Crystal Palace structure is expected to be constructed this year.
The economy is expected to grow by 2.1% this year and by another 1.6% in 2020, according to the IMF.
"Expectations are that the Bahamian economy will continue to exhibit positive trends over the near-term, amid sustained growth in the tourism sector and impulses from foreign investment-led construction activity," said the CBOB.
The government's overall deficit declined to 3.3% of GDP in 2018, substantially down from the prior year's 5.6% shortfall, according to the CBOB. National debt was equivalent to about 64.6% of GDP in 2018, slightly down from 64.8% of GDP in 2017 but up from 59.6% of GDP in 2016 and less than 20% of GDP prior to 2008.
Inflation is now rising. The Bahamas posted an inflation rate of 2.2% in 2018, up from 1.4% in 2017, -0.3% in 2016, 1.9% in 2015, 1.2% in 2014, 0.4% in 2013 and 1.9% in 2012. Consumer prices are projected increase further by 2.6% this year and by another 2.4% in 2020, according to the IMF.
Unemployment continues to fall. In 2018, the overall jobless rate stood at 9.2%, down from 10.1% in 2017 and the lowest level since 2008. Unemployment is expected to fall further to 9% this year.
Celebrity Paradise
The Bahamas boasts the highest concentration of celebrity-owned private islands anywhere in the world. Its more than 700 islands and cays have attracted well-known celebrities such as Johnny Depp, who filmed Pirates of the Caribbean in Exumas and purchased Little Hall's Pond Cay in 2004 for a reported $3.6 million; magician David Copperfield who bought up to 11 islands for $50 million; music stars Faith Hill and Tim McGraw, who purchased 17-acre Goat Cay in 2006; director, actor and screenwriter Tyler Perry, who bought 20-acre White Bay Cay in 2009 for $6.4 million and business magnate Prince Aga Khan IV, who spent up to $100 million for 349-acre Bell Island, also in 2009; and singer Shakira, who bought Bonds Cay for $16 million in 2011.
The Bahamas has no income, inheritance, capital gains or corporate taxes.
Aside from its cities - the capital, Nassau, located on New Providence Island, and Freeport, which is on Grand Bahama - some of the most sought-after properties in the Caribbean are on the ´Out Islands´ including Abaco, Andros, Acklins and Crooked Island, Bimins, Berry Islands, Cat Island, Eleuthera, the Exumas, Inaguas, Mayaguana, and San Salvador.
The country is accessible from New York within 2.5 hours and from Florida within 45 minutes. The Bahamas' economy is considered one of the most stable in the Caribbean thanks to its close ties and proximity to the US.
Some property hotspots are:
Abacos: Found in the Northern Bahamas region, the Abacos form a 120-mile chain of islands stretching over 650 square miles. The most popular of the islands are the Great Abaco Island and Little Abaco.
Property samples in Abacos listed at Coldwell Banker in May 2019:
A 5-bedroom, 5-bathroom 396,396 sq. ft. single family home in Elbow Cay sells for $6.85 million
A 7-bedroom, 1-bathroom 13,691 sq.ft. single family home located in Man-O-War Cay sells for a whopping  $11.75 million.
A 7-bedroom, 9-bathroom, 9,970 sq.ft. single family home in Winding Bay sells for $6.5 million.
A 6-bedroom, 5-bathroom 5,797 sq.ft. single family home in Treasure Cay is listed for $5.7 million.
Andros: The largest island in the Bahamas, Andros is hailed as the world's bone fishing capital and has the third largest fringing barrier reef in the world. It is the least developed among the group of islands in the Bahamas, making it the perfect escape for people who want to get away from the city bustle.
Property samples in Andros:
2-bedroom, 2-bedroom 1,400 sq.ft. single family home in Staniard Creek sells for $2.1 million
6,500 sq.ft. Fresh Creek home with 4 bedrooms and 3 bathrooms sells for $850,000
3-bedroom, 3.5-bathroom 2,588 sq.ft. home in Fresh Creek sells for $550,000
Eleuthera: 50 miles east of Bahamas' capital Nassau is Eleuthera, boasting a stunning reef system and 110 miles of pink and white sands.
Property samples in Eleuthera:
4-bedroom, 5-bathroom 7,500 sq.ft. single family home in Governor's Harbour sells for around $8 million
A 6-bedroom, 5.5-bathroom single family home with a lot size of 30 acres currently sells for $6.8 million
Exumas: Exuma consists of over 360 islands, many of which are still untouched and are less explored than the prime destinations of Grand Bahama and Nassau.
Property samples in Exumas:
A 4-bedroom, 4-bathroom 3,100 sq.ft. single family home in Emerald Bay currently sells for $2.85 million
A 4-bedroom, 4-bathroom 5,350 sq.ft. single family home in February Point sells for $3.5 million
A 5,250 sq.ft. single family home with 6 bedrooms and 6 bathroom off the shore of Tar Bay sells for $3.75 million
Grand Bahama: The fourth largest island and considered the most known island in the Bahams, Grand Bahama is home to every conceivable amenity and property type. It has a commercial and tourism centre called Freeport located near the international airport. It is the second most populated city in the archipelago and is popular among vacationers and shoppers.
Property samples in Grand Bahama:
A 6-bedroom, 6-bathroom single family home measuring 11,604 sq.ft. in Fortune Cay sells for $6.5 million
A 7-bedroom, 7-bathroom 14,443 sq.ft. single family home in West End is currently listed for $2.7 million
A 6,000 sq.ft. property with 5 bedrooms and 6 bathrooms in Bahamia sells for $1.55 million
Nassau: Located on New Providence is the capital of the Bahamas, Nassau, a 21-mile long island which is linked to neighboring Paradise Island, home to the Atlantis resort, by a bridge. A full-service luxury development housing waterfront properties called Ocean Club Estates can be found at the easternmost tip of Paradise Island.
Located just at the western tip of New Providence is Lyford Cay, a gated community which has long been home to some of the world´s wealthiest individuals. It has a private international school and a mile-long beach that can only be enjoyed by a select few.
Just east of Lyford Cay lies Old Fort Bay, a modern private waterfront community with iconic Poinciana trees.
Property samples in Nassau:
A 6-bedroom, 7-bathroom 5,800 sq.ft. single family home in Old Fort Bay sells for $10.2 million
A 6-bedroom, 6-bathroom 14,480 sq.ft. single family home in Lyford Cay sells for $6.75 million
A 4-bedroom, 4-bathroom 5,200 sq.ft. condo in South Ocean is currently listed for $5.95 million
Sources:
Bahamas - More data and information