Bahamas property market largely stable; but high-end segment on an uptrend
Lalaine C. Delmendo | June 20, 2019

After several years of housing slump, the Bahamas' property market is improving. Sales are rising and property prices have already stabilized. Residential construction is also increasing again.

"It's not on fire, and it's not in the doldrums," said George Damianos of Damianos Sotheby's International Realty. Overall prices have been stable in the past three years, with almost balanced supply and demand, Damianos noted.

Bahamas' property prices saw an average correction of 20% from peak after the financial crisis, with some areas seeing declines of as such as 60%, according to Bahamas Realty. Local agents say house prices dropped by 30% to 40% from 2007 to 2010 (there are no official house price figures).

"Since then, it's been up and down, but it's slowly getting better and better," said John Christie of H.G. Christie Ltd.

The property market is on a slight upswing, reflected in increased sales volume in the past two years, according to Christine Wallace-Whitfield, the president of the Bahamas Real Estate Association.

The luxury market has bounced back strongly, thanks in part to foreign investors who see the islands as safe investment. High-end property prices have increased by an average of US$200 a square foot (sq. ft.) in the past couple of years, according to Christie. In 2018, luxury homes in The Bahamas start at about US$1 million, with prices typically ranging from US$750 to US$2,000 per sq. ft.

In Old Fort Bay, an exclusive waterfront community in New Providence, sales and prices of luxury homes have risen 10% to 15%, according to Richard Sawyer of Damianos Sotheby's International Realty. Prices of luxury properties in Old Fort Bay start at US$2 million.

Ocean front units in the Royal Ocean Club, situated on Grand Bahama, are now priced at about US$150,000. In the Bahamas Rum Cay, one and two-bedroom beach cottages start at US$125,000.

In the Lyford Cay, a private gated community on the New Providence, a six-bedroom colonial-style home, Cuckoo's Nest, is priced at US$6.5 million.

In the Elbow Cay, an eight-mile-long cay in the Abaco Islands, houses are priced from US$300,000 at the lower-end of the market, while beachfront properties are valued from US$1 million to US$8 million.

In the other Family Islands, prices range from US$395,000 to US$595,000 for condominium units while house prices range from US$439,000 to US$4.5 million. Oceanfront properties are priced from US$1.8 million.

Most foreign homebuyers come from the United States, Canada, France, Britain, and Italy.

There are no restrictions on foreigners buying property, except that a permit from the Government is required before the transaction, if the property is on undeveloped land with an area greater than five acres (20,234 sq. m.).

Foreigners who own properties in the Bahamas are eligible for a homeowner's residence card (renewable annually) and those who purchase properties valued at least US$500,000 are given priority in permanent residence applications. However, neither permanent nor annual residence gives a foreigner the right to work in the country.

The Bahamas enjoyed GDP growth of 3% p.a. from 1997 to 2007. Growth halted in 2008 (-2.3% GDP) and 2009 (-4.2% GDP), due to the global financial crisis. The economy had an annual average growth of just 0.7% from 2010 to 2017.

Finally in 2018, the economy expanded by 2.3%, the highest growth since 2012, according to the International Monetary Fund (IMF). The growth was mainly driven by the opening of Baha Mar, new foreign direct investment, and post-hurricane construction activity. The economy is expected to grow by 2.1% this year and by another 1.6% in 2020.


Analysis of Bahamas Residential Property Market »
Prices firm in the Bahamas, yields good in Nassau
The Bahamas has traditionally had quite high yields. But as such a high proportion property rentals is seasonal, it is hard to get good figures.

Among the different types of properties that we survey, inland condominiums on Nassau have the highest average yields at around 8%, with yields of around 7% for Nassau condominiums along the water. Yields in Abaco and Grand Bahama waterfront are moderate, ranging from 3.57% to 4.45%. Last year we found a similar yield gap for Nassau houses, so it seems that this real factor, not a statistical blip.
Bahamas impose little tax
Rental Income: There are no income taxes but stamp duties are imposed when leasing Bahamian real property.

Capital Gains: There are no taxes on capital gains in the Bahamas.

Real Property: Property taxes should not be a major concern. The maximum tax rate is 1% for properties worth more than US$500,000.

Inheritance: Inheritance is not taxed in the islands.

Residents: Income of residents is not subject to tax.
Buying costs can be very high in Bahamas
Round-trip transaction costs, i.e., the cost of buying and selling property, range from 9.10% to 25.50%. The huge range is partly due to the progressive nature of Stamp Duty, which ranges from to 2% to 10%.

The high transaction costs are also due to the (very high) agent's commission, usually paid by the seller.

Commission for real estate agents in the Bahamas are set by The Bahamas Real Estate Association. The real estate agent's fee is 6% for developed properties and 10% for undeveloped properties or vacant land.
Bahamas' law is pro-landlord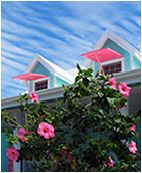 Rent: Rents can be freely agreed both for long-term fixed term tenancies, and for holiday lets.

In theory some property falls under the Rent Control Act, but it only applies to buildings with a total value of less than B$25,000, so in practice it is inoperative.

Tenant Eviction: The landlord must give the tenant proper notice of rent due and possible eviction for defaulting on rent. If the tenant fails to pay the rent on time, the landlord can summon the local police and repossess the property.

Even though a court order is not necessary for tenant eviction, most landlords bring defaulting tenants to court and sue for uncollected rent.
Economy improving, unemployment falling
The economy was estimated to have expanded by 2.3% last year, the highest growth since 2012 and an improvement from an annual average growth of 0.04% in 2007 to 2017, according to the IMF. The growth was mainly driven by the opening of Baha Mar, new foreign direct investment, and post-hurricane construction activity.
Baha Mar resort and residential development has created about 4,000 jobs, helping to reduce the overall unemployment rate to 9.2% in 2018 – the lowest level since 2008. Valued at US$4 billion, Baha Mar is the largest and priciest resort development in the Caribbean. It includes about 300 condominium units, more than 1,000 hotel rooms, three spas, retail and entertainment facilities, a casino and a Jack Nicklaus-designed golf course.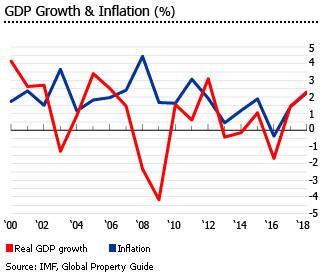 In February 2019, Baha Mar's occupancy level was over 90% and airlift was 26.4% higher than the same period last year. A water park on the site of the Crystal Palace structure is expected to be constructed this year.
The economy is expected to grow by 2.1% this year and by another 1.6% in 2020, according to the IMF.
"Expectations are that the Bahamian economy will continue to exhibit positive trends over the near-term, amid sustained growth in the tourism sector and impulses from foreign investment-led construction activity," said the CBOB.
The government's overall deficit declined to 3.3% of GDP in 2018, substantially down from the prior year's 5.6% shortfall, according to the CBOB. National debt was equivalent to about 64.6% of GDP in 2018, slightly down from 64.8% of GDP in 2017 but up from 59.6% of GDP in 2016 and less than 20% of GDP prior to 2008.
Inflation is now rising. The Bahamas posted an inflation rate of 2.2% in 2018, up from 1.4% in 2017, -0.3% in 2016, 1.9% in 2015, 1.2% in 2014, 0.4% in 2013 and 1.9% in 2012. Consumer prices are projected increase further by 2.6% this year and by another 2.4% in 2020, according to the IMF.
Unemployment continues to fall. In 2018, the overall jobless rate stood at 9.2%, down from 10.1% in 2017 and the lowest level since 2008. Unemployment is expected to fall further to 9% this year.