After several years of falling house prices, Aruba's property market is now recovering, thanks to robust economic growth and continued growth in tourism.

There are no official data such as average house prices per square metre (sq. m.) and rental prices in Aruba, so it is difficult to analyze the market. However, a two-bedroom house with a pool was priced at about US$325,000 in 2013.

After a decade-long increase in house prices, Aruba's property market started to slow sharply in 2009, amidst the global economic and financial crisis. House prices fell by about 15% to 25% starting 2009, according to real estate experts. The economy contracted by 11.3% in 2009, with another 3.3% contraction in 2010.

The property market is now recovering, amidst healthy economic growth in 2013.

Bakval, located south of Malmok, has the most expensive housing in Aruba. Prices of residential properties in Bakval ranged from US$800,000 to US$1.3 million. North Americans, especially those from the United States, are the largest group of homebuyers in Aruba. However, recently, there has been growing interest from South Americans, primarily from Brazil and Venezuela.

Residential construction is also picking up. In 2013, the number of construction permits granted for houses and apartments rose by 18.8%, to 582 permits.

Mortgages are obtainable, though most homebuyers prefer to pay in cash. In 2013, the total amount of outstanding housing mortgages amounted to US$894 million (AWG1.58 billion), up 3% from a year earlier, according to the Central Bank Van Aruba. In the fourth quarter of 2013, the average interest rate for housing mortgages was 6.6%, slightly down from 6.7% in the same period last year.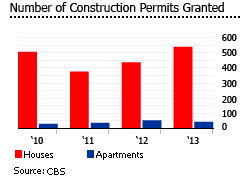 There was healthy tourism growth in Aruba in 2013. International visitors to Aruba rose by 8.3% to 979,256 in 2013 from a year earlier, according to the Aruba Tourism Authority. More than 61% of all visitors came from the United States.

Aruba's economy expanded by 3.9% in 2013, after a contraction of 1.3% in 2012, a growth of 3.5% in 2011, and contractions of 3.3% in 2010 and 11.3% in 2009, according to the Central Bank Van Aruba.


Analysis of Aruba Residential Property Market »