Anguilla's property market improving gradually
April 20, 2016

After several years of house price declines, Anguilla's real estate market is showing signs of improvement, reflecting a recovering economy.

House prices started to decline in Anguilla in early 2009, according to Sotheby´s International Realty. Property sales fell, as foreign demand weakened. From 2009 to 2012, residential lot prices dropped around 50% to 75%, according to local experts. In 2013 and 2014, residential property prices continued to drop, albeit at a decelerating pace.

In 2015, residential property prices stabilized. Transactions have increased modestly, according to local experts.

With an increase in sales last year, "things are better, but not back to where they were," said Jackie Pascher of Island Dream Properties in Anguilla. "I don't expect prices will start climbing until maybe the end of this year."

There's increasing interest from foreign homebuyers.  However, most sales to foreigners are taking place in the US$750,000 to US$1.5 million price range, with less demand for multi-million dollar homes than in the peak years of 2007-2008, according to Adrian Kobbe of Gum/ko International.

Despite many recent inquiries in the US$5 million to US$7 million price range, added Pascher, they haven't yet translated into deals.

Anguilla is a very mixed market. It attracts affluent foreigners seeking a third or fourth home but it also offers affordable condominiums to budget homebuyers. While the low end offers a sprinkling of $200,000 condominiums, Anguilla's market also has mega-villas priced as high as $25 million, said Hauser.

Most foreign buyers in Anguilla are Americans. There is also increasing interest from Britons, Canadians and Russians.

The East Caribbean dollar (XCD) is Anguilla's official currency, but many property listings and transactions are in US dollars.

The economy is expected to grow by more than 3% this year, after expanding by a modest 2.24% in 2015, according to the Eastern Caribbean Central Bank (ECCB). The economy was in a prolonged and deep recession from 2008 to 2012, with GDP contracting by an average of 5.1% every year.

Anguilla experienced a property price boom from 2004 to 2007. The sharp property price increases were driven by strong foreign demand, partly the result of celebrity sightings which have made the island 'chic'. Brad Pitt and Jennifer Aniston spent their final days as a couple on the island. Denzel Washington celebrated his 50th birthday in Anguilla.

Anguilla experienced a construction boom in 2005, as demand for real estate increased.

A new extended runway enabled private jets to land easily on the island
The Temenos development was launched, with a Golf Club (the first golf course in Anguilla)
The Viceroy Anguilla Resort and Residences was also unveiled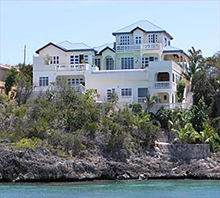 However, construction activity almost ground to a halt at end-2008 due to financing difficulties faced by developers, coupled with a sharp drop in demand. Numerous tourism and residential projects were cancelled or delayed. These included the construction of The Flag project at Temenos was stopped, the Flag's golf course development at Rendezvous Bay, the expansion plans for Altamer at Shoal Bay West, the Rendezvous Bay Hotel, the Privee at Shoal Bay, and the Fairmont Anguilla at Forest Bay, among others. After almost five years, construction activity was improving gradually.

Non-belongers are required to obtain an Alien Land Holding License to purchase property, which can only be up to half an acre. If more land is needed, further permission from the Government of Anguilla is required. A fee of US$1,200 per year is payable for a permit to rent out a property.