Wealthy international investors are flocking in. Vietnam is now widely seen as the next luxury property market hotspot, with a  booming economy, coupled with laws that recently have made it easier for foreigners to purchase property.

As a result, there's been a surge of high-end real estate developments in recent years.

Local demand is also continuously rising. "We have more and more very rich Vietnamese, particularly entrepreneurs looking for places to put their money," said Neil MacGregor of Savills Vietnam. The number of Vietnamese with net assets of US$30 million or more surged by 320% in the past decade, the fastest pace globally ahead of China and India.

"Most Asian businesses turn to real estate when they become successful in whatever core business they have," said Andy Ho of VinaCapital Group Ltd. "When their country's wealth grows up, people buy real estate."

Because of strong demand, residential property prices are rising strongly.

In Ho Chi Minh City, apartment prices surged 22.7% in Q1 2019 from a year earlier, to an average of US$2,028 per square metre (sq. m.), according to Jones Lang La Salle Vietnam. Likewise in Hanoi, the average price of apartments rose by 6.8% y-o-y to US$1,407 per sq. m. in Q1 2019. 

Sales have been greatly assisted by the Housing Law and Law on Real Estate Business (effective July 1, 2015), by the law on Sell and Transfer of Real Properties (subsequently fleshed out by Decree No 99 (effective December 10, 2015) and by Circular 19 (effective August 2016). Moreover, the Comprehensive and Progressive Agreement for Trans-Pacific Partnership (CPTPP), officially came into force in January 14, 2019, is also expected to attract more foreign investors.

Vietnam's improving infrastructure is also a plus factor. "Vietnam focuses on investment in infrastructure including 2,000 km of new highways, subway systems in Hanoi and Ho Chi Minh City, and many airport expansion and construction projects," said JLL.

In 2018, the Vietnamese economy grew by a robust 7.1%, after expansions of 6.8% in 2017 and 6.2% in 2016. Vietnam is expected to continue its stellar growth in the coming years, with projected annual GDP growth rate of 6.5% both this year and in 2020, according to the International Monetary Fund (IMF).

Foreigners are not allowed to own land. In fact, even citizens are not allowed to own land. In Vietnam, land is theoretically collectively owned by the people, but regulated by the State.

Foreign residents in Vietnam are permitted to purchase dwelling houses and can own the house but not the land on which it is built.

Outlook remains bullish

The outlook for the Vietnamese housing market remains bullish due to continued strong economic growth, rapid urbanization growth, and the construction of several mega projects in major cities.

"Overall, 2018 was a positive year for the real estate market, and we expect this performance to continue in 2019 in all segments," said JLL.

"Vietnam's real estate race is becoming hotter than ever with the growing attention of many domestic and foreign investors, recording a record amount of investment in recent years," JLL added.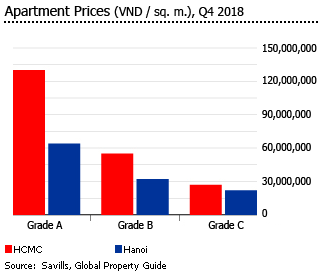 The positive outlook is supported by Savills Vietnam. "There was increased interest from foreign purchasers in high-end projects, with the 30% foreign quota quickly filling up. This trend is expected to continue, with higher price points expected across all grades."

Luxury condo prices are expected to rise to about 10% by early 2020 to US$6,000 per sq. m., based on CBRE forecasts.