Thailand's housing market losing steam
December 27, 2017

Thailand's housing market is weakening, despite a stronger economy. The average price of single-detached houses increased slightly by 0.2% (but in real terms it fell by 0.6%) during the year to Q3 2017, a slowdown from last year's 1.4% growth, according to the Bank of Thailand (BoT).  During the latest quarter, house prices increased by 1.5% (1% in real terms) in Q3 2017.

Condominium price rises decelerated sharply to 0.35% (-0.5% in real terms) during the year to Q3 2017, down from an 8.2% y-o-y rise during Q3 2016. This was the lowest annual price growth since Q1 2011. Quarter-on-quarter, condo prices increased 0.59% during the latest quarter.
The townhouse segment is more resilient, with price rises of 4.24% (3.35% in real terms) during the year to Q3 2017. During the latest quarter, townhouse prices increased 1.86% in Q3 2017.

Land price increases are also slowing nationally. The land price index rose by 1.59% (0.72% in real terms) y-o-y in Q3 2017, a sharp slowdown from a 7.9% rise the previous year. However during the latest quarter (Q3 2017), land prices actually increased 5.3% q-o-q.

Residential construction activity is declining rapidly. Condominium registrations and land development licenses issued for residential buildings in the country fell by 19.6% y-o-y and 18.8% y-o-y, respectively in Q3 2017. In Bangkok Metropolis, land development licenses fell by 4.7% while condominium registrations plunged 15.5% in Q3 2017 from a year earlier

Demand is also slowing. Nationwide land and building transactions dropped sharply by 12.4% q-o-q to THB 251.73 billion (US$7.69 billion) in Q3 2017, according to the BoT. When compared with the same period last year, transactions in Q3 2017 were still up by 6.9%.

Although the high-end segment remains bullish, the lower-end is seeing a clear reduction in demand, says Cobby Leathers, head of international marketing at Sansiri, one of Thailand's largest residential property developers.

CBRE expects a slowdown in overall demand, mainly due to a decline in speculative buying. "Sales will take longer as CBRE believes there will be less speculator interest in the market and demand will be driven more by end-users," said CBRE. "The long-term market will be affected by slower growth in expatriate numbers and the change in the composition of nationalities of foreign residents."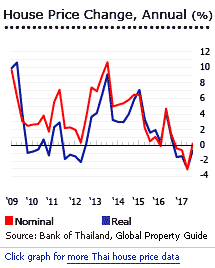 "CBRE expects that developers will be more cautious and seek signs of solid levels of demand before launching new projects."

Thailand's economy expanded by 4.3% y-o-y in Q3 2017, up from a 3.8% growth in the previous quarter and the fastest pace in more than four years, mainly buoyed by strong exports and rising personal spending. Economic growth is projected at 3.9% this year, according to the National Economic and Social Development Board.