---
Taiwan is pushing home prices down through amazingly harsh taxes
October 15, 2015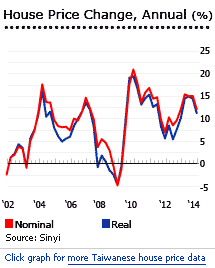 House prices are now falling in Taiwan after dramatic government measures to curb speculative house purchases, and a sharply slowing economy.
Taiwan's Lutheran home price index fell by 4.33% (-3.9% inflation-adjusted) in August 2015 from the same period last year, in sharp contrast with the annual rises of 3% in a year earlier, and 11.3% in August 2013, according to Sinyi Real Estate Planning and Research.
Most Taiwanese cities saw either falling house prices, or a sharp slowdown in house price rises during the year to end-Q2 2015:
In Taipei, the capital, house prices fell by 6.64% (-5.98% inflation-adjusted), in contrast with y-o-y rises of 5.89% in Q2 2014, 11.51%in Q2 2013, and 6.74% in Q2 2012.
In Xinbei, house prices fell by 1.37% (-0.67% inflation-adjusted), compared from annual increases of 7.75% in Q2 2014, 14.92% in Q2 2013, and 11.41% in Q2 2012.
In Taoyuan, house prices dropped 2.35% (-1.65% inflation-adjusted), in contrast with annual increases of 6.28% in Q2 2014, 20.81% in Q2 2013, and 13.42% in Q2 2012.
In Hsinchu, house prices rose by 2.01% (2.74% inflation-adjusted), the lowest annual increase since Q1 2009.
In Taichung, house prices rose by a minimal 1.27% (1.98% inflation-adjusted), down from annual increases of 4.49% in Q2 2014, 18.29% in Q2 2013, and 11.68% in Q2 2012.
In Kaohsiung, house prices rose by 9.2% (9.98% inflation-adjusted), from annual increases of 2.87% in Q2 2014, 26.34% in Q2 2013, and 16.27% in Q2 2012.
Demand continues to fall. The number of property transactions in Taipei stood at 2,419 units in September 2015, down by 3.3% from a year earlier and the lowest September level in 14 years, according to Yung Ching Realty Group. Property transactions in New Taipei plunged 32.8% y-o-y to 3,223 units, the lowest September level since 1999.  Residential construction licenses fell by 15.1% to 72,904 houses in the first eight months of 2015 from the same period last year, according to the Ministry of Interior.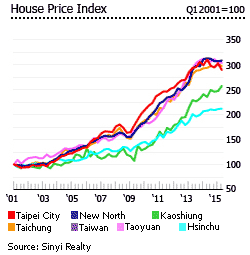 Residential property prices in Taiwan are likely to fall by 5%-10% per year over the next two years, according to Taiwan Ratings. In addition, property transactions and housing starts are expected to slow, mainly due to the property tax reform, according to Jones Lang LaSalle.
Taiwan's economic growth is expected to slow to 1.56% this year, down from an earlier government projection of 3.28% growth and lower than the average annual GDP growth rate 4.5% from 2010 to 2014.
Housing affordability: a major problem in the capital city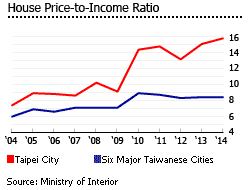 Taipei is now one of the most expensive cities to buy a house in the world. Taipei's house price-to-income ratio stood at 15.7, higher than London (8.5), New York (6.1), or Sydney (9.8). Hong Kong scored 17, according to the research group Demographia.
House prices in Taipei have almost tripled in the past 20 years, while average income levels have risen only by more than 12% between 2005 and 2014.  A three-bedroom apartment, which cost just TWD6 million to TWD7 million in 1995, was sold for about TWD20 million in 2014.
In Taipei City, the house price-to-income ratio increased from just 7.4 in 2004 to 15.7 in 2014, according to the country's Ministry of Interior. On the other hand, in six major Taiwanese cities, the house price-to-income ratio increased just moderately from 6.0 in 2004 to 8.4 in 2014.
From 2002 to 2014 (based on figures from Sinyi Realty, Inc.:
In Taipei City, the house price index rose by 212.3% (168.4% inflation-adjusted)
In Xinbei, the house price index rose by 211.5% (167.8% inflation-adjusted)
In Taoyuan, the house price index rose by 175.2% (136.5% inflation-adjusted)
In Hsinchu, the house price index rose by 110.5% (80.9% inflation-adjusted)
In Taichung, the house price index rose by 199.8% (157.7% inflation-adjusted)
In Kaohsiung, the house price index rose by 156.1% (120.1% inflation-adjusted)
Moreover in 2009, the government cut inheritance tax rates from 50% to 10%, which resulted to an increase in housing demand, especially for high-end properties.
More than half the government´s 10 bubble indicators are now at danger levels, including the home price to income ratio, the rental return, and the mortgage to GDP ratio, according to Finance Minister Chang Sheng-ford.
An average household in Taipei needs to pay two-thirds of its income for a mortgage loan, which is far above the affordable limit of 30%.
"Taiwan´s property market has cooled in the past year," said Emily Dabbs of Moody´s Analytics. "Unfortunately, buying a home remains unaffordable for most young Taiwanese, a situation we don´t expect to change in the medium term."
Dramatic steps to hit owners of luxury properties
In a strangely Chinese cultural touch, from October 1, 2015, real estate brokers have been required to provide homebuyers with records of any unnatural deaths that may have occurred on the property, as part of a raft of measures to improve transparency.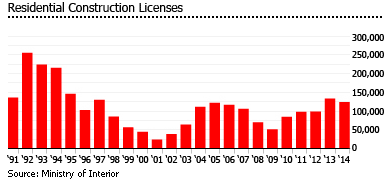 But the most dramatic change is a new property gains tax of as much as 45%. The new law will take effect on January 1, 2016. Property sellers will be required to pay between 15% and 45% of gains based on market prices, instead of the currently used government-assessed values. Qualified property sellers with gains of less than TWD4 million (US$130,000) will be exempt from the tax.
"It would be more difficult to reap much profit from short-term plays given the increased transaction burdens," said Stanley Su of Sinyi Realty, Inc. "The regulations could help curb speculation and benefit the market with stable and healthy development in the long run."
These measures follow many others. In March 2014, property taxes on non-owner-occupied residential properties were raised to between 1.5% and 3.6%, from the current range of 1.2% to 2%.  There were also tighter inspections of pre-sale house transactions. State-owned bank lowered loan-to-value ratios for first-time buyers from 80% to 70%, and to 50% to 60% for people owning more than one property.
Worries about mainland speculators peaked in early 2008 when residential property prices rose by more than 10% y-o-y during the first quarter. In April 2008, President Ma Ying-Jeou suggested that his new administration might forbid Chinese investors reselling property for five years after purchase. A luxury tax scheme resulted in July 2011, with second homes not occupied by the owner and sold within one year of purchase taxed at 15%, and those sold within two years of purchase taxed at 10%.
A crisis meeting was held in April 2014 by Taipei City Deputy Mayor Chang Chin-oh and Finance Minister Chang to discuss high real estate prices. During the meeting, Finance Minister Chang proposed the following four solutions: expanding the scope of the luxury tax, increasing the real estate holding tax, imposing heavier taxation on non-owner-occupied housing and accelerating the activation progress of public land.
The Deputy Mayor said that the goal was to lower Taipei housing prices by 30% within two years.  However, former Finance Minister Joseph Lyu warned that such super-swift measures to curb real estate prices by 30% would be disastrous. The safer method, according to the former Finance Minister, would be to take a step-by-step approach.
Interest rates and the mortgage market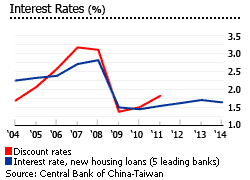 Taiwan's central bank lowered its benchmark interest rate to 1.750%, from 1.875%, in September 2015 - the first cut since 2009, mainly to support economic growth.
Market interest rates on housing loans have continuously risen since 2010, despite steady policy rates. In 2014, the average rate for housing loans rose to 1.963%, up from 1.948% in 2013, 1.894% in 2012, 1.834% in 2011, and 1.690% in 2010.
In August 2015, the average interest rate for housing loans stood at 1.974%, up from 1.963% a year earlier. Notwithstanding, interest rates for housing loans in Taiwan are among the lowest in the region.
Despite the low interest rate environment, housing loans have decreased since 2009 as a result of macro-prudential measures adopted by the Central Bank of the Republic of China (Taiwan). That´s because since October 2009, the CBC has actively urged banks to closely monitor mortgage-lending risks. In March 2010 the CBC asked banks to reduce loan-to-value ratios, raise interest rates, and remove grace periods related to loans for investment properties. The Central Bank also conducted a round of targeted examinations related to real estate lending.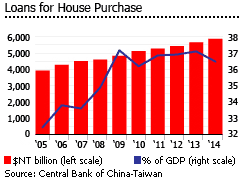 A major macro-prudential measure was to assign a 100% risk weighting to non-owner occupied residential mortgages. Risk weightings for other home mortgage portfolios range from 50% to 80%, compared with 10%-20% for banks in developed markets in the Asia-Pacific that practice the Internal Ratings-Based Approach to credit risk.
Because of these measures, the size of the mortgage market declined to 36.5% of GDP in 2014, from 37.2% of GDP in 2009, despite surging housing demand. All the same, loans for house purchase amounted to TWD5.96 trillion in August 2015 (US$183.5 billion), and grew by an average of 4.6% annually from 2006 to 2014.
Most residential mortgages in Taiwan are variable rate, with an average maturity of 25 years.
Chinese banks based in Taiwan can now offer mortgages in the country, since the signing of an MOU in November 2009.
Taiwan´s vanishingly low rental yields
Taipei now vies with Monaco for the lowest yields in the world. Taipei is not a happy place to be a landlord. Buying prices per square metre averaging a stellar US$7,200 to US$9,200, depending on size, while rents are still affordable.
The owner of an apartment in Taipei will be lucky to realize 2% yields, except on the very smallest apartments.
Such low yields are often a sign of an overvalued market. Given that the Global Property Guide's figures are for gross rental yields, i.e., do not make any allowance for vacant periods, for legal costs, administration costs, cleaning and repairs, rental taxes, property taxes, and other taxes, it is safe to say that landlords in Taiwan earn nothing on their apartments.
Paradoxically Taiwan has one of the highest home ownership rates in the world at 87%, while social housing accounts for about 5% of households. And the trend towards home ownership is increasing. Because of this, Taiwan's rental market is quite small, around 8% of around seven million households.
Clouds ahead for Taiwan - China relationship?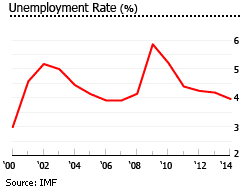 Relations between mainland China and Taiwan began to thaw after President Ma of the Kuomintang Party (KMT) assumed office in May 2008. He vowed greater cooperation with mainland China and denounced independence for Taiwan, a sharp contrast to his nationalist but corrupt predecessor, Chen Shui-bian.
In his inaugural address, Ma promised "no independence, no reunification and no war". In November 2009, several memorandums of agreement between Taiwan and China on financial cooperation were signed.
These gestures reassured investors and home buyers alike.
In June 2010, an Economic Cooperation Framework Agreement (ECFA) was signed by Taiwan and China. President Ma also accepted the 1992 consensus, which played a crucial role in lowering tensions with China and boosting cross-strait economic ties.
President Ma was reelected in the 2012 presidential elections.
Cross-straits trade has nearly doubled during President Ma's term, reaching US$198 billion in 2014. Tourism has flourished, with nearly three million Chinese tourists a year.
However, a growing number of Taiwanese are now concerned that domestic industries might be overwhelmed by competition from Chinese companies and jobs might also be threatened. There were occasional street protests. In the local elections held last November 29, 2014, KMT lost by historic proportions, which reveals the extent of popular discontent with the ruling party. Ma recently resigned as KMT chairman.
Taiwan's next general elections were scheduled for January 16, 2016. The KMT´s image problem means that the independence-leaning Democratic Progressive Party (DPP) has a better chance of returning to power. If DPP's Tsai Ing-wen is elected as president of Taiwan, a cross-strait crisis could ensue. In fact, Chinese leaders recently warned that tensions will rise again if the winner of Taiwan's next presidential election fails to make a clear commitment to the notion that there is only one China.
The economy is slowing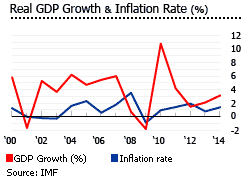 The Taiwanese government recently cut its GDP growth forecast to 1.56%, the lowest level since the global crisis. In Q2 2015, Taiwan´s economy grew by a meagre 0.64%, the weakest growth in three years, amidst slowing demand from China, according to the Directorate General of Budget, Accounting and Statistics.  GDP growth stood at 3.7% in 2014, up from 2.2% in 2013, 2.1% in 2012 and 3.8% in 2011, according to the International Monetary Fund (IMF).
Taiwan, heavily dependent on exports, was seriously affected by the US economic recession in 2008. The key interest rate was reduced from a five-year peak of 3.625% in August 2008 to the historic low of 1.25% in February 2009.  Economic growth slowed sharply to 0.7% in 2008, in sharp contrast to the robust GDP growth of 5.6% in 2002 to 2007. The economy contracted by 1.6% in 2009.
The economy bounced back sharply in 2010, registering a spectacular growth of 10.6%. The country has seen modest growth since then.
Taiwan's exports plunged by 14.8% in August 2015, its seventh straight month of falling exports, amidst weakening global demand for its technology products.
Taiwan is expected to see negative inflation this year, at -0.1%, from 1.2% in 2014, 0.8% in 2013, 1.9% in 2012, 1.4% in 2011, and 1% in 2010, according to the IMF.
The country's overall unemployment rate is expected at 3.96% this year, unchanged from last year.
Taiwan - More data and information