New government, new openness to foreign property investment in Sri Lanka
January 21, 2016

Sri Lanka started on a new political path in January 2015 with the election of a new president, Maithripala Sirisena of the Sri Lanka Freedom Party (SLFP) who defeated the increasingly authoritarian and corrupt Mahinda Rajapaksa, who was standing for a third term.

Sirisena immediately appointed as prime minister the United National Party (UNP) leader Ranil Wickremesinghe, a veteran UNP politician who is economically of the centre-right, and socially of a liberal disposition.

Since the end of the war 7 years ago, Sri Lanka's economy has boomed.  GDP growth of 7% per annum has become normal. Construction has grown at a double-digit rates and was 10.3% of GDP in 2013. The IT/outsourcing industry is booming. Shangri-La, Moevenpick, and many other luxury hotels have opened.

Tourist arrivals have skyrocketed, rising by 133% from 2010 to 2014 with more than 1.5 million tourists visiting the country, a major improvement even over the 11.9% annual growth in tourism arrivals from 2000 to 2009.  There has been significant spending on new infrastructure, and rising internal migration from the provinces into Colombo.

Sri Lanka's new government has adopted a strategy of openness to foreign investment. Its stance on civil liberties, good governance, and its accommodative position towards the Tamil population has reassured many of the estimated 3 million Sri Lankan diaspora, a majority of whom are Tamil.  Many legislative changes are in the offing to reduce the power of the presidency, and to liberalize inward investment.

"The government is looking for investor-driven growth, rather than relying on borrowing as before," says Roshan Madawela, CEO and research director of the London-based Research Intelligence Unit, which specializes in Sri Lankan real estate research.   He notes that the new government is much more accepted by the ethnic  minorities, many of whom live overseas.  "They feel reassured, and now they are looking again.

"Perceptions have changed significantly.  Money is also coming in from the US, Canada, UK, Germany, and elsewhere.  Tourists from all corners of the world, including China visit, they like the place, they set up a business and buy a property. The atmosphere is like Singapore and other Asian Tiger Economies 25 years ago."

As local journal Echelon noted:

"The way in which high-rise buildings are shooting skywards in Colombo and the suburbs, the city will be unrecognisable in a few years. The frenetic building activity underway in many places is changing Colombo's skyline almost by the day. Both companies and individuals are pouring money into property – buying land and putting up buildings – in the expectation pent-up demand will yield high returns."

Nevertheless, 2015 was a year of political uncertainty after the unexpected result of the Presidential elections in January which were followed by Parliamentary elections in August, and by a budget in November, accompanied by the drafting of a new Constitution which generated a lot of political heat and re-alignments.

This resulted in a pause in investment to some extent as people took a 'wait and see' stance.

The 'hot' locations are Colombo 1, 2, 3, 5, 7.  But given urban development plans, Colombo 11, 10, 8 and Crow Island area could transform significantly, TKS Securities has forecast, and could become desired locations for residential and commercial use and also recreation.

Then, given the successful implementation of the urban transport plan and creation of the 'Ring Road' circling the Colombo metro region, peripheral suburbs like Malabe, Kottawa, Piliyandala, Moratuwa, Kiribathgoda, Ja-Ela, Seeduwa and Katunayake could witness a sharp surge in demand.

Over the past year housing prices appear to have paused, after soaring since the war's end in 2009 (but land prices are still rising). Exact figures are hard to estimate, as Sri Lanka has no established system to report house prices. According to Lanka Property Web, a source that can unfortunately not be considered authoritative because its database is small, Sri Lanka's overall house prices fell by 1.23% y-o-y during the year to Q2 2015 (-1.34% inflation-adjusted), and apartment prices rose by 0.7% (0.59% inflation-adjusted).  In Colombo, house prices declined by 8.6% (-8.7% inflation-adjusted), and apartment prices fell by 1.15% y-o-y (-1.26% inflation-adjusted), according to the same source.

Four provinces appear to have had house price increases. The Northern Province had the biggest house price increase of around 23.47%. It was followed by the Central Province (3.1%), Sabaragamuwa Province (2.9%), and Western Province, excluding Colombo (1.2%). In contrast, the Southern Province and North West Province experienced price declines of 10.1% and 2.4%, respectively.

Price levels for condominium units per square foot (sq. ft.) in Sri Lanka are now (according to KPMG) around:

Super Luxury ― US$ 230 to US$ 385
Luxury ― US$ 115 to US$ 270
Semi Luxury ― US$ 92 to US$ 170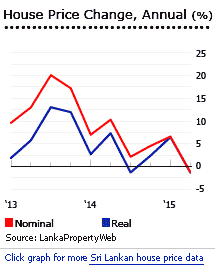 Land prices have continued to increase strongly in Colombo, both in terms of Sri Lankan Rupees and in USD terms.  Figures from the Research Intelligence Unit (RIU) suggest an average appreciation in Colombo 1 district from 8.5 million Rupees per perch in mid-2012, to 13.6 million Rupees per perch in mid-2015 (1 perch = 30 1/4 square yards or 25.29 square metres (sq. m.)).  Translated into USD, that is an appreciation from USD2,509 per sq. m. to USD4,013 per sq. m.

Jones Lang LaSalle Lanka (JLL) has noted that during the first half of 2014, the average price of land in Colombo rose by around 5%, while land prices in certain areas within the central and secondary submarkets rose by 7% to 8% by end of 2013.  In the prestigious Colombo 7 district, prime residential land has reach 10 million Sri Lankan Rupees per perch, or USD2,745 per sq. m.  In Colombo's 1st district, near the port, land prices are 50% higher.