New government, new openness to foreign property investment in Sri Lanka
January 21, 2016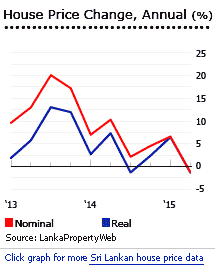 Sri Lanka started on a new political path in January 2015 with the election of a new president, Maithripala Sirisena of the Sri Lanka Freedom Party (SLFP) who defeated the increasingly authoritarian and corrupt Mahinda Rajapaksa, who was standing for a third term.
Sirisena immediately appointed as prime minister the United National Party (UNP) leader Ranil Wickremesinghe, a veteran UNP politician who is economically of the centre-right, and socially of a liberal disposition.
Since the end of the war 7 years ago, Sri Lanka´s economy has boomed.  GDP growth of 7% per annum has become normal. Construction has grown at a double-digit rates and was 10.3% of GDP in 2013. The IT/outsourcing industry is booming. Shangri-La, Moevenpick, and many other luxury hotels have opened.
Tourist arrivals have skyrocketed, rising by 133% from 2010 to 2014 with more than 1.5 million tourists visiting the country, a major improvement even over the 11.9% annual growth in tourism arrivals from 2000 to 2009.  There has been significant spending on new infrastructure, and rising internal migration from the provinces into Colombo.
Sri Lanka´s new government has adopted a strategy of openness to foreign investment. Its stance on civil liberties, good governance, and its accommodative position towards the Tamil population has reassured many of the estimated 3 million Sri Lankan diaspora, a majority of whom are Tamil.  Many legislative changes are in the offing to reduce the power of the presidency, and to liberalize inward investment.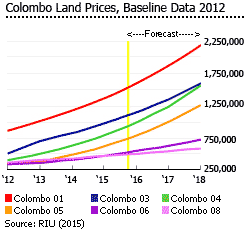 "The government is looking for investor-driven growth, rather than relying on borrowing as before," says Roshan Madawela, CEO and research director of the London-based Research Intelligence Unit, which specializes in Sri Lankan real estate research.   He notes that the new government is much more accepted by the ethnic  minorities, many of whom live overseas.  "They feel reassured, and now they are looking again.
"Perceptions have changed significantly.  Money is also coming in from the US, Canada, UK, Germany, and elsewhere.  Tourists from all corners of the world, including China visit, they like the place, they set up a business and buy a property. The atmosphere is like Singapore and other Asian Tiger Economies 25 years ago."
As local journal Echelon noted:
"The way in which high-rise buildings are shooting skywards in Colombo and the suburbs, the city will be unrecognisable in a few years. The frenetic building activity underway in many places is changing Colombo's skyline almost by the day. Both companies and individuals are pouring money into property – buying land and putting up buildings – in the expectation pent-up demand will yield high returns."
Nevertheless, 2015 was a year of political uncertainty after the unexpected result of the Presidential elections in January which were followed by Parliamentary elections in August, and by a budget in November, accompanied by the drafting of a new Constitution which generated a lot of political heat and re-alignments. 
This resulted in a pause in investment to some extent as people took a 'wait and see' stance.
The 'hot' locations are Colombo 1, 2, 3, 5, 7.  But given urban development plans, Colombo 11, 10, 8 and Crow Island area could transform significantly, TKS Securities has forecast, and could become desired locations for residential and commercial use and also recreation. 
Then, given the successful implementation of the urban transport plan and creation of the 'Ring Road' circling the Colombo metro region, peripheral suburbs like Malabe, Kottawa, Piliyandala, Moratuwa, Kiribathgoda, Ja-Ela, Seeduwa and Katunayake could witness a sharp surge in demand.
Over the past year housing prices appear to have paused, after soaring since the war´s end in 2009 (but land prices are still rising). Exact figures are hard to estimate, as Sri Lanka has no established system to report house prices. According to Lanka Property Web, a source that can unfortunately not be considered authoritative because its database is small, Sri Lanka's overall house prices fell by 1.23% y-o-y during the year to Q2 2015 (-1.34% inflation-adjusted), and apartment prices rose by 0.7% (0.59% inflation-adjusted).  In Colombo, house prices declined by 8.6% (-8.7% inflation-adjusted), and apartment prices fell by 1.15% y-o-y (-1.26% inflation-adjusted), according to the same source.
Four provinces appear to have had house price increases. The Northern Province had the biggest house price increase of around 23.47%. It was followed by the Central Province (3.1%), Sabaragamuwa Province (2.9%), and Western Province, excluding Colombo (1.2%). In contrast, the Southern Province and North West Province experienced price declines of 10.1% and 2.4%, respectively.
Price levels for condominium units per square foot (sq. ft.) in Sri Lanka are now (according to KPMG) around:
Super Luxury ― US$ 230 to US$ 385
Luxury ― US$ 115 to US$ 270
Semi Luxury ― US$ 92 to US$ 170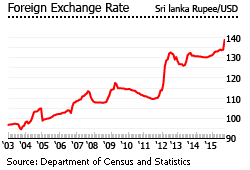 Land prices have continued to increase strongly in Colombo, both in terms of Sri Lankan Rupees and in USD terms.  Figures from the Research Intelligence Unit (RIU) suggest an average appreciation in Colombo 1 district from 8.5 million Rupees per perch in mid-2012, to 13.6 million Rupees per perch in mid-2015 (1 perch = 30 1/4 square yards or 25.29 square metres (sq. m.)).  Translated into USD, that is an appreciation from USD2,509 per sq. m. to USD4,013 per sq. m.
Jones Lang LaSalle Lanka (JLL) has noted that during the first half of 2014, the average price of land in Colombo rose by around 5%, while land prices in certain areas within the central and secondary submarkets rose by 7% to 8% by end of 2013.  In the prestigious Colombo 7 district, prime residential land has reach 10 million Sri Lankan Rupees per perch, or USD2,745 per sq. m.  In Colombo´s 1st district, near the port, land prices are 50% higher.
Sri Lanka will soon be open foreigners
In a major liberalizing development, in November 2015 the government announced that Sri Lanka will remove the annual tax of 15% on the price of leases to foreigners, and reduce the approval period for foreign direct investment requests to 50 days.  Foreigners will still only be able to acquire property on a 99-year lease.  Since the 2013 budget foreigners have been barred from purchasing land and property below the 4th floor, and could only lease, subject to an onerous 15% annual tax.  Before that, land purchases by foreigners were possible, subject to a 100% transfer tax, except during 2002-2004 when that tax was briefly lifted, and a number of foreigners bought on the coast.
"Foreigners and Sri Lankans will now absolutely be on a level playing field as regards leasehold property," says RIU´s Madawela, "The situation will be the same as in many other Asian countries, where foreigners cannot buy land but are free to lease long-term, and find that this allows profitable investments." 
The new government has drastically reduced the cost of dual citizenship permits for expatriate Sri Lankans.  In a recent ceremony, the president and prime minister jointly handed out 2,000 dual citizenship certificates to overseas Sri Lankans.
Low yields; luxury segment dominates the rental market
Rental yields on residential properties in Colombo are quite low at around 2% to 3%, as reported by Echelon in 2014. Gross rental yields tend to be higher for luxury residential property. "Rental returns for luxury apartments in the Central Business District fall in the range of 4–5%," said Gagan Singh, CEO of Jones Lang LaSalle Sri Lanka, in the same Echelon interview.  "The resale values of apartments there appreciated significantly until 2012, but have stabilized after that up to the current time. One needs to keep in mind that the base also has been low."
Although gross rental yields on long-term lets are not attractive, "You will have no trouble making a good return on a serviced apartment in a good location, with a sea view," says RIU´s Madawela.   "Rents of USD100-200 per night are common."
Sri Lanka has a small rental market - only 5.4% of total housing stock is rented.  It is dominated by high-end luxury apartments.
According to figures from Lanka Property Web, the average rental price for both houses and apartments in Colombo was around LKR 220,000 (US$ 1,564) per month in Q2 2015 - slightly lower than the average rents in Q2 2014, which were LKR 280,000 (US$ 1,991) per month for houses, and LKR 250,000 (US$ 1,777) per month for apartments. 
Interest rates very high, but falling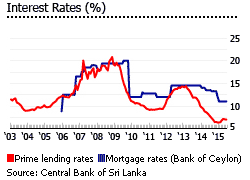 Sri Lanka has a very small mortgage market, which amounted to LKR 280 billion or around 2.9% of GDP in 2014.  Interest rates are high.  In June 2015 mortgage interest rates ranging from 9.5% to 12.5% were offered by the Bank of Ceylon, Sri Lanka's largest bank, having been lowered in January 2014 from 10% to 14%.
Mortgage loan maturities range from 15 to 25 years. The average commercial bank loan is LKR1 million (US$7,094); state-owned company loans are on average smaller.  Private commercial banks, which control about 75% of the market, offer adjustable-rate mortgage loans. State-owned banks offer only fixed-rate mortgage loans.
In April 2015, the Central Bank of Sri Lanka (CBSL) lowered its key rates by 50 basis points for the first time since January 2014, with repo and reverse repo rate fixed at around 6% and 7.5%.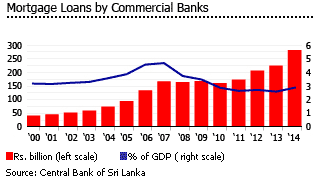 "…There is a further leeway to continue relaxation of monetary policy," noted the Central Bank, "primarily through a reduction in policy interest rates of the Central Bank to encourage economic activities by enhanced credit flows and investments due to lower cost of funds and behaviour of market interest rates consistent with economic growth outlook."
Housing construction held back by fragmented industry, high costs
Residential construction has been rising. Housing approvals in Greater Colombo rose in 2014 by 8.8% to 11,792 units, according to the Central Bank of Sri Lanka (CBSL).  The rise continued in 2015, with construction up 6.4% during the year to Q2 2015, according to the Department of Census and Statistics.
Around 76% of Sri Lanka's housing stock is owner-occupied.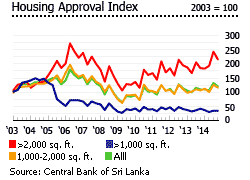 Construction is somewhat held back by industry fragmentation, and also by high costs. The only pure property play on the Colombo stock exchange is Overseas Realty. Other companies with development arms include Access, Ceylon Cold Stores, Hayleys, Richard Pieris & Company, John Keells Holdings.
At the high-end of the condominium market, demand is led by Sri Lankan expatriates and returnees, who have been snapping up the majority of apartments in high-rise projects, often even before they are built. Most are bought for investment purposes like renting, not to actually live in them, notes TKS Securities. 
At the other end of the market, there is sustained interest from migrant workers with some correlation seen between remittances from overseas and property prices. In locations like Colombo 6, in apartments priced in the mid-range, there appears to be some overcapacity as people who originally bought apartments return to their original homes in the north and east.
Another constraint is the slower increase in personal incomes. A decent home in a Colombo suburb costs at least Rs15-20 million (USD104,000 to USD139,000) – unaffordable for most middle-class people – mainly because of high construction costs and inadequate incomes.

There is a severe shortage of low-end housing, caused by a  surge in housing demand brought by internal migration from rural to urban area. Housing construction is currently at around 12,500 units per annum ― only a small part of the housing requirement of 100,000 units per annum, reported KPMG Sri Lanka in a report dated July 2015.
From negative during the 30 years of conflict, Sri Lanka´s urbanization rate has been around 0.3% during the past five years. The Sri Lankan government predicts that urbanization will rise further to 3% to 4% from now on, brought by rapid developments and economic opportunities in the urban areas.
To reduce the housing shortage, in August 2012 the Asian Development Bank (ADB) approved a US$ 15 million loan to DFCC Vardhana Bank (DVB) to relend to Sri Lankans for house purchase or rehabilitation, especially those living in tsunami-hit and post-conflict areas.
Traffic is getting worse, as are infrastructure bottlenecks
"Looking forward there will be challenges because of infrastructure bottlenecks. We can see that the traffic situation is moving in the direction of Bangkok,"  says Madawela.  This is despite the fact that in recent years, Sri Lanka has been investing in infrastructure projects to support the country´s economic progress.
Some key completed infrastructure projects include:
Colombo-Katunayake Expressway
Colombo Port expansion project
Bandaranaike International Airport expansion project
Outer Circular Highway
Beira Lake restoration project
Other projects such as the Fort Railway Station modernization, Marine Drive expansion, and the York Street facelift.
The government is planning a network of elevated roads that will connect all Colombo´s suburbs, having decided that a mooted monorail project would be uneconomic. The railways are also being electrified, connecting to the west side.
Booming tourism sector
Tourist arrivals have gone up steadily since the civil war ended in 2009. Tourist arrivals werecup 46% in 2010, then up 31% in 2011. Tourist arrivals showed slower growth for the past three years, but still managed to post double digit growth rates: 27% in 2012, 27% in 2013, and 20% in 2014. To help boost tourism, the government has legalized gambling despite religious protests. The tourism department aims to achieve at least 2.6 million tourists a year by 2016.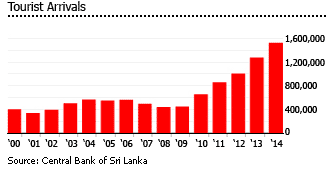 Sri Lanka used a global communication campaign "Visit Sri Lanka 2011" to promote the country. Sri Lanka also co-hosted the Cricket World Cup from February to April 2011.
In 2013, Sri Lanka's tourism department launched strategic promotional campaigns focused on emerging countries (such as China). The promo proved successful, as China emerged as Sri Lanka's second largest tourism market after India, replacing the UK, which fell to the third spot in February 2015, according to the data released by the Sri Lanka Tourism Development Authority (SLTDA).
Tourist arrivals were up by 11.9% during the year to June 2015, according to CBSL. According to the World Travel & Tourism Council (WTTC), international tourist arrivals will reach around 1.648 million in 2015, and the WTTC forecasts 3.314 million international tourist arrivals by 2025.
However the WTTC predicted that tourism arrivals from China might slow in 2015. It cited China's weaker economic growth, as well as the seemingly cooling relations of Sri Lanka and China, as President Sirisena intends to veer the new government's foreign policy away from the previous one's strong bonds with China.
The emergence of the IT-BPO industry
The growing Information Technology (IT) and the IT Enabled Services (ITES) industry in Sri Lanka has been one of the reasons that prompt an increase in demand for residential properties especially in the Greater Colombo area.
Sri Lanka is one of the world's top emerging IT-BPO destinations. It is among AT Kearney's Top 50 Global Outsourcing destinations, and Global Services Magazine's Top 20 Emerging Cities.
IT exports have risen from an estimated US$ 275 million in 2006, to a projected US$ 1 billion in 2015, according to SLASSCOM Chairman Madu Ratnayake. In 2013, around 75,100 Sri Lankans were employed in the BPO sector, more than double from 33,700 in 2007. The industry aims to reach about 200,000 direct employment by 2022, US$ 5 billion worth of revenue, and 1,000 startups, according to Ratnayake.
Strong yet slower growth in 2015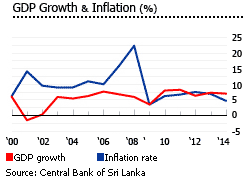 In 2014, Sri Lanka's economy grew by 7.4% in 2014, slightly higher than the 7.3% expansion registered in the previous year, according to the International Monetary Fund (IMF). GDP shot up by 8% in 2010, followed by an even higher growth of 8.2% in 2011. In 2012, the economy slightly slowed with 6.3% growth, but bounced back with a 7.3% growth in 2013. 
Growth then dipped due to the presidential election, with 4.4% y-o-y growth during the first quarter of 2015. Whole-year growth of 7% is expected to be announced for 2015.
Sri Lanka slightly exceeded the previous deficit with a 6% budget deficit in 2014. However, the country was still able to reduce its public debt as a percentage of GDP from 78.3% by end of 2013 to 75.5% by end of 2014. In 2015, Sri Lanka's deficit target is much lower at 4.4% of GDP. The IMF warned that the target is very difficult to attain "even with relatively optimistic assumptions regarding revenue gains".
"In the absence of new measures to create a more durable increase in tax collection, revenues in 2016 will drop as the one-off measures expire, while the permanent increase to recurrent spending from the revised 2015 budget will likely push the deficit higher," according to the IMF.
In August 2015, the country's inflation declined to 0.2% y-o-y, according to the Department of Census and Statistics, way below the central bank's target of 3% to 5%.
Unemployment rose to 4.7% in Q1 2015, from 4.1% in the same quarter last year, according to the Department of Census and Statistics. Youth unemployment (15-24 years old) is quite high, at 21.7% in Q1 2015.
How Sri Lanka got here: a historical retrospective
The civil war in Sri Lanka lasted 30 years and resulted in at least 100,000 deaths. Eleven years ago there was hope that it would end soon with the 2001 ceasefire agreement with the Liberation Tigers of Tamil Eelam (LTTE). Confidence in the economy revived, and there was strong demand for luxury apartments from expatriates who had left during the intense fighting. Developers experienced lucrative profit margins. Local investors followed, as these properties earned high yields.
However in November 2005, the conflict resumed when Mahinda Rajapaksa was first elected president. A strong supporter of a unitary state, Rajapaksa swore to defeat the Tamil Tigers. In 2006, the ceasefire totally collapsed, with bombings and attacks on government officials.
After intense fighting the LTTE's main stronghold was captured and its leaders killed, with talk of a massacre by government forces. In May 2009, Rajapaksa officially declared the end of the insurgency. A UN report in 2011 said that tens of thousands of civilians had been killed in the final phase of the war, most as a result of government shelling. It also said that hospitals, UN centres and ships belonging to the international aid group the Red Cross were deliberately targeted by the army.
Since then, peace has held, call centres have opened, and tourism has boomed. In January 2010, Rajapaksa was re-elected for a second and supposedly final six-year term as president. His closest challenger was Gen. Sarath Fonseka, the Armed Forces Chief (who ran a campaign criticizing the Rajapaksa's authoritarianism). Fonseka was defeated, court martialled, imprisoned, and stripped of all military ranks (he was later released). In September 2010 Parliament changed the constitution to allow Rajapaksa to stand for an unlimited number of terms. Human rights abuses multiplied, with journalists who investigated Rajapaksa´s family being "disappeared" (these incidents are now being investigated).
Rajapaksa´s increasing authoritarianism was finally his undoing. Besides human rights abuses and political kidnappings, the government was accused of running a corrupt family dynasty of four brothers. Press freedom disappeared. Though economic growth was rapid under his centre-left government, with many key roads built using loans from China including Sri Lanka´s first expressway, many such projects, often named after Rajapaksa himself, were seen as white elephants, such as the Mattala Rajapaksa international airport (which only serves one budget airline carrier).  Economic growth by-passed the rural Sinhala, who felt increasingly alienated by the Rajapaksa government.
Rajapaksa called an election two years earlier than necessary. To everyone´s surprise, he was challenged by his Minister of Health, Sirisena, who defected from the SLFP and ran against him in an opposition alliance.
"I felt sorry for [Rajapaksa] but could not stay anymore with a leader who had plundered the country, government and national wealth," the president elect later said.
Branded a "traitor", Sirisena is a clean living teetotaler and practising Buddhist with a reputation for honesty and hard work, from the ancient medieval capital Polonnaruwa in North Central Province, with a degree in agriculture.  He has never been seen in a suit, and had the political advantage of being general secretary of the SLFP.  He cannily reckoned that by putting together the votes of the disenchanted rural Sinhala, Muslims, Tamils, and urban intelligentsia, he stood a chance in the extremely dangerous game of challenging Rajapaksa.
After his unexpected victory, the SLFP split into two factions, Rajapaksa´s faction becoming the core of the opposition.  In the subsequent August general elections, the UNP won 106 seats, and Sirisena´s coalition (the United People´s Freedom Alliance, which includes both SLFP factions) won 95 seats. The SLFP agreed to form a national government with the UNP for two years, with Wickremesinghe continuing to head the government as prime minister.
With a new political consensus not to go back to the days of Rajapaksa´s nepotism and human rights abuses, with a new Constitution planned, the opening of the capital markets, the liberalization of inward investment, and an outreach to the Tamils and the investigation of previous civil rights abuses, Sri Lanka is on a new track.
Which may last - or it may not.
Sri Lanka - More data and information