House price slowdown in South Korea; soaring prices in Seoul
Maria de Guzman | March 12, 2019

Foreigners have been buying more properties in South Korea in recent years, though the country has a reputation of not being easy to navigate. The housing market is unusual, with huge key money deposits (the Chonsei system), and significant government intervention.

Yet judging by results this is a well-run market. It has been stable since the 2007 crisis.

Last year, in a typical intervention, the authorities decided to put a brake on the market.  In November the Bank of Korea (BOK) raised the key interest rate to 1.75% from 1.5%.  The Financial Services Commission (FSC) also released a detailed set of mortgage regulations applicable to loan applications for new mortgages from September 14, 2018. There were anti-speculative measures to curb house prices in so-called "overheated speculative zones", including Seoul, Gwacheon and Sejong City.

The results of all this caution have been good:  unsold houses on the market have gone down from 2009's peak figure of 123,297 housing units, to 57,330 units in 2017. The banking system is in good health, with the average bank loan-to-deposit ratio at 115.16 in Q3 2018, down from a range of 120 to almost 140 between 2007 and 2009.

Seoul's house price index was up by 6.2% y-o-y (4.8% inflation-adjusted) in December 2018.  Country-wide, the national housing purchase price index rose 1.1%, according to the Korean Statistical Information Service (KOSIS). However, when adjusted for inflation, house prices were actually down by 0.2%.

Gwangju, the country's sixth biggest city, had the second highest house price rise, increasing by 3.9% during the year to December 2018.
Seoul and Gwangju were followed by Daegu (3.6%), Daejeon (2.5%), and Incheon (0.7%).
Ulsan, the country's seventh largest city, saw the sharpest price decline of around 6.9%. House prices in Busan also dropped by 1.5%.
Out of the country's 9 provinces, Jeonnam had the highest house price increase of 2.9%, followed by Gyeonggi (1.9%), and Jeju (1%).
The province of Gyeongnam had the sharpest price decline by around 4.8%, followed by Chungbuk (-2.5%), Gyeongbuk (-1.9%), Chungnam (-1.8%), Gangwon (-1.6%), and Jeonbuk (-0.01%).

In Seoul a supply gap is driving up property prices (there's a "housing supply ratio" of only about 97.8% of housing actually required (2017)).  So the central government has decided to build around 300,000 houses by 2020 in Seoul.  In the provinces, on the contrary, over-supply is the problem, with a housing supply to households ratio of 103.5 to 100, according to the Ministry of Land, Infrastructure and Transport (MOLIT)).

What the government subsidises with one hand it taxes with the other.  In so-called "overheated speculative zones" it taxes dwelling-owners harshly. Households owning two homes have been required to pay an additional 10% in capital gains tax (CGT) upon the sale of a property since April 2018, in addition to a baseline CGT of between 6-40%, depending on the size of the gain and the holding period. Investors with three or more homes pay an extra 20%. In September 2018, the government also revealed plans to impose tougher ownership tax on properties worth over KRW 600 million (US$ 534,093), by increasing the tax from the initial proposal of 0.5%-2% to around 0.5%-3.2%.

Property buyers had previously been encouraged to invest by the BOK´s low key rate, cut twice in 2015 ― from 2% to 1.75% in March, then to 1.5% and to 1.25% in June 2016.  The country's household debt rose in response by around 6.7% y-o-y to KRW 1,514 trillion (US$ 1.35 trillion) in Q3 2018, according to the Bank of Korea (BOK).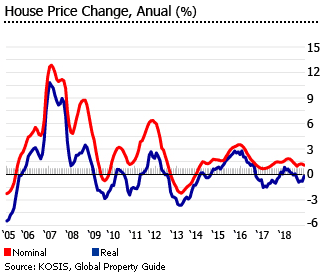 Upon conclusion, a property sale contract must be recorded by the foreigner to the head of the Shi/Kun/Ku (city/county/ward). If the property is located in military installation protection areas, designated cultural properties, and ecosystem conservation areas, foreigners "shall obtain permission from the head of Shi/Kun/Ku before the conclusion of the contract" .