South Korea's housing market is slowing, after two years of increasing house prices.  The national housing purchase price index rose by 0.79% during the year to end-November 2016, according to the Korean Statistical Information Service (KOSIS). However when adjusted for inflation, house prices were actually down by 0.51%.

Seoul's house price index rose more than the national index, up by 2.35% y-o-y (1.04% inflation-adjusted) in November 2016.

Busan, the country's second biggest city, had the highest house price rises of 2.95% during the year to November 2016.
Busan and Seoul were followed by Incheon (0.79%), Ulsan (0.69%), Gwangju (0.49%), and Daejeon (0.20%). In contrast, Daegu, the country's fourth biggest city, saw a house price decline of 1.83%.    
Out of the country's 9 provinces, Jeju had the sharpest house price hike of 6.27%. It was followed by Gangwon (1.39%), Jeonnam (0.99%), and Gyeonggi (0.98%). House prices in Jeonbuk saw no rise.
The provinces of Chungnam (-1.60%), Gyeongbuk (-1.58%), Chungbuk (-0.80%), and Gyeongnam (-0.30%) saw y-o-y house price declines.  

Why the slowdown?  Because lending rules were tightened by the government at the start of 2016, and there's an oversupply of housing. "Purchasing sentiment was dragged down by the government measures, along with a rising supply of new houses," said the Korea Development Institute (KDI).

Already in the second half of 2015, pre-sales were way beyond the inventory needed, raising oversupply concerns, according to ratings company Nice Investors Service. The ratio of housing supply to households went up from 98.3 in 2005, to 103.5 in 2014, according to the Ministry of Land, Infrastructure and Transport (MOLIT), indicating that housing supply currently exceeds the number of households.  Unsold houses declined to around 61,512 units in 2015, from a peak of about 123,297 unsold houses in 2009.

In addition, the country's large household debt - about 88.4% of GDP - has made repayments onerous for some households, compelling South Korea's Financial Services Commission (FSC) to increase the minimum proportion of fixed-rate and amortising home loans to around 30% of the banks' total mortgage loans in 2016, and around 40% by 2017. However outstanding mortgages were only 32% of GDP in 2015, up from 28% of GDP in 2007.  

A fresh set of curbs introduced by the government in November 2016 required property buyers in Seoul to retain ownership for 18 months from the date of purchase, a substantial increase on the current six months waiting period. Aside from that, downpayments will also be increased to 10% of the housing values.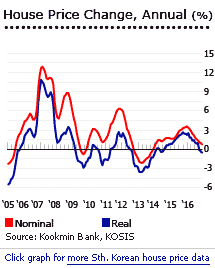 "We plan to take preemptive measures to stabilise the property market in all of Seoul, Sejong, and parts of Gyeonggi province and Busan, to make sure the market is focused on actual demand," said outgoing Finance Minister Yoo Il-ho.

Upon conclusion, a property sale contract must be recorded by the foreigner to the head of the Shi/Kun/Ku (city/county/ward). If the property is located in military installation protection areas, designated cultural properties, and ecosystem conservation areas, foreigners "shall obtain permission from the head of Shi/Kun/Ku before the conclusion of the contract" .


Analysis of South Korea Residential Property Market »