Singapore: This is the correct time for the rich to enter the market
June 20, 2017

Singapore housing prices continue to fall -but (on the other hand) demand is rising strongly. Homebuilder sentiment is also improving, after a partial relaxation of market-cooling measures.

The private residential property index fell by 2.77% during the year to Q1 2017, its thirteenth consecutive quarter of y-o-y price falls, according to the Urban Redevelopment Authority (URA). When adjusted for inflation, house prices actually fell by 3.45% during this period.

During the latest quarter (i.e. q-o-q in Q1 2017), residential prices fell by 0.36% (-0.56%% inflation-adjusted).

All regions also saw falling house prices:

In Core Central Region (CCR), prices of non-landed private residential properties fell by 1.9% (-2.6% inflation-adjusted) y-o-y to Q1 2017.
In the Rest of Central Region (RCR), property prices were down by 2.5% (-3.2% inflation-adjusted) over the same period.
In Outside Central Region (OCR), property prices fell by 2%(-2.6% inflation-adjusted) during the year to Q1 2017.

Prices of high-end, non-landed homes fell slightly by 0.2% q-o-q in Q1 2017, to an average of SGD2,254 (US$1,631) per square metre (sq. m.), according to Savills.

The continued decline in house prices is the result of deliberate government policy. Before and after the global economic crisis, Singapore's property market surged, and Singapore experienced an amazingly overheated market. The residential property price index rose 38.2% during the space of only one year to Q2 2010  (34% inflation-adjusted).

The Singapore government sensibly began to take steps, and when these turned out to be not enough, took further measures.

In October 2012 it limited the mortgage term to 35 years, and lowered loan-to-value (LTV) ratios to 60% for loans longer than 30 years (or loans stretching beyond age 65). This was only the first of 10 rounds of property-market cooling measures.

Seller's stamp duty (SSD) was then introduced on owner-occupied housing sold within a year of purchase. A little later, the stamp duty was revised upwards, with sakes of owner-occupied houses taxed sold within a year of acquisition taxed at 16% of sale price.  Then the holding period was increased from one year to four years. In subsequent rounds, LTV ratios were lowered and minimum cash down payment increased.

Despite these measures, property prices kept surging. In the sixth round, new residential loans were capped at 35 years, with existing loans over 35 years facing tighter LTV ratios.  In the seventh round the government revised the additional buyer's stamp duty (ABSD), increasing rates from 5% to 7% for Permanent Residents' (PRs) first residential property purchase, and Singaporeans' second residential purchase.

This resulted in a 23.5% decline in sales transactions within a year, but prices continued to surge till the end of 2013.

Eighth, ninth and tenth rounds of market-cooling measures followed.

These market-cooling measures have been effective, as evidenced by the 11% decline in property prices in the past three years.

Effective March 11, 2017, the government introduced a partial relaxation of its market-cooling measures, as a response to calls to lift these curbs amidst slow sales activity and weak economic growth.

Stamp duty is now payable by sellers after three years of purchase, down from four years, and the rate is cut by 4% for each tier. The new rates range from 4% for properties sold in the third year after purchase, to 12% for those sold in the first year.
The total debt servicing ratio is also eased. The requirement that loan obligation cannot exceed 60% of gross monthly income is no longer applicable for mortgage loans with loan-to-value (LTV) ratios of 50% and below.

"The policy relaxation is likely to be seen as the beginning of the unwinding of cooling measures and this is expected to lead more buyers back to the market," said Mr.OngTeckHui of Jones Lang LaSalle (JLL). "Buyers would perceive the market as bottoming and be hopeful of a price recovery."

As a result, market sentiment has improved, as evidenced by a strong increase in demand. New private residential units sold more than doubled in Q1 2017 from a year earlier, to 2,962 units, according to the Urban Redevelopment Authority. Though, other factors, such as low interest rates and relatively more affordable property prices, have also contributed to the recent sharp increase in sales.

Despite the policy reversal, many local property experts believe that a broad-based easing of property market curbs remains unlikely in the near term.

"It's a calibrated step-by-step approach that the Government is adopting so as not to unravel the stabilization efforts that have (borne) fruit over the last three years," said Eugene Lim of ERA Realty Network Singapore. "I do not think further easing will come so soon."

Singapore's housing market is expected to improve further in the coming months, as many investors are being lured back into the market, according to some local property experts.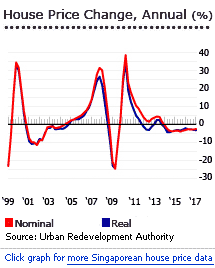 "With improvements in transaction volumes and prices of different marketsegments showing a mix of mild increases or decreasesgenerally, the private home sales market appears headedtowards a bottoming in the next few quarters, providedsentiments remain positive and barring major external shocks," said OngTeckHui.

Singapore's economy expanded by a modest 2.5% in Q1 2017 from a year earlier, according to the Ministry of Trade and Industry. The economy is expected to grow by 2.2% this year, after expanding by 2% in 2016, 1.9% in 2015, 3.6% in 2014, 5% in 2013, 3.9% in 2012, 6.2% in 2011, and 15.2% in 2010, according to the IMF.