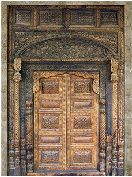 Pakistan (pop. 158,277,000; GDP/cap US$627) borders the Arabian Sea, between India on the east, and Iran and Afghanistan on the west, and China in the north.

Pakistan is in dispute with India over the Kashmir region. It is also the training ground of terrorist groups like the Taliban, and allegedly, America's best friend, Osama Bin Laden, is said to be hiding in the country.

All economic sectors of Pakistan are open to foreign direct investment.

In 2000, Pakistan liberalized its investment policy. Housing was one of the sectors that were given priority status. National ownership requirements for investments in the housing sector were removed.


Analysis of Pakistan Residential Property Market »
Rental income tax is quite low in Pakistan
Rental Income: Gross rental income is subject to income tax tax at progressive rates.

Capital Gains: Capital gains realized from selling real property are not taxable in Pakistan.

Inheritance: There are no inheritance taxes in Pakistan.

Residents: Residents Residents are taxed on their worldwide income at progressive rates. Different income tax rates apply on employment income, on other income.
Buying costs are low in Pakistan
Total transaction costs are around 8% in Pakistan. The buyer pays 4% capital value tax, 2% stamp duty, 1% registration fee, and 1% property transfer tax.