---
Mongolian property prices rising rapidly, yields high
May 03, 2008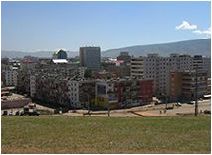 "It has become virtually impossible to buy an apartment for less than 40 million togrogs (about US$37,000)," says Baron Christopher de Gruben, director of Mongolian Properties, the leading developer of high-end properties. "At that price one can expect a two room apartment on the fringes of the city centre, generally in a building from the sixties or eighties.
"A decent apartment in the city centre (three rooms, good structural integrity) will cost a minimum of 60 million togrogs (about US$55,000). The high end or newer apartments now range in price from US$85,000 to US$250,000." Square metre prices are between US$1,100 to US$3,500 for used apartments, he says.
Ulan Bator is buzzing. The restaurants are full, the bars are packed, the shops are overflowing. Everywhere you look you find busy entrepreneurs, large companies getting bigger, and more expatriates.
Mongolia's mineral resources are enormous, with rich supplies of copper, coal, and gold. The country has recently been discovered to have the world's largest copper mine, expected to provide over $100 billion of ore over the next forty years. Copper prices have risen 250% since 2002, and the production of gold, economic growth is rising. Some of the world's largest mining companies such as BHP, Rio Tinto, Ivanhoe, and Centerra Gold are falling over themselves to move in.
Mining profits are causing the rise of a new elite, and much talk about corruption. This new found wealth and commercial energy is being spent partly on larger cars, flashier jewellery and designer goods. There is much conspicuous consumptions as the new elite shows off its wealth. A Rolls Royce was recently spotted in Ulan Bator, the first in the country.
More Global Property Guide pages:
In 2007, the price of apartments grew very strongly, especially the value of low to middle income housing. No figures are available - but some observers say that prices rose between 20%-30% within the last 3 months.
Around 50% of the demand for Mongalian Properties' new luxury developments comes from expatriates, but the rest come from locals "mostly buying for their own use," says de Gruben. He believes that demand in 2008 will be even stronger, as mining operations pick up pace and the economy improves. "Demand is just going through the roof," he says.
The skyline of Ulan Bator is now dominated by construction cranes. This raises the question of whether the market will soon be flooded with new supply. But since the Mongolians have little tradition of building, many of the developers putting up new buildings are not capable of quality work, but have been attracted by the high returns in development without having sufficient background.
The Park Plaza, which is expected to be completed in 2009, is the only example of a large self-contained multi use development being constructed in Ulan Bator. It will incorporate office, retail, residential units and a hotel. Before that, Mongolian Properties' own Regency Residence will be completed – the next luxurious residential development.
However the very large majority of residential developments are either of very poor quality. Many developments are illegal constructions, making it sometimes problematical for owners to receive ownership certificates, as the buildings lack permits.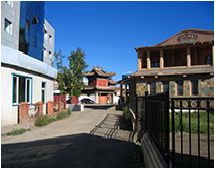 The enormous demand for residential property stems from the country's economic growth. The influx of mining organizations, combined with international trade with countries such as China, is causing expatriates, foreign ambassadors and executives to move to the city.
In addition the high rate of growth has spurred substantial local demand. Ulan Bator's housing is almost entirely in unattractive Soviet-era buildings. The Mongolians have little experience in building cities, thus the construction industry skills-base is still weak.
Mongolian Properties new-build prices are between US$2,200 and US$3,500 per square metre (up from US$1,200 to US$1,500/sq.m. one year ago). It estimates that such high-grade accommodation produces rental returns of about 10%-15%.
Monetary tightening
Inflation has been rising in Mongolia, partly due international pressures and to the sharp appreciation of the Chinese remnimbi. It now stands at an annual rate of 20.6%, according to the Bank of Mongolia. The central bank has tightened its monetary policy in response.
In its latest move, the central bank raised its 7-day Central Bank bill rate by 1.35% to 9.75%. The short-term interest rate has recently been twice raised, in October and November of 2007 by 1% point each time.
Transition from communism
Mongolia's transition to modernity began in 1989, with the withdrawal of Soviet troops, and glasnost in the Soviet Union. As in many East-European countries, protests led to the fall of the Communist government and the adoption of a democratic political system.
The first multi-party elections were held in 1990. During the early 1990s, the ex-Communist Mongolian People's Revolutionary Party (MPRP) gradually yielded its monopoly on power to the Democratic Union Coalition (DUC), which defeated the MPRP in a national election in 1996. Since then, parliamentary elections returned the MPRP overwhelmingly to power in 2000 and produced a coalition government in 2004.
In January 1992, the Mongolian legislature adopted a new democratic Constitution, which came into force on 12 February 1992. The legislature arm of the Mongolian State is the State Great Hural or Parliament, a single chamber consisting of 76 members. It sets the dates for the election of the President and Parliament, confirms the President in office, removes the President from office and appoints, replaces or removes the Prime Minister. The parliament also has authority over 'strategic minerals' including oil, gas and uranium.
Inequality, poverty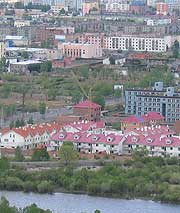 Despite the explosion of riches at the upper levels of society, wealth is very unevenly distributed in Mongolia. The growth rate of 7.25% per capita over the past 5 years (IMF figures) has not been enough to cause a substantial 'trickle down'. A large proportion of the population lives in poverty, and extreme social inequality is generating tension. Recently, climate change has caused droughts and unusually cold and snowy winters, decimating livestock, destroying the livelihoods of hundreds of thousands of families. Many have moved to Ulan Bator, where they live in squalid conditions.
It is against this background that the new rich are showing off their wealth.
"This is a very similar phenomenon to what happened in Moscow in the late 1990's," says de Gruben. "There's a wealthy class of newly rich "entrepreneurs" with a need to display their new found wealth in as an ostentatious manner as possible."
Mongolian banks now offer long term mortgages to Mongolian citizens, a major step forward for the real estate market.
Mongolia - More data and information