Mongolia stalls, dragged down by money-driven politics
April 19, 2015
Residential property prices in Ulan Bator fell by 1% y-o-y in 2013, pulled down by a combination of high-end oversupply, erratic government decisions, and the flight of foreign direct investments.  
The residential real estate market of Ulan Bator is divided between a buoyant lower end, and an upper end/luxury market, which is facing oversupply:
Over half of the residents of Ulan Bator still live in traditional dwellings known as gers, or housing not well connected to permanent infrastructure. This is creating a large demand in the lower end market, encouraged by rising wages and massive government-sponsored access to mortgage financing.
The luxury end of the real estate market has a significant oversupply of projects in the pipeline competing for a limited number of buyers and scarce financing.
Residential prices have soared in Mongolia over the last decade, boosted by strong economic growth, high copper prices, and large increases in gold production.  The discovery of vast mineral reserves, worth an estimated US$1.5 trillion, made Mongolia one of the world´s fastest-growing economies.
Between the years 2005 and 2012, residential price growth was in double digits annually.  Expatriates, foreign diplomats, and executives moved into the city en masse. Ulan Bator became a boom town, money was thrown about, four-wheel drives proliferated, and a great time was had.
Mongolia's heavy reliance on commodities meant that the global economic crisis hit hard in 2009. The price of copper, the country's single largest export, plunged by almost 65% from July 2008 to February 2009. In 2009 the economy contracted by 1.3% after experiencing an average annual GDP growth rate of 8.8% from 2003 to 2008.  The Mongolian Tugrik (MNT) became unstable. Foreign investment dried up. Banks stopped lending. Construction projects screeched to a halt. Housing demand, especially from foreign expatriates, vanished, and causing the residential property market to stagnate from H2 2008 to H1 2010.
In late-2009 the economy started to recover, with strong demand from China combined with an upswing in world copper prices. In 2010, the economy returned to growth, with a real GDP growth rate of 6.4%. The following year GDP growth accelerated to 17.6%. The double-digit growth was sustained in 2011 (12.4%) and in 2013 (11.7%).
In 2011 residential prices rose 41.5% in major city centre locations.  By the end of 2013, average per square metre prices across Ulan Bator's residential markets stood at US$ 1,316. At the upper end of the market, prices stood at an average US$ 2,050 per square metre (primary market sales). Really high-end projects featuring low-density housing maintained an even higher average price point of US$ 3,228 per square metre, according to M.A.D. Research.
The dispute with Rio Tinto
Mongolia´s macroeconomic environment changed drastically in 2014. The economy slowed to 7.8% GDP growth, despite a significant boost from the first phase of the Oyu Tolgoi project – one of the world's largest untapped copper deposits.
Problems began when Rio Tinto´s Turquoise Hill Resources arm, then operating under its former name Ivanhoe Mines, announced plans to sell its stake in South Gobi Resources (a large Mongolian coal mine) to the Aluminum Corporation of China (Chalco) in April 2012. This was around two months before national elections in June 2012; and the proposed deal allowed populist appealing politicians and pundits to claim that Ivanhoe/Turquoise Hill was not only trying to deceive the people of Mongolia on its biggest mining asset but was also selling a large Mongolian coal mine to China, to which Mongolia has a testy relationship.
Half a month after the deal was announced, the Mineral Resource Authority of Mongolia announced to the media it had requests to suspend South Gobi's mining licenses. In May 18, 2012, the government passed a Strategic Entities Foreign Investment Law (SEFIL) blocking its sale to a Chinese company.
Three South Gobi executives were then detained under Mongolia's controversial visa exit ban policy and the case continued the following two years. The executives were only released in March 2015.  Disputes over cost overruns, profit sharing, management control and a US$30 million tax bill on the Oyu Tolgoi project further scared investors.
This has called into question Mongolia's ability to work with foreign corporations and investors. Foreign investments dropped by 47% in the first 8 months of 2013. Again in 2014, foreign direct investment declined 81% in 2014 compared to 2013, according to the Central Bank of Mongolia.
This massive capital flight caused a 40% fall in the Mongolian Tugrik versus the US dollar over the last two years, greatly weakening the once hot Mongolian economy.
To make matters worse, in 2017 the Mongolian Government must repay some of its swap agreements with China, and another US$1 billion worth of sovereign bonds in January 2018. Mongolia has already requested help from the International Monetary Fund (IMF) amidst the increasing pressure.
High-end property is oversupplied
The flight of investors from Mongolia means supply has now overtaken demand at the market´s high-end.
"Many developments in the upscale market are going to remain vacant," says Christopher de Gruben, managing partner at M.A.D, which estimates that around 3,752 luxury units are either planned over the coming three years, in construction or already on the market, against an estimated demand of only 420 units.
"Landlords have no incentive to lower prices because they are generally not mortgaged," added de Gruben. "Mortgages still account for only 10% of purchases. But the next 18 months will be painful for the most amateurish developers. Some 30% of them will go bankrupt."
The World Bank has warned of the possibility of a property bubble, given that outstanding loans by Mongolian banks grew 54% in 2013, with growth mainly coming from the construction sector, according to Moody's Investors Service.
From dictatorship to democracy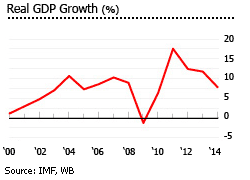 Mongolia´s democracy was born in 1990, when the Politburo dissolved itself after a brief period of pro-democracy demonstrations led by journalist and activist Tsakhiagiin Elbegdorj. Multi-party elections were held in 1990, with the former power-holders the Mongolian People´s Revolutionary Party (MPRP) winning 85% of the seats, and a new constitution was adopted (1992). 
However Mongolian democracy is what one might expect - beholden to numerous interested parties and elites who manipulate state contracts, frequently overturn laws, introduce irrational measures when it suits them, blocking contracts with foreigners when it suits them.  
Particularly noxious has been the tendency of local politicians to use populist fears of foreign control of resources.  Campaigns against foreign interests are frequently started, licenses are suspended, and - whoops! - the same resources end up on the hands of those connected to elite politicians.
In 1996 the Mongolian Democratic Union´s Elbegdorj co-led the Democratic Union Coalition to victory in parliamentary elections winning 50 out of 76 parliamentary seats, while an MPRP candidate won the Presidency in 1997. The Democratic Union Coalition held power 1996-2000.  The MPRP then returned to power but over the next 3 election cycles, power gradually shifted from the MPRP to the Mongolian Democratic Union.
In 2009 Elbegdorj, who meanwhile had studied for a Harvard degree, won the presidential elections and in 2012 the Mongolian Democratic Union won a majority in Parliament, with Elbegdorj being reelected President in 2013. 
President Elbegdorj is an extraordinarily active and potent figure, and bears a large part of the credit for the country´s successful transition to democracy.  He was the founder of the Ardchilal (English: Democracy) newspaper - the country´s first independent newspaper - and helped to establish the first independent television station in Mongolia.   In power, Elbegdorj has focused on fighting corruption, judicial reform, tax reform and collection, economic liberalization and private property rights (abolishing the collective farms and giving private property rights to half Mongolia´s population), decentralising democratic power, and giving restitution of property to the 36,000 survivors of communist persecution and families of victims.
However despite all this, Mongolia remains highly susceptible to the influence of money-oriented power-brokers, who manipulate popular opinion in pursuit of private interests. 
Foreign investors have increasingly lost confidence.
A dispute with one firm would hardly be the cause for massive capital flight in most countries, but in Mongolia the dispute centers on two of the world's largest mining projects that together can boost GDP 50% once at full capacity. The Oyu Tolgoi phase II project, based in an updated feasibility study, has recoverable copper of 24.9 billion pounds, 11.9 million ounces of gold and 78 million ounces of silver over a mine life of 41 years.  This is equivalent to a whopping $92 billion at current metals prices.
Housing supply is booming
Between the years 2000 and 2011, around 53,000 residential apartment units were added to Ulan Bator´s total housing stock, which is now roughly 7.6 million square metres. Average annual supply rose above 18,000 for the first time in 2013. The national total square meterage of housing stock stands at an estimated 11.4 million square meters.
A total of 32,130 units (or 25.6% of existing stock) across all districts in Ulan Bator is in the pipeline until the third quarter of 2015, according to M.A.D. Research. The Khan Ulul district accounts for almost half future supply, incorporating the initial stages of ger district redevelopments around the city.
CURENT SUPPLY PIPELINE UNTIL Q3 2015

District
Total developments
Total units
As % of existing stock
Price range (US$ per sqm)
Bayangol
9
2,455
6.7
1,309-1,384
Bayanzrkh
40
7,675
30.2
1,020-1,189
Songinokhairkhan
19
4,036
23.1
984-1,002
Sukhbaatar
8
3,269
20.1
1,715
Khan Ulul
30
14,215
109.1
1,602-1,665
Chingeltei
2
184
2.4
1,144
Nalaikh
2
296
3.2
1,252-1,301
TOTAL
110
32,130
25.6
1,289-1,343
Source:  M.A.D. Research
Within Ulan Bator:
The best average price growth has been in Sukhbaatar district, which encompasses the CBD and extends to the north of the city. Between 2009 and 2011 prices rose by above 40% annually here.
Chingeltei district has seen the weakest residential price growth. Despite significant price rises between 2010 and 2011, residential price growth has never risen above 20% in a single year since 2005. The inner city districts of Sukhbaatar and Chingeltei contain around 16,235 and 7,696 fully serviced residential units respectively.
Khan Uul district has the highest residential prices in Ulan Bator, at US$ 1,328 per square meter in Q4 2013. Khan Uul district contains around 13,026 residential units, with rapid development at the upper end of the market, as well as mid-upper market growth along Chinggis Avenue and on the road out towards the existing airport.  
The Stadium area in Khan Uul District, 1st & 15th Khoroo surrounds the National Stadium, which hosts a number of concerts and events. The area´s development began with the establishment of the Suruga Mongol 'Japan Town' project in 2002, which paved the way for other developments, including the Hunnu 2222 and Rapid Complex developments by the Khurd Group, as well as Marshall Luxury Village.  Residential projects surveyed by M.A.D. Research in the Stadium area were selling at a weighted average market price of US$ 1,614 per square meter in Q2 2014.
Growing supply of new-build properties in the Zaisan and Yarmag areas, catering to the mid- and upper end markets, are pushing down pre-sales purchase prices.
The Zaisan area was supposedly closed to all construction but public services buildings such as schools, universities, libraries, hospitals and so forth, because it is within the Bogd Khan enviromentally strictly protected area. The reality is very different. Today the Zaisan area is synonymous with luxury residential developments and large scale commercial construction projects. This has happened because of the usual willingness of Mongolian elites to bend the laws in pursuit of short-term economic gain.
The Yarmag area in the south-west of Khan Uul District, which extends towards the Chinggis Khaan Airport, is also expected to experience significant growth in the mid-term. The government has issued master plans to allocate large-scale residential and commercial facilities to this currently underdeveloped area.
Development has started with the completion of the 1,640 units in Viva City, developed by MCS Properties for the young professional market. Unit sizes in this development start at just 25 square metres and are provided fully furnished at affordable prices. A number of developers are also looking at producing town-like developments in the Yarmag area, each incorporating over 5,000 residential units.
Although far from Ulan Bator´s centre, Yarmag is slowly becoming a well-known suburban development with a new highway linking it to the CBD and the new international airport, alongside a forthcoming mountain-road and rail link to connect it directly with the CBD by rail, and to Zaisan by car.
Songinokhairkhan district, which contains 16,235 residential units, lags behind, with average residential purchase prices across the district reaching just US$ 971.97 per square metre at Q4 2013. This low-density area consists mostly of lower-income housing.
Bayangol district, home to the oldest and most well established ger district in the capital, has by far the largest existing stock of housing, containing approximately 36,600 residential units.
Bayanzurkh district, the largest and most populous of the capital's district, has the second highest stock of residential units at 25,391.
Falling interest rates, government support, boosting low-end market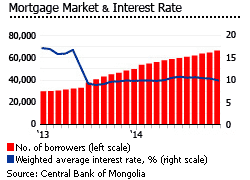 In 2012, the Mongolian government introduced a low-cost mortgage lending scheme which, according to M.A.D. Research, is the most significant development in terms of residential real estate in the past few years.
The "Housing Mortgage Program" offers interest rates as low as 8% for purchasing apartments. Initially, the program was meant for poorer households looking to purchase apartments under the "100,000 homes project," which will provide 75,000 homes within the capital alone. But in order to reduce pressures created by rapid purchase price increases, the program was extended to all first time buyers. To qualify for the mortgage, potential homeowners should not own any existing apartments, and the apartments they buy must be new-build developments of 80 square metres or less.
The mortgage market continues to register strong year-on-year growth. In December 2014, the value of outstanding loans increased 46.7% year-on-year to MNT 2.84 trillion (US$ 1.43 billion), according to the Bank of Mongolia. Of this sum, 71.3% was issued by the "Housing Mortgage Program" – with value of borrowings increasing 62.4% to MNT 2.03 trillion (US$1.02 billion). The number of borrowers for the month of December 2014 totaled 66,334, up 37.3% compared to a year earlier. The share of nonperforming loans in total outstanding mortgage loans is relatively stable. By the end of December 2014, the share of nonperforming loans in total outstanding mortgage loan was 0.4%.
The weighted average maturity of total outstanding mortgage loan in December 2014 was 15.3 years, with weighted average interest rate of issued mortgage loan standing at 9.9 percent. On the other hand, the weighted average interest rate of mortgage loan issued by commercial banks' own capital stood at 15.5 percent per annum.
Rental market growing
Mongolia´s rising property prices have resulted in stronger demand for rental property as households choose to rent rather than buy. Mongolia Properties estimates rental yields at about 15-18% per annum.
In Ulan Bator average rental yields between 2005 and 2013 were over 11% per year. Presently, the average rental rate of a one-bedroom apartment for local residents is between MNT 300,000-500,000 MNT (US$151-252) per month, while two-bedroom apartments rent for between MNT 500,000-750,000 (US$252-378) per month.
With price growth likely to continue, the number of renters in the Mongolian market is expected to increase each year – which, according to M.A.D. Research, has led to a decision by the Capital City Governors to construct 1,000 rental only apartments each year until 2016 and then 2,000 rental only apartments each year from 2017-2020.
Along with the expanding domestic market, the expat rental market also remains robust. Prices in the upper end of the residential rental markets (including those geared towards expats) have remained reasonably stable at around US$ 600-800 per month for a one-bedroom apartment near the CBD, based on M.A.D. Research estimates.
EXPATRIATE RENTAL MARKET

Young professionals/ Voluntary service personnel
Professionals
Mid-management/ Consultants
Senior executives/ Heads of mission/ Diplomats
Type of accommodation
Studio/ 1-bed/ shared
Studio/ 1-bed
Studio/ 1-bed/ 2-bed
2-bed minimum, with separate kitchen
Floor size
40-60 sqm
40-80 sqm
60-100 sqm
120-300 sqm
Rental ceiling
US$500-US$900
US$600-US$1,500
US$1,200-US$3,000
US$2,500-US$8,000
Source:  M.A.D. Research
The threat to the 40,000 and 50,000 apartments
The oldest residential developments in Ulan Bator – known as the "first 40,000" and "second 40,000" apartments, as well as the newer "50,000 apartments" – are Ulan Bator´s best performing residential markets in terms of price appreciation and rental yields. These apartments' central location in the Sukhbaatar district, despite their age (some date back to the mid-1940s), attract a lot of investors. "First 40,000" buildings earned up to MNT 6 million per month in rent (US$ 3,025) during Q1 2014, according to M.A.D. Research.
The "second 40,000" and the "50,000 apartments", however, were threatened with a bill before the Parliament in the second quarter of 2014, which laid out a framework for the redevelopment of the 40,000 and 50,000 apartment areas, on the grounds that these apartments may no longer be safe in the event of an earthquake.
According to this draft law, a building may be deemed to be an unfit apartment and commercial space in the building can be taken away and redeveloped without compensation. Moreover if just 20% of a building's households agree to vacate one of the 40,000 or 50,000 buildings, then the law allows for all infrastructure to be cut so as to force the remaining residents to leave.
Mongolia: still attractive for property investment
Despite all the problems, investing in Mongolian property remains attractive. M.A.D. Research estimates that the overall market will grow at 11.7% from 2014 to 2019.  
The regulatory framework for title and property rights in Mongolia appears relatively lenient; this combined with one of the best tax policies in Asia makes Mongolia attractive for property ownership.
Property ownership rights exercised by international or foreign investors are identical to those enjoyed by Mongolian citizens. Foreign and domestic residents alike pay taxes, fees and fulfill other duties in compliance with the property law equally.
Sales taxes on immovable property and land are technically limited to a 2% stamp duty tax paid upon eventual sale of the property (based upon the value of the property registered on the deed, called Immovable Property certificate, or if no valuation exists, on the sales price on the primary market). There are no capital gains taxes levied on immovable property sales in Mongolia. Neither the Government nor any other legislative body can evict owners (foreign or domestic) or confiscate property for which there are Immovable Property Ownership Certificates.
Furthermore, there are no currency controls. There are no issues repatriating profits out of Mongolia as the currency is fully convertible and freely floating.
Mongolia - More data and information