Malaysia's house prices continue to rise, albeit at a slower pace
Lalaine C. Delmendo | May 18, 2019

Malaysia's housing market is slowing sharply, after the introduction of higher stamp duty on high-value properties, and slower economic growth.

During 2018, the nationwide house price index rose by 3.31% (3.14% inflation-adjusted, down from 6.13% in 2017, 6.97% in 2016, and 6.47% in 2017, according to the Valuation and Property Services Department (JPPH)). On a quarterly basis, the house price index rose by 2.45% (1.94% inflation-adjusted) in Q4 2018.

Malaysia's average house price stood at MYR 416,993 (US$ 100,685) in 2018.

By property type:

Terraced house average prices rose by 6.4% (5.4% inflation-adjusted) to MYR 378,474 (US$ 91,384) during 2018.
High-rise residential properties' average price fell by 1.2% y-o-y (-2.1% inflation-adjusted) to MYR 338,698 (US$ 81,780).
Detached house average prices were down by 1.8% y-o-y (-2.7% inflation-adjusted) to MYR 658,668 (US$ 159,039).
Semi-detached house average prices increased 2% y-o-y (1% inflation-adjusted) to MYR 657,239 (US$ 158,694).

Kuala Lumpur has Malaysia's most expensive housing, with an average price of MYR 786,800 (US$ 189,662), followed by Selangor, at MYR 479,894 (US$ 115,681); Sabah, at MYR 452,965 (US$ 109,189); and Sarawak, at MYR 440,515 (US$ 106,188).

The cheapest housing in Malaysia can be found in Kelantan, Perlis and Melaka, with average prices of just less than MYR 200,000 (US$ 48,211).

Demand is stable. In 2018, the number and value of residential property transactions rose by just 1.4% and 0.4%, respectively.

From January 1, 2018, stamp duty was increased from 3% to 4% on properties worth above MYR 1 million (US$ 241,245).

Although the housing market remains weak, some experts expect the market to improve gradually, supported by Malaysia's healthy economy, liberal policies, and better political conditions since the 2018 general elections.

"In 2019, we expect to see more motivated sellers and discerning buyers to be present in the residential market," said Kelvin Yip of Knight Frank Malaysia. "Malaysia's residential properties will continue to be attractive in the eyes of foreign buyers as a result of our liberal policies, reasonable valuations and coupled with no extra stamp duties," Yip added.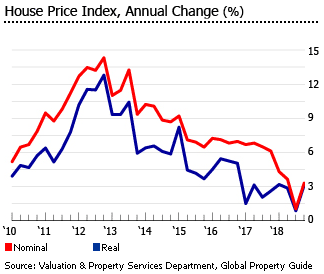 The Malaysian economy expanded by 4.7% in 2018, lower than the 5.9% growth in 2017, according to Bank Negara Malaysia (BNM). Projected GDP growth is 4.7% this year and 4.8% in 2020, according to the International Monetary Fund (IMF).