House prices static in Malaysia
March 19, 2018

Malaysia's nationwide house price index rose by 5.10% (or rose only by 0.73% after adjusting for inflation) during the year to end-Q3 2017.  This was the lowest price increase since Q3 2009, according to the Valuation and Property Services Department (JPPH).  During the latest quarter, the house price index rose by 0.7% (or fell by 0.5% when adjusted for inflation).

Malaysia's average house price stood at MYR 404,835 (US$ 103,379.55) in Q3 2017.

By property type:

Terraced house average prices rose by 7.1% (+ 2.6% inflation-adjusted) to MYR 354,725 (US$ 90,583) during the year to Q3 2017.
High-rise residential properties' average price rose by 4.2% y-o-y (- 0.2% inflation-adjusted) to MYR 344,201  (US$ 87,896).
Detached house average prices were up by 2.9% y-o-y (- 1.39% inflation-adjusted) to MYR 670,916 (US$ 171,327 ).
Semi-detached house average prices increased by 2.9% y-o-y (- 1.37% inflation-adjusted) to MYR  647,941 (US$ 165,459).

Melaka registered the highest annual increase with a house price rise of 5.4% (+ 1% inflation-adjusted) during the year to Q3 2017. It was followed by Selangor (5.1%), Kuala Lumpur (5.1%), Negeri Sembilan (5.1%), Sabah (4.6%), Johor (4.5%), and Sarawak (4.3%).

Other states saw moderate house price hikes including Pulau Pinang (3.6%), Kedah (3.5%), Perlis (3.2%), Pahang (3.1%), and Kelantan (3%). During the year to Q3 2017, the weakest house price rises were seen in the states of Perak and Terengganu, which had annual price increases of 1.8% and 1.4%, respectively.

Kuala Lumpur has the most expensive housing in Malaysia, with an average price of MYR 785,327 (US$ 200,543) in Q3 2017. On the other hand, Kelantan had the cheapest housing, at an average price of MYR 164,300 (US$ 41,956).

From January 1, 2018, stamp duty on properties worth more than MYR 1 million (US$ 225,759) was increased from 3% to 4%. This is expected to lower demand for more expensive properties.

Although the housing market remains weak, some experts expect the market to improve, as the Malaysian economy got stronger in 2017.

"The signs of recovery are slowly emerging at certain good locations," says Real Estate and Housing Developers Association Malaysia (Rehda) President Datuk Seri FD Iskandar.

"Developers are shifting their focus to affordable housing to cater for the demand. Projects in good locations as well as those near public transport hubs will receive good response,"

"Overall, the domestic property market in 2017 is still softening but at a slower rate compared with 2016. The number of launches by developers, as well as sales performance, is declining," says Sulaiman Saheh , director of Rahim & Co International Sdn Bhd.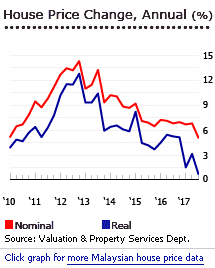 "Developers are strategising to provide products in demand targeting the mass market, mainly affordably-priced products, albeit with smaller built-ups."

Foreigners can purchase any kind of property with a minimum value of MYR 1 million (US$250,250) as of 2014. They are allowed to purchase up to two residential properties – two condominiums (max. 50% foreign ownership within a block) OR one condominium and one of the following:

Terrace or linked houses above two storeys, but limited to 10% of the total number of units built of this type
Lands/bungalows and semi-detached houses, but limited to 10% of units built of these types