Big economic and social challenges lie ahead for Japan.  Among them are weak economic growth, and a declining population.  To meet these challenges the government of Prime Minister Shinzo Abe plans to continue the stimulus measures which have been the hallmark of 'Abenomics' since 2012. These measures should be positive for the Japanese property market (which earns investors moderately good rental returns), but present some dangers for the wider economy as Japan's national debt mounts.

This past year property values have been almost static.  In Tokyo Metropolitan Area existing condominium units' average prices fell slightly by 0.3% to JPY514,600 (US$4,625) per square meter (sq. m.) during the year to January 2019, in contrast to a 4.6% growth in the same period last year, according to the Land Institute of Japan (LIJ). The wider Japanese residential property price index rose by 2.4% y-o-y (1.5% inflation-adjusted) in November 2018, according to the Ministry of Land, Infrastructure, Transport and Tourism (MLIT). Condominium prices were up by 3.7%, detached house prices rose by 0.9%, while residential land prices increased by 0.2%.

Gross rental yields - the rental return earned on the purchase price of a residential property - range from 3.4% to 5.4% in Tokyo's central districts, according to Global Property Guide research.

Yields are a little higher on smaller apartments. Yields on the very smallest apartments are 5.42%, a reasonable yield.

Japan's biggest problem is that its economy is slowing, with GDP growth of just 0.7% in 2018, amidst a continuous decline in external demand. The economy is expected to expand by a minuscule 0.5% this year, as the country continues to face both external and domestic challenges. The impending sales tax hike from 8% to 10% in October 2019, exacerbated by the still-unresolved US-China trade tensions, is expected to weigh on consumer spending this year.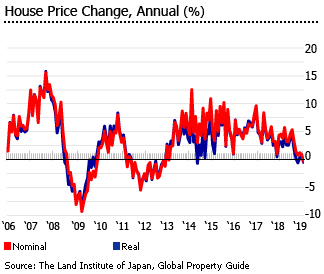 Despite this, Japan's housing market is projected to remain healthy. Housing demand is expected to rise in the first three quarters of 2019, ahead of the implementation of the sales tax hike. Moreover with Tokyo's successful bid to host the 2020 Summer Olympics, construction activity will remain healthy this year. Demand is currently more or less steady. In Tokyo, existing condominium sales fell slightly by 0.3% during 2018 while sales of existing detached houses dropped 1.2% over the same period. In Osaka, sales of existing condos and existing detached houses increased by 2.1% and 0.4%, respectively.

There are no legal restrictions on foreigners owning real estate property in Japan.


Analysis of Japan Residential Property Market »
Moderate rental yields on Japanese residential property
In Tokyo's central districts gross rental yields - the return earned on the purchase price of a rental property, before taxation, vacancy costs, and other costs - range from 3.4% to 5.4%. They're a little higher on smaller apartments. Not great, though not untypical for a city like Tokyo. Yields on the very smallest apartments are 5.4%, a reasonable yield. But then smaller apartments tend to need more maintenance, so a higher yield is justified.

Prices per square metre range from around $8,700 to $13,800, not really so expensive when compared to other global cities. In Yen terms residential prices continue to strengthen. That's likely to continue so long as Abenomics is in place. More money in the system means lower interest rates means increasing asset prices, especially prices of assets that produce nice incomes, like Tokyo property.

This is going to be interesting. If Abenomics really leads to a revival of the Japanese economy, rising incomes will continue to support rising rents. However as time goes on, the success of Abenomics seems more and more in doubt.

Round trip transaction costs are moderate in Japan. See our Property transaction costs analysis for Japan and Property transaction costs in Japan, compared to the rest of Asia.
Effective rental income tax is low in Japan
Rental Income: Rental income of nonresident individuals is subject to 10% tax.

However, effective rental income tax is low, ranging from 3.4% to 5.9%. Nonresident taxpayers are taxed on their net income; depreciation and income-generating expenses such as maintenance and repairs are deductible from the gross rent.

Capital Gains: Net gains realized from selling short-term real properties, i.e. property held for less than 5 years, are taxed at 30%. Net gains on property held beyond five years are taxed at 15%.

Inheritance: Inheritance is based on residency status but foreign individuals inheriting property located in Japan are still subject to inheritance tax, which is levied at progressive rates.

Residents: A permanent resident taxed on his worldwide income at progressive rates, from 5% to 45%.
Moderate roundtrip buying costs in Japan
The total roundtrip transaction cost is 13.16% to 13.45%, inclusive of the 3.15% agent's fee plus an additional payment of JPY63,000 (US$578).
Japanese landlords get key money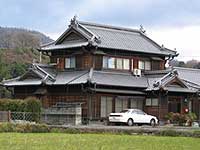 Tenancy laws passed in 2000 shifted the balance of power from tenants to landlords, making Japan strongly pro-landlord.

Rents: Rents are freely negotiable. Aside from two to three month's security deposit, landlords receive key money worth one to two month's rent.

Tenant Eviction: Automatic renewals of leases were abolished in 2000, making eviction easier. If the tenant prematurely ends the contract the landlord can charge one month's rent.
Japan: exports falling; inflation remains below target
Some say that Japan has never fully recovered from the great bubble of the late 1980s.  However Japan's economic performance is sometimes over-criticized, the truth being that over the past decade Japanese growth has been at par with, or better than, Europe's older economies, especially in GDP per capita terms.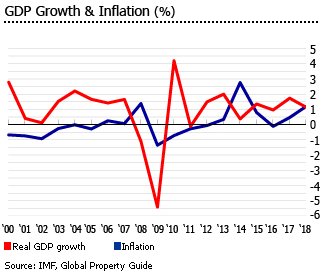 It is true that the world's third largest economy slowed sharply in 2018, with GDP growth of just 0.7%, after expansions of 1.7% in 2017, 1% in 2016, 1.4% in 2015, and 0.4% in 2014, amidst a continuous decline in external demand. The economy is expected to expand by a minuscule 0.5% this year.
Japan faces a long-term growth slowdown, and it is not obvious that Abenomics is the cure. But if not that, then what?  Maybe this is simply what happens to developed economies, especially those with shrinking populations.
One aspect of Abenomics was an attempt to boost the economy by reducing the Yen's exchange rate.  A strong yen is bad news for the economy and many Japanese companies as it makes Japanese products more expensive. The Japanese yen had previously moved significantly in the desired direction since 2012, depreciating by about almost 37% from US$1 = ¥78 in 2012 to US$ = ¥123 in 2015. After regaining 4.7% of its value in 2016-17, the yen depreciated again by 2.2% against the US dollar in the past year, to ¥110.43 = US$1 in February 2019.
However the Japanese yen has gained about 6.3% against the euro in the previous year, to ¥125.35 = EUR1 in February 2019. Over the same period, the yen also appreciated against the pound and the Canadian dollar, by 4.9% and 2.6%, respectively.
Unsurprisingly exports fell by 8.4% to JPY5.57 trillion (US$50 billion) in January 2019 from a year earlier, according to the Finance Ministry. It was the steepest fall since October 2016, amidst weakening global demand and the ongoing US-China trade dispute. Exports to China, Japan's largest trading partner, plunged 17.4% y-o-y in January 2019. Shipments to the U.S. increased 6.8% while those to the EU fell by 2.5%.
In 2018, Japan posted a trade deficit of JPY 1.2 trillion (US$11 billion), in contrast to a surplus of JPY2.99 trillion (US$26.9 billion) in 2017, amidst surging costs of energy imports and plunging exports to China.
Abenomics was intended to stimulate the economy, partly by generating inflation. However Japan's core inflation, excluding volatile food prices, stood at 0.8% in January 2019 - still far below the BOJ's official target of 2%.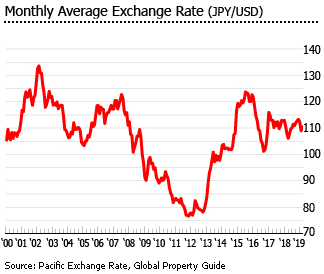 The government's ultra-accommodative monetary policy's failure to boost inflation has led dissenting voices calling for change. Recently, BoJ member Goushi Kataoka called on the bank to increase stimulus in order to achieve its inflation target.
In September 2017, the government unveiled a new JPY2 trillion (US$17.8 billion) stimulus package - the fourth in a row after a JPY28 trillion (US$262.6 billion) round in 2016, JPY10.3 trillion (US$96.6 billion) in 2013 and a JPY3.5 trillion (US$32.8 billion) package in 2014.
The Japanese government is also considering JPY 10 trillion (US$87.9 billion) stimulus package to offset the impact of a sales tax hike this October and to increase public works spending after a series of natural disasters. More specifically, the planned stimulus package includes a "premium gift card" program to provide shoppers with vouchers, a 5% cashback program for consumers using cashless payments, tax breaks for consumers buying homes or cars, and infrastructure projects such as airports and flood walls, among others.
The government has vowed that it would abandon its massive stimulus only after inflation reaches 2%.
Japan has the world's biggest debt burden. In 2018, the country's gross debt amounted to about JPY1,327 trillion (US$11.92 trillion), equivalent to about 238.2% of GDP, according to the IMF. However opinions differ about how much of a problem this is.