Modest house price rises in Indonesia
February 12, 2018

The Indonesian residential property price index (16 major cities) rose by 3.32% during the year to Q3 2017, according to Bank Indonesia, but when adjusted for inflation, property prices actually fell by 0.47% in Q3 2017 from a year earlier.

During the latest quarter, residential property prices rose by a meagre 0.5% (0.3% inflation-adjusted).

Residential property has been attractive to rich Indonesians and others partly as a protection against inflation.

All Indonesia's major cities saw nominal property price rises. Surabaya led the price hikes with house prices rising by 6.86% (2.94% inflation-adjusted) during the year to Q3 2017, followed by Bandung (5.22%), Jabodebek-Banten (3.65%), and Bandar Lampung (3.34%). Smaller house price rises were registered in Manado (2.34%), Semarang (2.2%), Banjarmasin (2.1%), Makassar (1.82%), Batam (1.75%), Palembang (1.67%), Yogyakarta (1.36%), Padang (0.95%), Pontianak (0.85%), Medan (0.8%), Denpasar (0.58%), and Balikpapan (0.29%).

However, when adjusted for inflation, all cities, except Surabaya and Bandung, actually recorded declines in value, ranging from 0.15% for Jabodebek-Banten to 3.39% for Balikpapan.

Prices of strata title apartments in Jakarta rose by 4.6% during the year to Q3 2017 to an average of IDR 32.7 million (US$2,289) per square metre (sq. m.), according to Colliers International.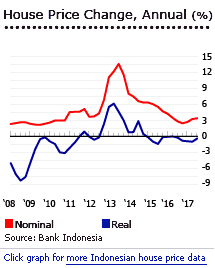 "Apartment prices are anticipated to grow by 4.5% to 5% by the end of 2017 and will rise to 6% to 8% in 2018 on the back of better economic projection, which in turn will improve sales performance," said Colliers International.

In 2017, the economy grew by a healthy 5.05%, at par with the previous year's 5.02% growth, fuelled by rising commodity exports, as well as strong public infrastructure investment, according to Bank Indonesia. The Indonesian economy is expected to remain strong this year, with a projected GDP growth rate of 5.1% to 5.5%.