---
Indonesia's property market slowing sharply
October 21, 2016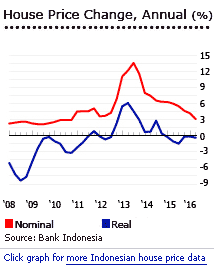 The Indonesian residential property price index (16 major cities) rose by 3.1% during the year to Q2 2016, according to Bank Indonesia, but when adjusted for inflation, property prices in the country actually fell by 0.39% in Q2 2016 from a year earlier.  During the latest quarter, residential property prices rose by a meagre 0.36% (0.3% inflation-adjusted).
Nominal property price figures can be misleading in Indonesia, because inflation has been high (although now slowing). Residential property has been attractive to rich Indonesians and others partly as a protection against inflation.
All Indonesia's major cities saw nominal property price rises during the year to Q2 2016. Batam led the price hikes with house prices rising by 10.65% (6.9% inflation-adjusted) during the year to Q2 2016. It was followed by Bandar Lampung (8.46%), Palembang (7.95%), Medan (6.25%), Bandung (5.77%), Makassar (5.66%), Banjarmasin (5.36%), Manado (5.27%), Surabaya (4.28%), and Padang (3.93%).
RESIDENTIAL PROPERTY PRICES IN INDONESIA'S MAJOR CITIES, Q2 2016

Y-O-Y (%)
Q-O-Q (%)
Major cities
Nominal
Real
Nominal
Real
Bandung
5.77
2.19
1.26
1.20
Bandar Lampung
8.46
4.79
5.26
5.20
Banjarmasin
5.36
1.79
0.41
0.35
Denpasar
2.48
-0.99
1.14
1.08
Palembang
7.95
4.30
0.14
0.08
Semarang
3.03
-0.45
0.11
0.05
Yogyakarta
2.18
-1.28
0.75
0.69
Padang
3.93
0.42
1.51
1.45
Medan
6.25
2.65
0.09
0.03
Makassar
5.66
2.08
0.77
0.71
Manado
5.27
1.71
3.86
3.80
Surabaya
4.28
0.75
0.14
0.08
Pontianak
1.67
-1.77
0.30
0.25
Batam
10.65
6.90
0.05
-0.01
Balikpapan
2.71
-0.77
0.01
-0.05
Jabodebek-Banten
0.95
-2.47
-0.07
-0.13
Composite 16 Cities
3.10
-0.39
0.36
0.30
Source: Bank Indonesia
Some cities registered nominal price rises so small that in fact they were actually declines in value, in real terms.
Jabodebek-Banten, which includes Jakarta's component cities (acronym: Jakarta, Bogor, Depok and Bekasi), saw an after-inflation price drop of around 2.47% y-o-y in Q2 2016. Other cities with real price declines included Pontianak (-1.77%), Yogyakarta (-1.28%), Denpasar (-0.99%), Balikpapan (-0.77%), and Semarang (-0.45%).
Prices of strata title apartments in Jakarta range from US$ 3,645 per square metre (sq. m.) in Jakarta CBD, US$ 2,746 in South Jakarta, and US$ 1,764 in the capital's non-prime areas, according to Colliers International.
Sales surge at an end
The recent surge in residential property sales decelerated sharply in Q1 2016. From robust quarterly growth rates of 40.07% in Q4 2014 and 26.62% in Q1 2015, property sales growth slowed to just 6.02% in Q4 2015 and 1.51% in Q1 2016, according to Bank Indonesia. The slowdown in sales affected all house types, with small-sized houses being the most affected.
Partly to buoy property demand, the government has cut the key interest rate, given tax incentives to Indonesian REITs, eased restrictions on individual foreign ownership, increased the loan-to-value ratio, and increased the threshold for luxury property tax.
"All in all, the property sector shows more confidence as the government continues to support the sector with regulations and policies. Nevertheless, it may take some time for the property market to benefit from the policies," according to Colliers International.
Around 26,583 apartments units are expected to be completed in Jakarta this year.
In 2012, the total apartment supplyin Jakarta was 19,706 units, leading to a cumulative stock of 117,276 units at end-2012.
In 2013, the total supply was 15,068 units.
In 2014, the total supply was 10,701 units.
In 2015, 14,000 apartment units were added, leading to a cumulative stock of 156,907 units.
It is expected that 24,447 apartments will be added in 2017, and 24,053 units in 2018 (all figures from Colliers).
About 6,013 units were completed in Jakarta in Q1 2016, including Metro Park Residence (4,151 units), Madison Park (1,200 units), Kemang Village (150 units), Four Winds (140 units), Green Bay Pluit (2,072 units), and Bassura City – Tower Dahlia (1,000 units).
North Jakarta has the highest share to the total existing supply of 22.6%, followed by West Jakarta and South Jakarta, accounting for 21.8% and 19.9%, respectively.
NEWLY COMPLETED APARTMENT PROJECTS IN JAKARTA, Q1 2016

Name of Development
Location
Region
Developers
No. of units
Metro Park Residence
Kebon Jeruk
West Jakarta
Agung Podomoro Group
1,451
Madison Park
Tanjung Duren
West Jakarta
Agung Podomoro Group
1,200
Kemang Village (The Bloomington)
Jl. Pangeran Antasari
South Jakarta
Lippo Karawaci
150
Four Winds
Jl. Permata Hijau Raya No. 1
South Jakarta
PT. Tri Tirta Permata
140
Green Bay Pluit (Sea View)
Jl. Pluit Karang Ayu
North Jakarta
Agung Podomoro Group
2,072
Bassura City (Tower Dahlia)
Jl. Basuki Rahmat
East Jakarta
Synthesis Development
1,000
Total
6,013
Source: Colliers International
Jakarta's apartment prices up
Jakarta´s apartment market remains strong, with prices rising by 8.4% y-o-y to IDR30.84 million (USD2,351) per square metre (sq. m.) in Q1 2016, according to Colliers International.
South Jakarta recorded the highest annual increase in apartment prices of 10.1% in Q1 2016, to an average of around IDR36 million (USD2,746), followed by non-prime areas (8.8%) and Jakarta's central business district (8.3%).
In Arandra Residence (Phase 1), located in Jl. Cempaka Putih Raya No.1 Central Jakarta, apartment prices stood at IDR23 million (USD1,753) per sq. m. in Q1 2016, according to Colliers International. The project offers 368 units and is scheduled for completion in 2020.
In Fatmawati City Center (Victoria Tower), apartments are offered for an average price of IDR36 million (USD2,744) per sq. m. in Q1 2016. Fatmawati City has about 622 units and is scheduled for completion in 2020.
AVERAGE APARTMENT PRICES IN JAKARTA, Q1 2016

Area
Y-O-Y (%)
Q-O-Q (%)
Average price (IDR)
Average price (USD)
CBD
8.3
1.2
47,816,125
3,645
South Jakarta
10.1
1.7
36,028,156
2,746
Non-prime area
8.8
0.9
23,147,612
1,764
Average
8.4
1.1
30,840,637
2,351
Source: Colliers International
Bali's stunning growth
Bali is one of Indonesia's wealthiest regions, and saw unprecedented price increases in recent years. Both Indonesians and foreigners are keen to invest here. About 80% of Bali's economy depends on tourism. Global media attention hasn't harmed it, including the 2010 movie "Eat, Pray, Love". An estimated 30,000 expatriates live in Bali.
Six years ago, a four-bedroom villa built in a freehold land in Berawa was priced between USD600,000 and US$700,000. Now, that same villa is worth USD1.65 million.
"Bali has, over 10 to 12 years, been the best-performing real estate class in terms of vacant land appreciation in the world," said Matthew Georgeson of Elite Havens. This is mainly due to planning restrictions that limit building height to four storeys.
Based on research by Global Property Guide in April 2016, villas on Bali are priced at around US$1,100 to US$2,300 per sq. m.
In BASK, a luxury beachfront villa resort on the island of Gili Meno, prices range from USD210,000 for studio to USD1.2 million from three-bedroom villa.
In Seminyak resort, a three-bedroom villa is priced for USD875,000.
In South Bukit, a high-end, cliff-front villa is priced fro USD6.5 million.
Indonesia's strong economy will likely trigger rising demand in Bali, causing prices to continue climbing. It is difficult to see what could stop the rise.
Tax Amnesty Program expected to boost the real estate market
Law No.11 Year 2016 on Tax Amnesty (Pengampunan Pajak) became law in June 28. It provides a limited-time opportunity for taxpayers to pay a defined amount of tax, to earn forgiveness of their outstanding tax liabilities including penalties and interest charges relating to:
Income tax (Pajak Penghasilan);
Value added tax (Pajak Pertambahan Nilai), and;
Luxury Goods Sales Tax (Pajak Penjualan atas Barang Mewah).
Repatriated offshore assets must be invested in Indonesia in defined instruments, and stay three years in the country. 
The government expects around IDR1,000 trillion (USD76 billion) of assets to be repatriated under its tax amnesty program. The funds are needed to directly finance Jokowi's ambitious infrastructure programs, which include building ports, roads and railways.
The real estate market is seen as a major beneficiary. "The key issue in the Indonesian residential property market currently is that buyers of mid- to high-end residential properties have large amounts of undeclared income," said Bernard Kie and Hasira de Silva of Fitch Corporate Ratings Group in Jakarta and Singapore.
"The imposition of the tax amnesty should help overcome this and encourage buyers to declare more of their income, thereby stoking fresh demand."
Jokowi´s Presidency
Joko Widodo ("Jokowi"), the Democratic Party nominee, became president of Indonesia on 20 October 2014. A man of the people, a campaigner for clean government, and a highly successful and popular former mayor of Jakarta, Jokowi is a symbol of the demand for reform which is increasingly sweeping Indonesia.
Quite aside from his popular appeal, and his "blusukan" - regular visits to poor areas across Jakarta wearing simple informal clothes and chatting to people about problems like the price of food, housing, local and flooding and transport problems - Jokowi was an effective reformer during his time as mayor, creating a bureaucratic recruitment system called "lelang jabatan", giving every civil servant the same opportunities by fulfilling the required qualifications and passing the test, whose results were announced transparently.
In July 2016, Jokowi overhauled his cabinet for the second time in a year, aimed at speeding up economic growth and development and reducing poverty. Included among the appointees were World Bank economist Sri Mulyani Indrawati as Finance Minister and retired army Gen. Wiranto as security chief. While the appointment of Indrawati pleased market reform advocates, the appointment of Gen. Wiranto drew criticisms from human rights advocates for his role as a military commander during Indonesia's brutal occupation of East Timor in the 1990s.
Jokowi previously introduced a "Healthy Jakarta card" for health insurance, inaugurated the construction of the Jakarta MRT, and re-started the construction of the green line of the Jakarta Monorail. He also initiated programs aimed towards transparency, such as online taxes, e-budgeting, e-purchasing, and a cash management system.
Jokowi was supported by former president Megawati Sukarnoputri, and almost half his cabinet appointees were her people, which has disappointed many observers. But given a largely hostile legislature stuffed with vested interests, Jokowi faces tough challenges in moving ahead with his reform agenda.
He has been keeping his reform promises. He has raised the government-subsidized petrol price by more than 30%. Previously fuel subsidies had consumed $21 billion, or 13% of Indonesia's national budget. Wealthy car drivers, who make up a tiny fraction of Indonesia's 250m population, benefited the most from cheap petrol, as well as smugglers. Jokowi promised to cushion the effect of the price rise for poorer Indonesians by distributing benefits through its new education, health and welfare cards.
Liberating reforms to the real estate market are underway
Indonesia president Joko Widodo has introduced hard-hitting economic reforms – and, the real estate sector is included. Yaxes in the real estate market, especially on real estate investment trusts (REIT), will be reduced substantially to attract capital inflows into the local market.
Only a few days after the announcement, real estate development giant Lippo Group declared its plan to shift its two REITs worth around US$2.6 billion from Singapore to Indonesia. The government expects to attract more funds that have been invested abroad to Indonesia's domestic market when the new policy will finally be introduced.
"It will be a great move if it happens," says James Taylor of Jones Lang La Salle Indonesia. "It will open up real estate investment, allow local property companies to access the equities market, increase cash flows, enable foreign investors to enter the market without having to navigate complex ownership rights and offer good liquidity in the market."
The new policy will also increase transparency in the real estate market and will make it easier to get information on rentals and yields.
New foreign ownership rules introduced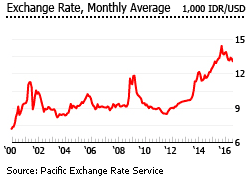 Inearly 2015, a law was passed to allow foreigners to purchase luxury real properties in Indonesia. However, the law applies only to luxury residences priced above IDR10 billion (US$723,000).
Then in December 2015, Regulation No. 103/2015 on House Ownership of Foreigners Residing in Indonesia allowed foreigners to own landed houses in Indonesia for a period up to 80 years. Under the law, foreigners can now purchase a landed house or an apartment under the so-called "right-of-use" (hak pakai)title for an initial period of 30 years. The foreigner can extend the ownership twice – by 20 years and then by another 30 years. However, if the foreigner (or his heir) leaves Indonesia to reside in another country, then he/she needs to release or transfer the ownership rights to another person who meets all requirements.
It is hoped that the new regulations will boost investor confidence and expand the local real estate market to international homebuyers.
Currently, land titles (hak milik) can only be held by Indonesian citizens. Foreign land ownership is against the constitution.
For apartments, the 1996 regulation (No. 41/1996) states that foreigners who reside in Indonesia, or visit the country regularly for business purposes, can purchase a home, apartment or condominium as long as it isn't a part of a government-subsidized housing development.Again, foreigners can only hold land-use (hak pakai) deeds, and most developments hold right-to-build deeds (hak guna bagunan). It is not possible for someone to have a land-use deed for a sub-unit of a right-to-build deed. The length of these titles varies as well. Therein lie some of the difficulties and unclear ownership issues.
So foreigners can effectively only lease, but not truly own, an apartment for up to 70 years. Within this 70-year period, foreigners must also periodically renew their right to use. The initial hak pakai period is for 25 years, then renewed for an additional 25 years and finally 20 years.
Additionally, the threshold or minimum property sales price that a foreigner can purchase is 1.5 billion Indonesian Rupiah, which is around USD 111,990. This minimum "purchase" price is quite high in the Indonesian context.
Mortgage interest rates are falling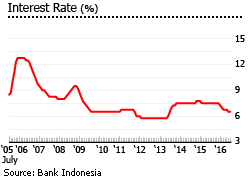 In June 2016, Bank Indonesia made its fourth interest rate cut this year, cutting the key rate by 25 basis points to 6.5% - its lowest level in three years. It's a big change from December 2005, when Bank Indonesia's policy interest rate stood at 12.75%.
Mortgage rates offered by state-owned banks range from 9% to 12% in Q1 2016, according to Bank Indonesia. The highest housing loan rates were offered in East Nusa Tenggara at 13.83%, while the lowest rates were found in Nanggroe Aceh Darussalam at 10.48%.
Mortgage market small
The share of mortgage credits to GDP remains small, at around 2.8% of GDP in 2015, according to Bank Indonesia's Q1 2016 Residential Property Survey.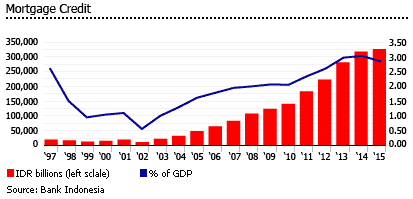 When buying small and medium houses 77.82% of respondents use mortgage loans. 15.01% make progressive payments, while17% buy using hard cash.
Indonesian developersfind financing challenging. Memories of the Asian crisis are still vivid. Banks tend to be extremely cautious in extending housing loans to the real estate industry, although Indonesian banks are strong and adequately capitalized.
That's why:
57.29% of residential property development projects were financed internally
Only 32.64% were financed through bank loans
7.64% of projects were financed by consumer payments (pre-selling)
Rental yields good, but property investment may be unattractive for foreigners
Gross rental yields in Jakarta - the return earned on the purchase price of a rental property, before taxation, vacancy costs, and other costs - are now very attractive, though lower than they were 4-5 years ago. Gross rental yields are an important consideration even for those who do not intend to become landlords, because a high rental yield indicates that the property market is reasonably priced.
Gross rental yields on high-end properties in Jakarta remain high, ranging from 8.6% to 9.6%, according to Global Property Guide research of April 2016. Yet due to strong demand for high-end apartments, prices have risen significantly in recent years, eventually causing lower rental yields than the 10% to 13% yields prevailing five years ago.
On Bali, lower rental yields can be earned, ranging from 3.8% to 5.0% in April 2016.
Property investment in Indonesia unattractive, due to high tax rates
Despite these high rental yields, property investment is still relatively unattractive for foreigners, because of complex legalities and high tax rates on non-resident owners.
The tax levied on the average annual income on a rental apartment/property in Indonesia is 20% which is the third highest in Asia, only after Bangladesh (25%) and Malaysia (22.4%).
A 10% Value-added tax (VAT) is levied on gross rental income.
Capital gains realized by individuals from the sale of real property in Indonesia are taxed at a flat rate of 5%. The tax base is the transfer value of the property, without any deductions.
Property tax is levied at 0.5% on the assessed value of the property. The assessment value of taxable property is determined as a percentage of the deemed fair market value of the property
The total cost of buying and then re-selling a residential property (including Registration costs, Real estate agent fees, Legal fees, Sales and transfer taxes), is one of the highest in the region (see Indonesian round-trip property purchase costs, compared to the region).
However, changes in the law are in process which should make things much easier.
Robust economic growth, tax amnesty program introduced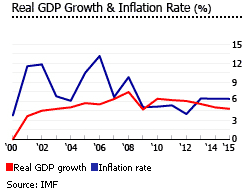 Indonesia's economy is very domestically-driven. It tends to be insulated from global economic trends. In fact in recent years, Indonesia has enjoyed robust growth despite the global crisis. In 2015, the economy expanded by a healthy 4.8%, after GDP growth of 5% in 2014, according to the International Monetary Fund (IMF).
In the first quarter of 2016, Indonesia's economy grew by a robust 4.9% from a year earlier, thanks to strong private consumption.
Economic growth is expected to accelerate to 5.09% this year, on the back of higher commodity prices and repatriated assets from tax amnesty program, according to Bank Indonesia.
In February 2016, unemployment dropped slightly to 5.5%, from 5.81% a year earlier, according to the country's statistics agency, Badan Pusat Statistik Indonesia (BPS). However the decline was mainly due to a drop in the country's workforce – from 128.3 million people in February 2015 to 127.8 million people in February 2016. There were 7.02 million unemployed people in Indonesia in February 2016, down from 7.45 million people in the previous year.
Inflation was 3.45% in June 2016, sharply down from 7.26% in a year earlier, according to BPS. From an average of 9.5% from 2001 to 2008, inflation dropped to an annual average of 5.5% from 2009 to 2015, according to the IMF. The overall decline in inflation suggests that the recent stepping-up in the key interest rate has worked, and that Indonesia's growing economy is becoming more flexible and productive as it grows.
Inflation is expected to be within the central bank's target range of 3% to 5% in 2016.
Indonesia - More data and information