Indonesian residential market prices are a picture of stability.  The property price index (16 major cities) rose by 3.14% in 2018, according to Bank Indonesia, after rises of 3.5% in 2017, 2.38% in 2016, 4.62% in 2015 and 6.29% in 2014. However property prices are actually falling slightly, when adjusted for inflation.

During the latest quarter, residential property prices rose by a meagre 0.5% (unchanged when adjusted for inflation).

Residential property has been attractive to rich Indonesians and others partly as a protection against inflation.

Seventeen of Indonesia's 18 major cities saw nominal property price rises in 2018. However, when inflation is taken into consideration, only six cities actually recorded increases in value, ranging from just 0.05% for Pekanbaru to 1.6% for Bandung.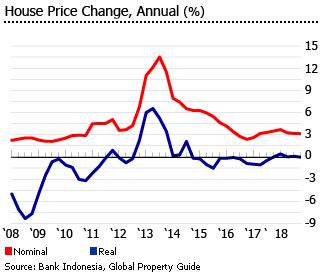 In Jakarta, prices of strata title apartments rose by 2% during the year to Q3 2018 to an average of IDR 33.4 million (US$2,395) per square metre (sq. m.) – the slowest growth since Q2 2010, according to Colliers International.

Indonesia's economy grew by a healthy 5.15% in 2018, at par with the previous year's 5.07% growth. The Indonesian economy is expected to remain strong this year, with GDP growth of 5% to 5.4% expected, according to Bank Indonesia.


Analysis of Indonesia Residential Property Market »
Jakarta's rental yields are moderate to attractive
Gross rental yields in Jakarta - the return earned on the purchase price of a rental property, before taxation, vacancy costs, and other costs - are quite attractive, though significantly lower than they were 4-5 years ago. Gross rental yields are an important consideration even for those who do not intend to become landlords, because a high rental yield indicates that the property market is reasonably priced.

Jakarta´s property market now looks well-priced.

Higher end apartments in Jakarta are now priced at around US$ 2,500 to US$2,800 per square metre (sq. m.). Rental yields on these apartments are now around 5.2% to 7.7%.

The disadvantage of buying in Jakarta, for foreigners, is complex legalities and high transaction costs. However, changes in the law are in process which should make things much easier.

Villas on Bali attractively priced at around US$2,000 per sq. m.. On Bali, lower rental yields can be earned, at an average of around 4.0%.  As always, it must be stressed that there is a wide range, depending largely on location. 

Round trip transaction costs are high in Indonesia. See our Property transaction costs analysis in Indonesia and Property transaction costs in Indonesia, compared to the rest of Asia.
Rental income tax is high in Indonesia
Rental Income: Nonresident individuals' rental income is subject to withholding tax at 20%, which is applied to the gross income.

Capital Gains: Gains derived by nonresident individuals from selling real property are taxed at a flat rate of 5%, which levied on the transaction value.

Inheritance: There is no inheritance tax.

Residents: Residents are taxed on their worldwide income at progressive rates, from 5% to 30%.
Buying costs are very high in Indonesia
The total roundtrip cost of buying and selling a property is between 11.75% and 17.75%.
The buyer pays for the 5% transfer tax, legal fees, and registration fees. The seller pays for the 5% land and building transfer duty (which is different from the transfer tax) and 5% agent's fee.
Tenancy laws in Indonesia are generally neutral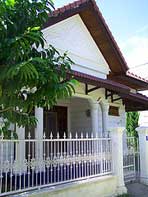 Indonesian legal institutions are neutral between landlord and tenants.

Rent: Rents are freely negotiable. They are typically paid in advance for the duration of the lease agreement. However tenants are often able to negotiate smaller advance payments, or monthly payments.

Tenant Security: Lease periods typically vary from 1 to 3 years. The terms depend upon the bargaining skills of the tenant and the landlord. Tenants typically have an option to renew.
Almost two decades of uninterrupted economic growth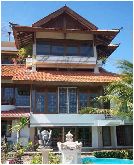 Indonesia's economy is very domestically-driven. It tends to be insulated from global economic trends. In fact in recent years, Indonesia has enjoyed robust growth despite the global crisis. From 2007 to 2017, the economy grew by an average of 5.7% per year, according to the
International Monetary Fund
(IMF).
The Indonesian economy is expected to remain strong this year, with a projected GDP growth rate of 5% to 5.4%, according to Bank Indonesia.
Tourist arrivals surged 12.6% to 15,806,191 people in 2018 from a year earlier.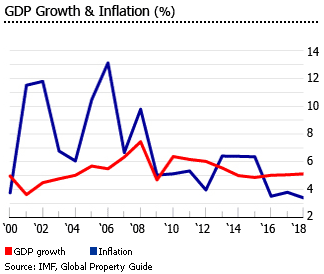 The Indonesian rupiah appreciated by 7.2% against the US dollar in the past three months to reach an average exchange rate of IDR 14,172.4 = USD 1 in January 2019, thanks to the central bank's efforts to defend the domestic currency amidst rising current account deficit and worsening global trade tensions. However, the recent gain is not enough to offset the 13.7% drop in its value against the US dollar from September 2016 to October 2018.
Indonesia recorded a budget deficit equal to 1.76% of GDP in 2018, down from shortfalls of 2.51% in 2017, 2.46% in 2016, and 2.58% in 2015, according to the Ministry of Finance. The country's government debt stood at just about 30% of GDP last year.
In Q3 2018, unemployment stood at 5.34%, almost unchanged from a year earlier, according to the country's statistics agency,
Badan Pusat Statistik Indonesia
(BPS).
In 2018, overall inflation was 3.13, amidst stable administered prices of commodities such as fuel and electricity, according to the BPS. From an average of 9.5% from 2001 to 2008, inflation dropped to an annual average of 5.1% from 2009 to 2017, according to the IMF. The overall decline in inflation suggests that the stepping-up in the key interest rate 2013-2016 worked, that Indonesia's growing economy is becoming more flexible and productive as it grows.
In January 2019, inflation fell further to 2.82%, amidst the government's promise to not raise fuel prices - a populist move ahead of the 2019 general elections.