India's property market quickly recovering following demonetization
May 18, 2017
Not as bad as was feared, is the verdict.  Aimed at discouraging tax evasion, the Indian government's dramatic demonetization of Rs500 and Rs1,000 notes in November 2016 effectively nullified 86% of the country's banknotes, withdrawing US$207 billion from circulation. This move was expected to bring the property market to a standstill, as home buyers typically pay 30-40% of a home's value in cash and the practice of paying for properties in cash to avoid taxes is pervasive.
But fears of a post-demonetization property slump have dissipated, with demand already picking up.  Sales across India's top 9 cities increased by 19% to 51,715 units in the January-March 2017 period compared to a fall of 20% the previous quarter, according to real estate advisory firm PropTiger.
This is not to say that demonetization didn´t deliver a considerable shock to the economic system.  It certainly did.  And not only in real estate, but right through the economy and even abroad, as Indians with ´surplus cash´ sought to move money offshore to the traditional Indian bolt-holes such as Dubai and Mauritius. Indeed one of the most obvious results of demonetization may be an increased appetite by Indians for foreign assets, foreign investments, and foreign properties.
In the weeks following the implementation of demonetization there was a lot of uncertainty and a significant real estate slowdown.  In the final quarter of 2016, India's eight major cities registered a 44% drop in sales volumes y-o-y, to the lowest level since 2010.  In contrast the first half had seen more than 135,000 units sold, a 7% increase y-o-y, according to Knight Frank. In the third quarter, sales had also held up, with around 67,000-68,000 units sold on the back of the festive season.
After demonetization "those who were looking to buy property as an investment vanished overnight from the market after the cash ban," says Aubrey Carvallo, a Mumbai broker who has never seen demand in Mumbai so low in his two decades of working in the industry.
However since then there has been a clear recovery.  Already the inventory overhang has decreased. During Q4, it fell from 46 months to 38 months. New launches increased by 19% to 51,500 units, the highest in the last eight quarters, according to PropTiger. Of the total, 26% were in Mumbai, 14% in Hyderabad and 13% in Gurgaon. More than half of the sales came from the markets of Mumbai (23%), Pune (18%) and Bangalore (16%).
There has been a shift in buyer´s preferences towards ready-to-move-in projects.  Realtors were receiving inquiries and bookings in March 2017 even though it is the last month of a fiscal, when demand is usually subdued.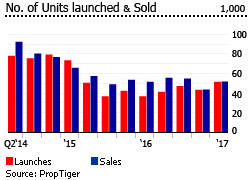 A large part of the recovery is being driven by the affordable housing segment whose share of total launches rose 22% owing to its recently received infrastructure status, according to Anurag Jhanwar, Business Head (Consulting and Data Insights) of PropTiger.com.
This is echoed by Samantak Das, Chief Economist and National Director for Research at Knight Frank, in an email interview, saying, "Developers are focusing on affordable housing projects to benefit from the attention that even government is providing to the segment. Accordingly, lower size apartments and shrinking apartment values have also seen great interest."
According to a PropTiger report, prices have remained range-bound in Q4 in the top 9 cities, with marginal annual appreciation between 1% and 3%.  During the year 2017, according to PropTiger:
Hyderabad witnessed the highest increase at 5% q-o-q to Rs3,970 (US$62) per sq.m.
In Bangalore, prices rose by 3% q-o-q to Rs4,822 (US$75) per sq.m.
In Chennai, prices rose by 3% q-o-q to Rs5,044 (US$78) per sq.m.
In Ahmedabad, prices rose by 1% q-o-q to Rs2,942 (US$46) per sq.m.
In Gurgaon, prices decreased marginally by almost 0% to Rs5,318 (US$83) per sq.m.
In Mumbai, prices decreased by 1% to Rs8,153 (US$127) per sq.m.
In Kolkata, prices decreased by 2% to Rs3,822 (US$60) per sq.m.
In Pune, prices decreased by 2% to Rs4,774 (US$74) per sq.m.
In Noida, prices decreased by 3% to Rs3,965 (US$62) per sq.m.
Demonetization: a temporary setback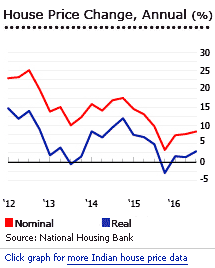 Demonetization initially mostly hit the second-hand homes market, which is dominated by cash transactions. But the slowdown soon also impacted the newbuild segment which had been expected to be insulated from the currency ban, since property purchases of newbuilds are financed by loans, says Samantak Das.  Indeed, new launches were down by 61% y-o-y by the end of 2016.
"The fourth quarter numbers are a testament to the effect that the demonetization move has had on the real estate market of the country that was barely recovering from its earlier sloth," adds Das. According to Das, indirect discounts in the form of duty waivers and freebies became more pronounced.
However, the first quarter of 2017 saw a pronounced recovery, as developers refocused their energies on serving the end-user segment rather than investors.
There is little doubt, he says, that demonetization has transformed the property market, shifting it away from speculation, towards the end-user: "The investment premise of high returns from residential property, which had already weakened with stagnating property price over the last two years, is under stress with the changing market landscape," says Das.
"The new landscape of transparency, efficiency and governance brought collectively by the demonetisation scheme, the Benami Transactions (Prohibition) Amendment Act, 2016 and the real estate regulation will challenge the status quo of real estate investment and transactions. Even developers are now focusing energies on serving the end user segment rather than investors."
Demonetization bringing lending rates down - but RBI unlikely to cut rates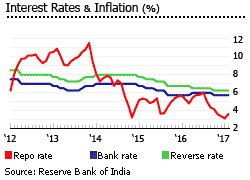 The demonetization caused a surge in banking sector deposits, opening up more funds for lending.
"In my entire career, I have never seen this kind of deposit flow. We were growing at something like 8 to 10 percent. Suddenly, we were growing at 22 to 25 percent, which is huge. We´ve also seen that the amount of money flowing out once these curbs have been lifted … (but) at least 60 to 65 percent is still in the bank. So to that extent, lendable resources have definitely gone up," says Arundhati Bhattacharya, chairwoman of the State Bank of India (SBI), the country's largest lender by assets.
The State Bank of India has already started cutting lending rates by 90 basis points to 7.75% for overnight maturities and to 8.15% for three-year tenures.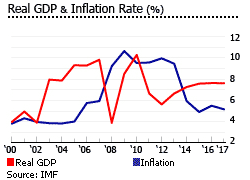 Retail inflation climbed to a 5-month high of 3.81% in March 2017, from 3.65% in January, while wholesale inflation eased to 5.7%, from 6.55% in January, according to official figures. Although still within the Reserve Bank of India's (RBI) medium-term target of 4%, concerns about inflation hitting 5.5-6% by the last quarter of the year has prompted the bank to change its policy stance from "accommodative" to "neutral".
The RBI has cut interest rates by 175 basis points since January 2015. But further rate cuts are no longer likely with the shift in monetary stance and inflationary pressure from remonetization. In its last policy review in April, the bank kept its repurchase rate at 6.25% and increased the reverse repurchase rate to 6% from 5.75%.
Long-term, the impact of demonetization will be positive
Many economists point out that driving cash from the black economy into the mainstream is likely to drive long-term growth. When the real estate sector finally adjusts, analysts expect greater transparency and improved buyer confidence.  This will also result in a consolidation of the industry, with bigger organized developers gaining strength and the weaker ones either exiting or selling their projects to the larger builders.
"Some homebuyers have kept their buying decisions on hold until clarity emerges on demonetization," says Rohit Modi, vice president of the Confederation of Real Estate Developers Associations of India (CREDAI). "But in the long run, demonetization will help organised developers procure land at more appropriate rates as such land will not be competing with buyers who were channeling their black money in land buying and holding. This will help in construction of more affordable houses and achieve the housing for all objective by 2022."
Property consultant CBRE expects to see about US$7 billion of investments in the real estate sector in 2017 and US$10 billion by 2020 on the back of improved consumer confidence. India's young work force, which is nearing home-buying age, is also expected to significantly drive the real estate market over the next 10 years, pushing annual property sales to $462 billion by 2025 from $105 billion in 2015, according to Morgan Stanley.
Real Estate Regulatory Act (RERA)
The Real Estate Regulatory Act (RERA), giving rise to India's first real estate regulator, was finally implemented on May 1, nine long years after its conception.
Under the act, each state will have its regulator protecting buyers´ interests and maintaining speedy dispute resolution. It will address issues like delays and quality of construction, among others. All real estate projects will have to be registered with RERA, including alterations made and revenues collected.
Developers collecting significant revenues through pre-launch sales are expected to face a cash crunch as all advertisements, including pre-launch ads, will have to be pre-approved.
Developers will also have to inform their buyers of other ongoing projects. If the developer defaults on its delivery date, it will have to return the money invested by the buyers with interest. If the buyers opt not to take the money, they will be paid monthly interest for every month of delay. Developers are now seen to shift focus on project execution rather than new launches.
Errant builders will be slapped with a fine of up to 10% of the total project cost or up to 3 years of imprisonment.
Enemy Property (Amendment and Validation) Bill 2016
Against the backdrop of Prime Minister Narendra Modi's disturbingly nationalist-toned government, the Indian Parliament recently passed the Enemy Property Bill, amending a 49-year old law. In 1968, after the Indo-Pakistan War of 1965, the Enemy Property Act was enacted to administer "properties belonging to, held or managed on behalf of an enemy, an enemy subject or an enemy firm" and it listed the powers of the Custodian of Enemy Property for India, where such properties are vested.
Under the amendment bill, successors of those who migrated to Pakistan and China during partition will no longer have any claim over properties left behind in India. To date, around 9,500 enemy properties have been identified, majority of which belonging to Pakistani citizens from the time of the wars.
Below are some of the bill's important provisions:
The Custodian is made the owner of enemy property retrospectively from 1968
All legal sales undertaken by enemies of enemy properties since 1968 are void
Indian citizens who are legal heirs of enemies are prohibited from inheriting enemy property
Civil courts and other authorities are prohibited from hearing certain disputes relating to enemy property
Buyers ready to play by the rules are in for a bargain
The following brief survey summarises a Knight Frank report on the year 2016 and does not cover Q1 2017, which would likely show a significant recovery in all markets. During 2016, according to Knight Frank, developers in several markets such as Mumbai´s met the challenge of demonetization by offering indirect discounts such as waived stamp duties and registration charges; free gifts (gold and consumer appliances); and liberal financing schemes, with buyers paying only 5% upfront.  More generally, developers moved to promote the value sector.
Delhi-NCR
The region´s real estate market has been under pressure since 2010, and this continued in 2016. In the first half of 2016, the market saw negative growth in demand (-29%) and supply (-73%) compared to the same period in 2015, according to Knight Frank.
However, some recovery was seen in Q3 2016 owing to project deliveries, reduced prices, and improving infrastructure in places like Noida Extension and Noida–Greater Noida Expressway, where developers saw a slight increase in sales.  Demonetization then impacted the market, with sales volumes dropping 53% y-o-y in Q4 2016 and new launches falling 73%.
More than half of unit launches in Noida in the second half of 2016 were priced between Rs7.5-12.5 million, largely catering to the mid segment. Improving connectivity and well-laid infrastructure has given Noida an edge over other NCR micro-markets. Affordability also drove sales in Ghaziabad, with a 47% increase in sales in H2 2016 compared to H1 2016.
Mumbai
Around 29,000 units were launched in the Mumbai Metropolitan Region (MMR) and its suburbs in 2016, a decline of 18.8% compared to 2015, according to Colliers. About 51% of the new launches were in Thane. The remainder were in Central suburbs (23%), Navi Mumbai (15%), Central Mumbai (9%) and South Mumbai (2%).
Sales plunged by 50% y-o-y to 8,617 units in Q4 2016, following demonetization. New launches also declined by 77%. According to Knight Frank, indirect discounts were offered in the form of waived stamp duties and registration charges; free gifts (gold and consumer appliances); and liberal financing schemes, with buyers paying only 5% upfront.
The premium markets of South Mumbai and Central Mumbai took the biggest hit, with sales plunging 54% and 41%, respectively in H2 2016 compared to H2 2015; whereas Thane and Peripheral Central Suburbs were relatively little affected.
Bangalore
Bangalore was the least impacted by the recent demonetization. Nearly 24,800 units were launched in Bangalore in 2016, reflecting a 35% y-o-y decrease compared to 2015. But the pipeline of new units in pre-launch should increase optimism for 2017, according to Colliers.
Several developers such as Mantri Developers and Sobha Ltd. found private equity funding for upcoming projects, supporting the belief that Bangalore's residential market remained a preferred choice amongst institutional investors in 2016. Key players such as KKR India Advisors and Piramal Fund Management also pumped in funding for construction finance and servicing debt obligations.
South Bangalore accounted for almost half of the new launches in H2 2016. Knight Frank attributes this to the number of residential projects launched in peripheral locations, such as Electronics City, Jigani, Mylasandra and off- Sarjapur Road.
Chennai
New launches declined by 35% y-o-y in 2016, with 94% of launches in suburban and peripheral quadrants, while only 6% were in central and off-central locations. Launches were split between North (25%), South-west (19%), South (17%), West (17%) and North-West (16%), according to Colliers.
Nevetherless, Central Chennai saw a steady increase in buyer interest in response to a spike in supply of premium offerings during H1 2016.
The western micro-markets such as Kolapakkam and Maduravoyal continue to see traction due to an increased uptake of the comparatively lower-priced inventory and good connectivity with SBD locations such as Mount–Poonamallee High Road and Valasaravakkam. The recent revival of the Maduravoyal-Chennai port elevated corridor will further boost the residential market in this micro-market.
Pune
New launches fell by 35% in 2016, with most focused on the budget to mid-end segments. Around 80% of the new units were launched in localities adjacent to the commercial hubs of Pune in the West (Baner, Hinjewadi), South (Undri, Handewadi), South East (Keshavnagar, Hadapsar) and East (Kharadi). Central Pune, catering to the luxury segment, accounted for only 2% of launches. The remaining 18% of launches were in distant locations like Pimpri and Chinchwad.
Responding to the changing market, developers have reduced their new launches above the ticket size of Rs20 million in H2 2016, according to Knight Frank. 
Rental yields are low
Rental yields in India are low, according to Global Property Guide research.
In South Mumbai, average yields range from 2.4% to 2.5% gross.
New Delhi rental yields remain very poor, at between 2.9% and 3.2%.
Bangalore has higher yields, ranging from 3.3% to 4.0%, but these are still much lower than yields seen in 2007, which ranged from 7.2% to 10%.
Yields data as of December 2016 from real estate company Magic Bricks paint the same picture:
City
Ave. Rental Yield
Delhi
2.47%
Mumbai
2.55%
Bangalore
3.80%
Pune
2.67%
Chennai
2.81%
Kolkata
3.73%
Hyderabad
3.84%
Source: Magic Bricks
Ambit Capital notes that if the Indian real estate market was correctly priced, the rental yield should tend to be somewhere close to the cost of borrowing. Instead, Mumbai (e.g) has a rental yield of around 2-3%, while the lending rate is around 10%.
India´s mortgage market is growing very rapidly
Total housing loans in India still amount to slightly less than 10% of GDP, which is low compared to, for instance, China at 20% of GDP, the UK at 88% of GDP, or the US at 81% of GDP.  Nevertheless, the combined property portfolios of banks and specialized housing finance companies have risen by 20% annually over the last decade, as a result of the economic and real estate boom.  Banks have made US$ 142 billion of real estate loans, according to Ambit Capital, while Housing Finance Companies have a real estate exposure of US$ 68 billion.
Illustrating the pace of growth, the Housing Development Finance Corporation (HDFC), India´s largest mortgage company, made Rs130 billion (US$ 2 billion) of loans in 2015, up from Rs86 billion (US$ 1.3 billion) in 2014, and Rs33 billion (US$ 500 million) in 2013.
In 2016, 11 new licenses were given to housing finance companies (HFCs).
Indian economy´s rapid growth will continue
Despite the removal of around 86% of India's banknotes in circulation, India´s economy remains robust. GDP rose by 7.6% in 2016, ahead of China's 6.7% growth. The International Monetary Fund (IMF) expects India's GDP to grow by 7.6% in 2017, and to 7.7% in 2018, when the impact of the demonetization has dissipated and replacement banknotes have entered circulation. 
Other growth drivers are fiscal reforms, including the Goods and Services Tax (GST) which will be implemented starting July, and the liberalization of the FDI regime. The GST could help raise GDP growth rate to above 8%, according to the International Monetary Fund (IMF).
The Indian economy expanded by an average of 8.8% annually from 2003 to 2007. Growth slowed to 3.9% in 2008 but quickly bounced back the next year, growing 8.5%. Recent GDP growth rates were 10.2% in 2010, 6.6% in 2011, 5.6% in 2012, 6.6% in 2013, 7.2% in 2014, and 7.6% in 2015.
India's labour market reflects the country's strong pace of economic expansion and the government's efforts in providing new employment opportunities in rural areas. The country's unemployment rate fell by half this past year, from 9.5% in August 2016, to 4.8% in February 2017.
India - More data and information