Hong Kong's property market remains resilient, but uncertainty persists
Lalaine C. Delmendo | February 18, 2020

Over the past decade, Hong Kong's residential property prices have skyrocketed by 243% (153% inflation-adjusted), including spectacular growth of 28.5% in 2009, 21% in 2010, and 25.7% in 2012. In contrast, real incomes have virtually stagnated in Hong Kong for years.

Now, despite market-cooling measures, the impact of continuing violent protests, the US-China trade war and the coronavirus outbreak, Hong Kong's housing market remains resilient.

Hong Kong's residential property price index rose by 5.31% during 2019, a sharp improvement from the prior year's 1.9% growth, according to the Ratings and Valuation Department (RVD). When adjusted for inflation, residential property prices increased 2.38% y-o-y in 2019. During the latest quarter, prices fell slightly by0.76% (-1.21% inflation-adjusted) in Q4 2019.

Prices of dwellings continue to rise, except for largest-sized, apartments, whose prices have been falling sharply in Kowloon and New Territories.

Apartments smaller than 40 sq. m: prices rose by 1.74% y-o-yin 2019, to an average of HK$ 183,550 (US$23,634) per sq. m.
40-69.9 sq. m. apartments: prices rose by 4% y-o-y to HK$183,381 (US$ 23,612) per sq. m.
70-99.9 sq. m. apartments: prices increased 1.04% y-o-y to HK$ 212,776 (US$ 27,397) per sq. m.
100-159.9 sq. m. apartments: prices rose strongly by 6.58% y-o-y to HK 247,300 (US$ 31,843) per sq. m.
Apartments with sizes bigger than 160 sq. m: prices fell slightly by 1.07% y-o-y to HK$ 283,311 (US$ 36,479) per sq. m. during 2019

During 2019, property transactions in Hong Kong rose slightly by0.6% to 57,606 units from a year earlier, according to the RVD.

Construction, however,is plunging. In 2019, completions fell sharply by 35% to 13,643 units from the previous year, after y-o-y rises of 18% in 2018, 22% in 2017 and 29% in 2016.

From 2008 to 2013, Hong Kong dwelling prices skyrocketed by 134% (95.7% inflation-adjusted), driven by a flood of money in the wake of the global financial crisis.

The market slowed in the first half of 2014, but bounced back in the second half, with prices rising by 13.6% in Q4 2014, 19.6% in Q1 2015, 20.4% in Q2 2015, and 15% in Q3 2015.

After a brief housing market slowdown, house prices surged again by 41.5% (35.5% inflation-adjusted) from H2 2016 to H1 2018.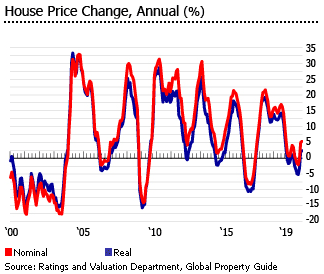 The housing market slowed from end of 2018 until the first half of 2019 due to macro uncertainties and social unrest. But surprisingly, house prices bounced back at the end of 2019.

This is puzzling because Hong Kong's economy is suffering, having contracted by 1.2% in 2019 – the first annual decline since 2009. Economic forecasts for 2020 vary from growth of 0.5% to 1%, to a huge contraction of 5.8%.