Situation improving
Nov 30, 2007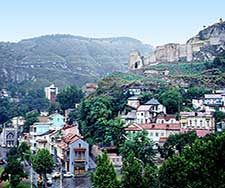 Georgia (pop. 4,371,000; GDP/cap US$986) is in the eastern coast of the Black Sea bordered on the north by Russia and on the south by Turkey, Armenia, and Azerbaijan.

The Rose Revolution in 2003, spurred by rampant corruption, led the incumbent president Eduard Shevardnadze to resign from his post, which he had held since 1995. After his resignation, Mikheil Saakashvili won the presidential election held on January 2004. However, in May 2004, a second revolution took place in Ajaria, an autonomous region of Georgia, and led to the removal of Ajaria's corrupt dictator, Aslan Abashidze.

Progress on market reforms and democratization has been made, but progress has been complicated by civil conflicts in the breakaway regions of Abkhazia and South Ossetia, which remain outside the control of the central government and are ruled by de facto, unrecognized governments, supported by Russia.


Analysis of Georgia Residential Property Market »
Georgia's new tax code is in effect since January 2011
Rental Income: Nonresidents leasing out residential property may be taxed at a flat rate of 5% on the gross rent.

Capital Gains: Capital gains realized from the sale of a residential apartment or house with attached land plot is taxed at a flat rate of 5%.

Inheritance: First and second degree relatives are fully exempt from inheritance taxes.

Residents: Resident individuals are taxed on their Georgian-sourced income at a flat rate of 18% for 2013. The income tax rate will be reduced to to 20%.