China's housing market is cooling
April 04, 2018

In December 2017, the average price of new houses in China's 70 cities rose by 5.3% y-o-y.

This was a sharp slowdown from December 2016's 12.4% y-o-y price growth, based on figures from the National Bureau of Statistics of China.  Clearly, tighter government measures in late 2016 have dampened the housing market.

New home prices rose in 57 out of 70 cities. House prices in cities of less-developed provinces actually had the biggest price gains, rather than 1st tier cities, suggesting that the prime cities are cooling first, followed by the provinces.

In December 2017, Beijing saw no price change in prices of first-hand properties from the previous month, while Shanghai saw a meagre 0.2% growth m-o-m. Guangzhou and Shenzhen saw price drops of 0.3% m-o-m and 0.2% m-o-m, respectively.

In contrast, Yunnan province's capital, Kunming, had a 2.6% m-o-m growth in December 2017, followed by Haikou (2.2% m-o-m) in Hainan province, Luzhou (2% m-o-m) in Sichuan province, and Dali (1.5% m-o-m) in Yunnan province.

In Shanghai, the second-hand house price index slightly fell by 0.2% (-1.92% inflation-adjusted) during the year to November 2017, after a 26.87% price increase y-o-y to November last year (24.02% inflation-adjusted), based on figures from Ehomeday.

According to Savills China:

The average transaction price of apartments declined by 3% q-o-q to CNY 46,536 (US$ 7,417) per sq. m. in Q3 2017.
The average transaction price of villas, on the other hand, rose by 4.9% q-o-q to CNY 47,682 (US$ 7,599) per sq. m. in Q3 2017.

In Beijing, prices of new homes (including public housing) slightly dropped by 0.9% to CNY 37,800 (US$ 6,024) per sq. m. during the year to December 2017, according to the Beijing Municipal Commission of Housing and Urban-Rural Development.

In Guangzhou, the average sales price of residential units fell by 3.6% y-o-y in Q3 2017 to CNY 19,713 (US$ 3,079) per sq. m., according to the figures from the Guangzhou Municipal Land Resources and Housing Administrative Bureau.

However the average sales price of housing units in downtown areas rose by 11% y-o-y to CNY 37,917 (US$ 5922), while suburban area housing also went up by 9.7% y-o-y to an average of CNY 16,139 (US$ 2,520) per sq. m.

In Shenzhen, the average transaction price of first-hand housing was CNY 54,374 (US$ 8,665), a decline of 7.3% y-o-y to Q3 2017, according to Savills China.
Rules on who can purchase property
Foreigners who have worked or studied in China for at least a year are allowed to buy a home. Foreigners go through supervision procedures which last about a week, before they are allowed to buy properties in designated areas.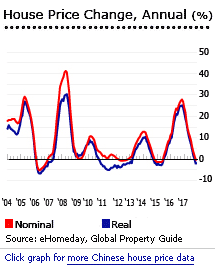 Foreigners cannot be landlords. Property ownership for investment by foreign companies and individuals is prohibited. Chinese living overseas and residents of Hong Kong and Macau are exempt from these restrictions.

There is no private ownership of land in China. One can only obtain rights to use land. A land lease of up to 70 years is usually granted for residential purposes.