China's housing market is cooling
April 04, 2018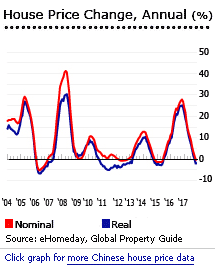 In December 2017, the average price of new houses in China's 70 cities rose by 5.3% y-o-y. 
This was a sharp slowdown from December 2016's 12.4% y-o-y price growth, based on figures from the National Bureau of Statistics of China.  Clearly, tighter government measures in late 2016 have dampened the housing market.
New home prices rose in 57 out of 70 cities. House prices in cities of less-developed provinces actually had the biggest price gains, rather than 1st tier cities, suggesting that the prime cities are cooling first, followed by the provinces.
In December 2017, Beijing saw no price change in prices of first-hand properties from the previous month, while Shanghai saw a meagre 0.2% growth m-o-m. Guangzhou and Shenzhen saw price drops of 0.3% m-o-m and 0.2% m-o-m, respectively.
In contrast, Yunnan province's capital, Kunming, had a 2.6% m-o-m growth in December 2017, followed by Haikou (2.2% m-o-m) in Hainan province, Luzhou (2% m-o-m) in Sichuan province, and Dali (1.5% m-o-m) in Yunnan province. 
In Shanghai, the second-hand house price index slightly fell by 0.2% (-1.92% inflation-adjusted) during the year to November 2017, after a 26.87% price increase y-o-y to November last year (24.02% inflation-adjusted), based on figures from Ehomeday.
According to Savills China:
The average transaction price of apartments declined by 3% q-o-q to CNY 46,536 (US$ 7,417) per sq. m. in Q3 2017.
The average transaction price of villas, on the other hand, rose by 4.9% q-o-q to CNY 47,682 (US$ 7,599) per sq. m. in Q3 2017.
In Beijing, prices of new homes (including public housing) slightly dropped by 0.9% to CNY 37,800 (US$ 6,024) per sq. m. during the year to December 2017, according to the Beijing Municipal Commission of Housing and Urban-Rural Development.
In Guangzhou, the average sales price of residential units fell by 3.6% y-o-y in Q3 2017 to CNY 19,713 (US$ 3,079) per sq. m., according to the figures from the Guangzhou Municipal Land Resources and Housing Administrative Bureau.
However the average sales price of housing units in downtown areas rose by 11% y-o-y to CNY 37,917 (US$ 5922), while suburban area housing also went up by 9.7% y-o-y to an average of CNY 16,139 (US$ 2,520) per sq. m. 
In Shenzhen, the average transaction price of first-hand housing was CNY 54,374 (US$ 8,665), a decline of 7.3% y-o-y to Q3 2017, according to Savills China.
Rules on who can purchase property
Foreigners who have worked or studied in China for at least a year are allowed to buy a home. Foreigners go through supervision procedures which last about a week, before they are allowed to buy properties in designated areas.
Foreigners cannot be landlords. Property ownership for investment by foreign companies and individuals is prohibited. Chinese living overseas and residents of Hong Kong and Macau are exempt from these restrictions.
There is no private ownership of land in China. One can only obtain rights to use land. A land lease of up to 70 years is usually granted for residential purposes.
New luxury housing supply is being restricted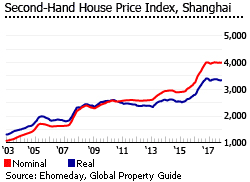 There has been a lull in high-end completions, as reducing luxury housing inventories has recently been a focus of government and developers´ efforts.
In Beijing, construction and completion has slowed since early 2017, according to Savills.  Overall construction in Beijing is expected to slow even further due to the government's introduction of a winter construction ban that lasted for four months, beginning November 15, 2017.
However during the third quarter of 2017 the government eased high-end project restrictions. Six high-end apartment and six high-end villa projects were given pre-sale permits, adding 978 apartments and 374 villas to the sales market.
In Beijing, mass market residential transactions in the city fell by 33.6% q-o-q and by 72.7% y-o-y in Q3 2017, posting a record low over the past decade.  Sales of luxury apartments increased by 9.2% from the previous quarter in Q3 2017, according to Jones Lang LaSalle (JLL). Sales transaction volumes for high-end villas, on the other hand, were flat q-o-q in Q3 2017.
In Shanghai, new "commodity" residential supply fell to record lows in Q3 2017, declining by 56.9% y-o-y to 804,506 sq. m.. There were only two new high-end apartment projects: the Joffrey Classic in Changning (65 units) and Oriental Bay in Xuhui (814 units). No new high-end apartment projects were launched in Q2 and Q3 2017.
The supply of villas in Shanghai was down by 90.1% q-o-q in Q3, according to Savills China.  "No new high-end apartment projects were launched into the market in the last two quarters as controls on new launches made it difficult for developers to secure pre-sales certificates. As unsold inventory levels continue to fall and price growth comes under control, supply controls could be relaxed," according to James Macdonald of Savills Research.
Sales of pre-occupied homes in Shanghai fell 56.6% in 2017, according to the Shanghai Existing House Index Office.   High-end sales fell by 63% q-o-q to 186 units in Q3 2017, as scarce supply and the city's restrictive policy limited sales volumes, according to JLL.
"We think property sales will decline in 2018 compared with the previous year, as government cooling measures will likely continue, including resale restriction, purchase qualification scrutiny, and mortgage loan application checks," according to Mizuho Securities analyst Shen Jianguang.
The mortgage market ballooned in 2016, as prices went rapidly up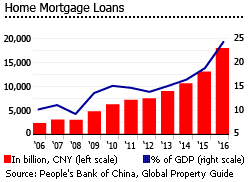 The mortgage market has ballooned.  Outstanding housing mortgages rose by 38.1% in 2016, to CNY 18 trillion (US$ 2.75 trillion).  As of Q2 2017, the total amount of outstanding housing mortgage loans increased by 30.8% y-o-y to CNY 20.1 trillion (US$ 3.07 trillion), according to the People's Bank of China (PBOC).
Home mortgage loans were at 24.1% of GDP in 2016, up from only 10.3% of GDP in 2006.  That growth has taken place because property prices in China have risen so rapidly.  There was a 117% rise in the price index for second-hand homes in Shanghai (82% inflation-adjusted) from Q1 2003 to Q2 2008, according to Ehomeday.
However during the global crisis, China´s housing market slowed sharply from end-2008 to mid-2009.  In November 2008 the government introduced a CNY4 trillion (US$585 billion) post-financial crisis stimulus package. Developers were now easily able obtain loans, with lower capital requirements.  Buyers took advantage, with looser lending conditions and lower interest rates.
The result? Existing house prices surged by 19.7% in Beijing during 2013 (16.77% inflation-adjusted), and rose by 12.85% in Shanghai (10.13% inflation-adjusted). In 2014, house prices in Beijing fell by 4.11% (-5.45% inflation-adjusted), but prices surged again by 21.01% (19.09% inflation-adjusted) in 2015 and 36.73% (34.06% inflation-adjusted) in 2016.
Mortgage lending is dominated by state-owned commercial banks.  Banks prefer to offer loans for new housing. The mortgage market for old housing is undeveloped.  Banks lean on real estate developers when buyers default on loans.
The mortgage market is led by four major state-owned commercial banks namely: Bank of China, China Agriculture Bank, China Construction Bank and Industrial and Commercial Bank of China.
Stricter mortgage rules since October 2016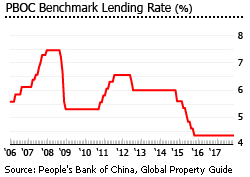 The ballooning of mortgage debt in recent years poses a threat to the banking system. "China's household debt has been rising at an 'alarming' pace over the past two years," noted Citi analyst Li-Gang Liu in October 2017. Based on Liu's report, China's household debt doubled from 29.6% of GDP in 2012 to 44.3% of GDP in 2016, mostly driven by mortgage loans. DBS Vickers Hong Kong Ltd predicted that a 30% decline in house prices could turn 4% of the total loans or around CNY 4.1 trillion (US$ 615 billion) into bad debts. The International Monetary Fund (IMF) has warned that the country´s credit has been growing "very fast" by global standards.
In response to the IMF´s call, Zhou Xiaochuan, the People's Bank of China (PBOC) governor, stated that China will try to control credit growth. "It's a kind of fine-tuning of policy priorities," according to Fudan University economics professor Li Weisen. "China needs to improve control over bank credit, and home mortgage loans are expected to slow from October on."
In October 2016, the PBOC demanded executives of 17 banks to intensify efforts in restraining home loans, according to a report from Caixin Online. The meeting included officials from China´s "Big Five" banks: the Bank of China, the Agricultural Bank of China, China Construction Bank, the Industrial and Commercial Bank of China, and the Bank of Communications.
Tianjin City, the country´s major port city and was among 15 cities that adopted tightening measures in October 2016, and announced of having even stricter measures in November. In particular, the Tianjin branch of the central bank has increased the down payment ratio for first-time buyers to 30%, from an earlier ratio of 20%. Those with unpaid mortgages planning to purchase a second home have need a down payment of 40%.
Shanghai also stated in a Weibo post that it will implement tighter mortgage loan policies beginning November 29,2016. Other cities such as Wuhan and Shenzhen also introduced mortgage controls, but not as tight as Tianjin.
The central bank intensified its house price curbing measures in March 2017, by releasing new credit policy guidelines for commercial banks to reign the pace of mortgage loan issuance among other things,  as well as to adjust credit policies which would control the flow of bank credit to the real estate sector.
During the same month, the PBOC also announced tighter housing mortgage rules in Beijing which targets fake divorces. Housing applicants in Beijing who are divorced in less than a year ago will be considered as second-home buyers, which will require them for a higher down payment. Beijing also implemented higher down payment for second homes and suspended housing loans with maturity of 25 years and above in March 2017. As part of measures in curbing the property market, home loan rates in Beijing and other big Chinese cities were reportedly increasing, in an attempt to discourage potential buyers from obtaining mortgage loans.
In September 2017, eight cities (namely Changsha, Chongqing, Guiyang, Nanchang, Nanning, Shijiazhuang, Xi'an, and Wuhan) reportedly imposed new house purchase controls, most of which include banning home resale two to three years after its purchase.
The continuous implementation of tighter policies has resulted in slower growth of real estate mortgage loans. By end of 2017, outstanding loans to the real estate sector had grown by 'only' 20.9% y-o-y to CNY 32.2 trillion (US$5.03 trillion), according to the latest report of the People's Bank of China - a 6.1% slowdown on end-2016 growth. Outstanding individual mortgage loans were up by 22.2% as of December 2017, 14.5% down on the previous year's 36.7% growth. 
Nevertheless in its financial system stability assessment last December, the International Monetary Fund (IMF) gave another warning to China on its rising debt-dependency. "Credit growth has outpaced GDP growth, leading to a large credit overhang. The credit-to-GDP ratio is now about 25% above the long-term trend, very high by international standards and consistent with a high probability of financial distress," according to the IMF report. "As a result, corporate debt has reached 165% of GDP, and household debt, while still low, has risen by 15 percentage points of GDP over the past five years and is increasingly linked to asset-price speculation. The buildup of credit in traditional sectors has gone hand-in-hand with a slowdown of productivity growth and pressures on asset quality."
The People's Bank of China's (PBOC) key interest rate has remained steady at around 4.35% since October 2015, the central bank´s sixth rate cut since November 2014.
Too much government intervention?
Arguably, one of the Chinese housing market´s central problems has been excessive government intervention, exaggerating the housing cycle. The government steps in to avoid over-heating - then steps in again, to avoid the resulting slump. So China´s housing market see-saws between one extreme and the other, within the general context of an over-valued and over-stocked housing market.
During the boom of 2008, house building boomed so much that the ratio of residential floor space under construction to floor space sold also rose sharply. In 2008, for every one sq. m. of space sold, 3.9 sq. m. was under construction. The ratio rose to a record high of around 4.4 sq. m. in 2012, according to China economist Patrick Chovanec.
In March 2013 the State Council reasserted control. Major cities were required to publish an annual housing price control target. Cities with overheating housing markets were required to increase their supply of "commodity" housing, and their land supply. Where dwelling price rises exceeded city price control targets, People's Bank of China (PBOC) branches were asked to increase down-payment requirements. Tighter mortgage restrictions on second home purchases were introduced, and buyers without a local registration barred from buying more than one property. Banks were forbidden to give loans to developers hoarding land. Local governments were required to boost low-income housing production. The government also continued to reform property taxes.
In October 2013 Beijing introduced a new scheme to house middle-income earners, through dwellings costing 30% less than normal residential dwellings.  And in November 2013, Shanghai´s municipal government increased minimum down payments for second home purchases from 60% to 70%. Non-Shanghai residents also faced tighter qualifications to purchase homes in Shanghai.
Due to these tightening measures, the housing market slowed sharply. During 2014 house prices dropped in Beijing and Shanghai by 4.16% (-5.67% inflation-adjusted) and 1.33% (-2.89% inflation-adjusted), respectively.
So in 2014 the government again went into reverse. In September 2014 the central bank loosened mortgage restrictions, giving homeowners with paid-off mortgages wanting a second property the same terms as first-time buyers, including a down payment minimum of 30% (previous minimum: 60%). In October the central bank cut its benchmark one-year lending rate by 25 basis points to 4.35%. Mortgage interest rates for first-home purchases fell to a new record low. The government also announced a plan to purchase unsold residential properties, and convert them into low-cost housing, in order to reduce inventory levels. In 2015, the government reduced the minimum downpayment for second-home buyers three times, and in March 2015, property sellers were exempted from paying transaction tax if they had owned the property for at least two years.
In late 2016, as a result of the subsequent boom, local governments began implementing tightening measures - these same measures that have successfully slowed the market.
Rental yields are too low
Rental yields in Beijing and Shanghai are, we believe, extremely low (though we have not been able to collect recent figures). This is partly because homes are used as investments and "stores of value", and so there is an imbalance between homes available and renters.
The rental market in China is heavily regulated, and the system favours the landlord. The landlord may get large payments for breaches of contract committed by the tenant. Although major cities have no rent controls, smaller cities may have.
In Beijing, the average rent of high-end Grade A apartments rose by 2.4% y-o-y in Q3 2017 to CNY 156.4 (US$ 23.86) per square metre (sq. m.) per month, according to Savills China. Monthly rents of high-end villas in the capital city also increased by 2.9% y-o-y to an average of CNY 121.3 (US$ 18.50) per sq. m. during the same quarter. In the serviced apartment market, monthly rents had a stronger increase of 5% to an average of CNY 223 (US$ 34.02) per sq. m. during the year to Q3 2017.
Strong leasing demand in the area, amid new supply, has led to an increase of serviced apartments' occupancy rates by 1.1 percentage points y-o-y to 87.1% in Q3 2017, according to Savills China. "Limited supply and increased demand is expected to see average rental for serviced apartments and high-end apartments continue to edge up," according to Jack Xiong of Savills Research & Consultancy.
In Shanghai, the average rent of serviced apartments rose by 2.6% y-o-y in Q3 2017 to CNY 240.1 (US$ 36.63) per sq. m. per month.
In Shenzhen, the average rent of serviced apartments fell by 2.2% y-o-y to CNY 265.9 (US$ 40.56) per sq. m. per month in Q3 2017, mainly attributed to the downward pressure on rents from older serviced apartments.
Robust yet slower Chinese economy in 2018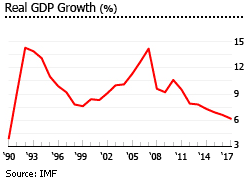 The Chinese GDP grew by a robust 6.9% during 2017, following growth rates of 6.7% in 2016 and 6.9% in 2015, according to the National Bureau of Statistics of China.
"It is true that there is a part of the economy — the old economy, heavy industries, property-linked (sectors) — which is slowing deliberately," says Duncan Wrigley, Everbright Sun Hung Kai's chief strategist. "But there are other parts, the new economy which includes services...(and) includes parts of the manufacturing sector, high tech (industries) which are showing strength and that seems to be persisting in this data."
From an average growth rate of 12.7% annually from 2005 to 2007, China has experienced a slowdown in recent years, with an average annual real GDP growth rate of 8.4% from 2008 to 2016.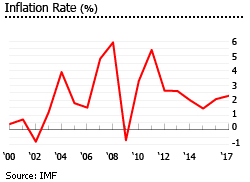 While the IMF noted that the country has made financial stability as its top priority in 2017, the report also stated that there are still underlying causes of risks that should be fully addressed. The IMF recommended that the government should lessen its emphasis on growth targets, which triggers excessive credit expansion at the local level. Other recommendations include the enhancement of financial supervision, and the implementation of policies that could mitigate systemic risks.
China's annual inflation stood at 1.8% in December 2017, slightly up from 1.7% y-o-y in November, based on the figures from the National Bureau of Statistics of China. For the year 2017, consumer prices was up at 1.6%, following inflation rates of 2% in 2016, 1.4% in 2015, 2% in 2014, 2.6% in 2012 and 2013, and 5.4% in 2011. 
Urban unemployment fell to a 15-year low rate of 3.9% in Q4 2017, down from 3.95% the previous quarter. In 2017, the number of jobs created in the country also reached a "record-high" of 13.51 million new jobs, according to the Ministry of Human Resources and Social Security.
China - More data and information