Phnom Penh's condominium market is attractive, but challenges lie ahead
Maria de Guzman | February 08, 2019
Phnom Penh´s condominium market had mixed results in Q3 2018.
In the affordable category, the average condo price in Phnom Penh was around US$ 1,400 per sq. m., up by 0.2% from the previous quarter, and by 5% from the same period last year.
In the mid-range category, the average price of a condominium unit was US$2,600 per sq. m., up by 0.4% q-o-q, but down by 2% y-o-y.
In the high-end category, the average condo unit price was US$3,250 per sq. m., up by 0.5% from the previous quarter, and by 1.8% from the previous year, according to CBRE Research.
CBRE Cambodia associate director James Hodge noted that recent price trends indicate that the mid-range condominium sector is most likely to be oversupplied, while prices of affordable and high-end condominiums have risen in Q3 2018.
Cambodia saw limited new condominium completions in Q3 2018, with only 218 units from two projects added to supply, according to CBRE Research. However condominium supply is still expected to double to around 20,000 units, as compared to the previous year, with new projects expected to add 2,374 additional units in Q4 (up by 5.2% q-o-q), indicating that developers´ confidence is rising.
"The new supply has largely been focused on affordable projects in secondary districts," said Hodge in a recent news report.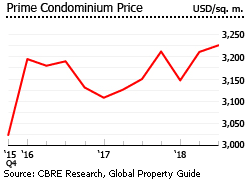 In terms of demand, the condominium sector is gaining steam, especially among Cambodians. "Before, 80 percent of my clients were foreigners. Now, however, most are Cambodians," according to ERA Cambodia CEO Khorn Kungkea. CBRE Cambodia residential project marketing manager Jonathan Flexer says that most buyers still come from China, Hong Kong, Malaysia, and Singapore, but the market has also been attracting more locals due to an increase in living standards.
Phnom Penh´s property prices plunged by around 40% from 2009 to 2010 due to the global crisis. The housing market started to recover in 2011, buoyed by strong economic growth and the introduction of the new foreign ownership law. From 2011 to 2018, the economy expanded by an average of 7.1% per year, fuelled by strong tourism, garments manufacturing, and agriculture. In 2019, the economy is expected to expand again by 7.1%, according to the Asian Development Bank (ADB).
The foreign ownership law boosted demand
Under the Foreign Ownership Property Law passed in April 2010 foreigners can own apartments and condominium units, but not land, and therefore not the first floor of buildings. Also, foreign investors are allowed to own up to 70% of a condominium project.
In 2005, the Cambodian government amended its investment law to allow foreign ownership of buildings. However, the law was not then implemented and the idea floundered.
Land ownership is against the Constitution and is still out of the question. Land can however be held by foreigners on long (renewable) leases and through majority locally-owned companies incorporated in Cambodia. These structures are argued by lawyers in Cambodia to be safer than legal schemes in any other South East Asian country in which foreign land ownership is formally prohibited.
Booming tourism sector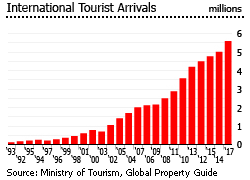 Cambodia´s tourism numbers are still on the rise, with more than 3 million international tourists welcomed during the first half of 2018, up 12.7% from the previous year, according to the Ministry of Tourism. In 2017, international tourist arrivals surged by 11.8% y-o-y to 5.6 million, bringing the sector around US$ 3.63 billion worth of revenue.
China accounted for 31% of total tourist arrivals during the first half of 2018, followed by Vietnam (12.9%), Lao PDR (6.7%), Korea (5.8%), Thailand (5.3%), United States (4.5%), Japan (3.3%), France (2.9%), Malaysia (2.9%), and the United Kingdom (2.8%).
"The increase in the number of Chinese visitors was possible thanks to efforts to facilitate travel to the kingdom, and to the growing number of airlines operating international flights to Cambodia," according to Kong Sophearak, Ministry of Tourism´s director of the statistics department.
The ministry expects tourism arrivals to reach around 6.2 million by the end of 2018, around 7 million by 2020, and 15 million by 2030.
From 1994 to 2017, the number of tourist arrivals in Cambodia increased by an average of 18.5% every year, from just 176,617 people in 1994 to more than 5.6 million in 2017.
Attractive rental yields; supply puts downward pressure on rents in Phnom Penh
Cambodia has very attractive gross rental yields. Apartments can still attain annual rental yields ranging from 6% to 8%, according to Independent Property Services (IPS) Cambodia.
Condominium rents in Phnom Penh have been stabilized in Q3 2018, following a sharp decline in the previous quarter, according to CBRE Research.
As of Q3 2018:
One-bedroom condominiums have monthly rents ranging from US$ 600 to US$ 1,250 for high-end condos, and from US$ 500 to US$ 1,000 for mid-range condos.
Two-bedroom condos can be rented from US$ 1,250 to US$ 2,500 per month for high-end, and from US$ 1,000 to US$ 1,500 per month for mid-range.
Three-bedroom condos have monthly rents from US$ 2,250 to US$ 3,000 for high-end, and from US$ 1,500 to US$ 2,000 for mid-range.
As the supply of condominiums surged since the second half of 2017, average asking rents faced downward pressure, according to Knight Frank. In Daun Penh, one of Phnom Penh´s major districts and a popular spot for expats, overall rental prices have stagnated since 2017, despite having strong rental demand, according to Century 21 Golden Realty´s CEO Vathana Heng. "One the reasons of the stagnation is the oversupply in Phnom Penh," Heng added.
Chamkarmon district has 49% of existing supply, with apartments typically located in BKK1, Tonle Bassac, and Toul Tom Pong.
Asking rents are still predicted to continue facing downward pressure, as more units are expected to be completed by end of 2018. However in Q3 2018, high-end condo rents averaged about US$ 14.3 per sq. m., up by 0.3% from the previous quarter, while rents for mid-range condos were up by 5% q-o-q to an average of US$ 11.6 per sq. m.
The stabilization of rents was attributed to only having two project completions (or an additional supply of 218 units) in Q3 2018, according to CBRE Cambodia´s associate director, James Hodge.
"Despite the concerns of a condominium glut, we do not foresee a significant impact on the overall sector. The rental market, however, will be more competitive due to the significant increase in supply, hence landlords will be required to be more flexible in lease terms and rental pricing," according to Knight Frank.
Slowdown in construction activity is likely temporary
The number of condo units in Phnom Penh has increased rapidly. From only 178 condo units in 2009, the supply of condo units in the area reached 12,048 units by end of Q3 2018, according to CBRE Research. During the third quarter of 2018, Phnom Penh saw limited new condominium supply, as only two significant condominium projects were completed at the time ―the Skylar Meridian in Chamkarmon District and the Apennines Condominium in Toul Kork District. The two projects added a total of 218 condominium units to the supply, raising the total number of available units by 1.8% q-o-q to 12,048 units in Q3 2018, according to CBRE Research. However local real estate experts still have a positive view.
"Construction activity continues strong, as you can see by just walking around the city. There is still a lot of demand for residential projects because young people, particularly newly-weds, are now looking for their own house," according to Cambodian Valuers and Estate Agents Association President Chrek Soknim. "I believe in the future more investors will come because there is still plenty of land to be developed. Our economy is growing fast, which will continue to attract investors."
Advance Real Estate Company CEO and co-founder Po Eavkong argued that the lower number of approved projects this year is not a reflection of the sector´s real situation, as there are still projects awaiting for approval that are not recorded in the statistic. "It doesn´t mean there is a problem. Big projects take between 2 to 3 years to finish, so it makes sense that we see some years where the registration rate is slower," according to Eavkong.
In comparison to two condominium project completions in Q3 2018, there were six new condominium projects launched during the same quarter, adding around 2,374 units to the supply pipeline. CBRE Research noted that the recent increase in new launches is "signaling renewed confidence from developers".
As of H1 2018:
Chamkarmon District, the most preferred location for residential and commercial properties in Phnom Penh, had the most number of existing condominiums at around 49%, according to Knight Frank.
7 Makara had a condominium share of 16%.
Chroy Changvar had a 15% share.
Toul Kork´s share was 6%.
The remaining 14% of the existing condominiums were distributed between Chbar Ampov, Daun Penh, Meanchey, Russey Keo, and Sen Sok.
There are also new condominium supply in Sihanoukville. Some notable residential developments in the province include the Alila Villas Koh Russey (with 227 luxury villas and scheduled for completion in 2017); D´Seaview (735 condo units and scheduled for completion in 2018); Sunshine Bay (900 condo units and scheduled for completion in 2018); Blue Bay (1,400 condo units and scheduled for completion in 2019); and Royal Bay View (1,344 condo units and scheduled for completion in 2019).
Small mortgage market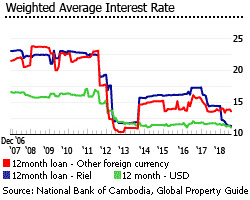 Mortgages and housing loans were introduced to the real estate sector only in 2008. The size of the mortgage market rose from 1% of GDP in 2010 to around 7% of GDP in 2017.
As of July 2018, the total outstanding mortgages (owner-occupied housing only) stood at KHR 7.29 trillion (US$ 1.82 billion), up by 30% from the same period last year, according to the National Bank of Cambodia (NBC), the country´s central bank.
The continuous rise in mortgages can be partly attributed to declining borrowing rates. In July 2018, the 12-month weighted average lending rate on KHR loans was 11.37%, down from 14.53% in the same month last year. For loans denominated in USD, the lending rate was also down to 11.12% from 11.79% in July 2017, according to the NBC.
Housing market cycle - in an "up" phase
Cambodia´s housing market enjoyed unprecedented price rises from 2004 to 2007, with property prices rising by about 25% to 40% annually. Land price increases were at first confined to Phnom Penh, Siem Reap and Sihanoukville, but the boom spread right across Cambodia. Other hot spots were the border areas with Vietnam and Thailand and, to a lesser extent, Laos.
Residential land prices in Phnom Penh soared to KHR6.25 million (US$1,600) per sq. m. in 2007, from KHR2.34 million (US$600) per sq. m. in 2006. The value of construction projects skyrocketed to more than US$3.2 billion in 2007, from US$500 million in 2003, according to a United Nations Development Programme (UNDP) study. The government is aggressively pro-development, and squatters and other eyesores are simply cleared away, by a government which is in league with wealthy developers.
In mid-2008, the bubble burst. The global economic and financial crisis had adversely affected South Korea, one of the country´s biggest investors. As a result, South Korean investors either pulled their investments or delayed their projects.
Investments in real estate developments dropped from US$3.19 billion in 2008, to US$1.99 billion in 2009, and finally to just US$840 million in 2010, according to the Ministry of Land Management, Urban Planning and Construction. By end-2010, land values in Phnom Penh, the capital, were about 40% to 50% down on their peak values in mid-2008.
The market started to recover in 2011, buoyed by strong economic growth and by the new foreign ownership law. In Phnom Penh, the average condo sales price more than doubled from 2012 to 2017, from US$1,460 to US$3,212 per sq. m.
Landslide win for ruling party
In the July 2018 the ruling Cambodian People´s Party (CPP), headed by Prime Minister Hun Sen, won all 125 seats in the Parliament with 77% of the vote. However, the government´s critics condemned the recent election as a "sham" as it lacked a major opposition. Aside from the EU, other international governments such as the United States, Australia, and Canada also issued statements condemning the election process. In July 2018, the US House of Representatives passed the Cambodia Democracy Act, that imposes sanctions against several government and military officials.
In October 2018, inflation rate stood at 3.1%, up from 2.1% in October 2017, according to the Ministry of Economy and Finance (MEF). Inflation is expected to have reached 3.2% in 2018, and will increase further to 3.5% due to strong economic performance and higher food and oil prices.
Cambodia´s economic status was officially raised by the World Bank from low-income to lower middle-income economy in August 2016. Lower-middle-income countries are those with a GNI per capita between US$1,026 and US$4,035. In 2017, Cambodia´s GNI per capita was US$1,230.
Two decades of economic growth have helped make Cambodia a global leader in reducing poverty, said the World Bank. The country´s poverty rate dropped from 47.8% in 2007 to 13.5% in 2014.
Economy threatened by EU´s trade preferences withdrawal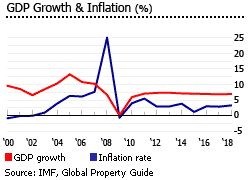 Cambodia is expected to have grown by around 7% in 2018, supported by strong growth in exports, robust domestic demand and tourist arrivals, more FDI inflows, and an expansionary policy, according to the ADB. The ADB also expects the country to replicate this economic success with another 7% GDP expansion in 2019. in 2017 the economy grew by 6.9%, following 7% growth in 2016, according to the Asian Development Bank (ADB). From 2000 to 2003, the economy grew by an average of 8.3%, and then by an average of 11.1% from 2004 to 2007. After a slight pause during the global crisis, from 2011 to 2015, the economy expanded by an average of 7.2% per year, fuelled by strong tourism, garments manufacturing, and agriculture.
However Cambodia´s economic growth is concentrated in tourism and the textile sector, which is dependent on most favoured nation status agreements. In October 2018, the EU officially notified Cambodia that it had launched the procedure to withdraw Cambodia´s Generalised Scheme of Preferences (GSP), an agreement that allow Cambodian exports a tariff-free entry in EU under the Everything But Arms (EBA) scheme. "Our recent EU mission to the country demonstrated serious and systemic violations of, for instance, freedom of expression, labour rights and freedom of association. This comes on top of longstanding issues as regards workers´ rights and land-grabbing," EU Trade Commissioner Cecilia Malmstrom wrote in the European Commission´s official blog. "As I have underlined many times as Commissioner for Trade, our EU trade policy must be led by our values. Accordingly, when we are faced with blatant disregard for those values, the EU must act."
Cambodia is the second-biggest EBA scheme beneficiary next to Bangladesh, accounting for about 18% of EU´s EBA imports, according to the European Commission´s 2016-2017 report. The withdrawal of the EBA scheme would mean trouble for about 800,000 Cambodians employed in the garment industry, since around 40% of Cambodia´s garment exports goes to EU alone. Ratings agency Moody´s said that the EU´s move of withdrawing the country´s duty-free trade status would harm the economy. "Additional cost increases as a result of tariffs would undermine the price competitiveness of Cambodia´s garments exports unless they are offset by productivity gains," according to Moody´s. The expected rise in costs and wages are likely to deter foreign investors, especially Europeans, which could weaken foreign direct investment inflows.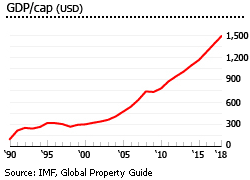 However during the first half of 2018, the tourism sector saw a 12.7% y-o-y increase in tourist arrivals to more than 3 million, according to the Ministry of Tourism.
In addition to its buoyant tourism sector, Cambodia´s garment export also remains strong, expanding by 10.73% y-o-y to about US3.2 billion in the first half of 2018, according to the Ministry of Commerce.
Some of the events that has led to the suspension of Cambodia´s EBA scheme, include:
Sam Rainsy´s resignation as president of the Cambodia National Rescue Party (CNRP), the main opposition party, in February 2017. Rainsy´s deputy, human rights activist Kem Sokha, replaced him as the new leader of the CRNP.
In September 2017, Sokha was arrested on treason charges.
The Supreme Court dissolved the CNRP in November 2017.
Controls on media outlets and civil society organizations critical of the government have continued to tighten.
SOURCES