Phnom Penh's condominium market is attractive, but challenges lie ahead
Maria de Guzman | February 08, 2019

Phnom Penh's condominium market had mixed results in Q3 2018.

In the affordable category, the average condo price in Phnom Penh was around US$ 1,400 per sq. m., up by 0.2% from the previous quarter, and by 5% from the same period last year.
In the mid-range category, the average price of a condominium unit was US$2,600 per sq. m., up by 0.4% q-o-q, but down by 2% y-o-y.
In the high-end category, the average condo unit price was US$3,250 per sq. m., up by 0.5% from the previous quarter, and by 1.8% from the previous year, according to CBRE Research.

CBRE Cambodia associate director James Hodge noted that recent price trends indicate that the mid-range condominium sector is most likely to be oversupplied, while prices of affordable and high-end condominiums have risen in Q3 2018.

Cambodia saw limited new condominium completions in Q3 2018, with only 218 units from two projects added to supply, according to CBRE Research. However condominium supply is still expected to double to around 20,000 units, as compared to the previous year, with new projects expected to add 2,374 additional units in Q4 (up by 5.2% q-o-q), indicating that developers' confidence is rising.

"The new supply has largely been focused on affordable projects in secondary districts," said Hodge in a recent news report.

In terms of demand, the condominium sector is gaining steam, especially among Cambodians. "Before, 80 percent of my clients were foreigners. Now, however, most are Cambodians," according to ERA Cambodia CEO Khorn Kungkea. CBRE Cambodia residential project marketing manager Jonathan Flexer says that most buyers still come from China, Hong Kong, Malaysia, and Singapore, but the market has also been attracting more locals due to an increase in living standards.

Phnom Penh's property prices plunged by around 40% from 2009 to 2010 due to the global crisis. The housing market started to recover in 2011, buoyed by strong economic growth and the introduction of the new foreign ownership law. From 2011 to 2018, the economy expanded by an average of 7.1% per year, fuelled by strong tourism, garments manufacturing, and agriculture. In 2019, the economy is expected to expand again by 7.1%, according to the Asian Development Bank (ADB).
The foreign ownership law boosted demand
Under the Foreign Ownership Property Law passed in April 2010 foreigners can own apartments and condominium units, but not land, and therefore not the first floor of buildings. Also, foreign investors are allowed to own up to 70% of a condominium project.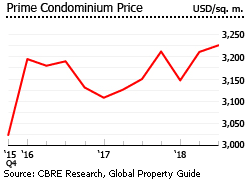 In 2005, the Cambodian government amended its investment law to allow foreign ownership of buildings. However, the law was not then implemented and the idea floundered.

Land ownership is against the Constitution and is still out of the question. Land can however be held by foreigners on long (renewable) leases and through majority locally-owned companies incorporated in Cambodia. These structures are argued by lawyers in Cambodia to be safer than legal schemes in any other South East Asian country in which foreign land ownership is formally prohibited.