Condominium prices continue to rise in Phnom Penh; rental yields are excellent
November 20, 2016

Cambodia's condominium market boom continues, fuelled by strong economic growth and continued interest from foreign investors.

During the year to Q3 2016, prime condominium prices in Phnom Penh, the country's capital, rose by 7.44% from a year earlier, to an average of US$3,190 per square meter (sq. m), according to CBRE Research. Quarter-on-quarter, prime condo prices increased slightly by 0.31% in Q3 2016.

In Q3 2016:

In the affordable category, the average condo price in Phnom Penh was US$1,500 per sq. m., down 2.8% q-o-q but up about 7% y-o-y
In the mid-range category, the average price of a condominium unit was US$2,700 per sq. m., almost unchanged from the previous quarter but up 2% from a year earlier
In the high-end category, the average price of a condo unit was US$3,200 per sq. m., almost unchanged from the previous quarter but up 7% from a year earlier

Sihanoukville, Cambodia's premier island and beach resort, continues to see an increase in demand from foreign investors, with more direct flights into the province, and a government plan to improve transport links. In Q3 2016, the average price of luxury resort villa was about US$3,500 per sq. m. Over the same period, the average price of high-end resort condo unit in Sihanoukville was US$2,000 per sq. m.

Demand remains strong. At the Axis Residences in Phnom Penh, over 60% of the 566 residential units were already pre-booked prior to its public launching in March 2015. Singapore-listed HLH Group's seafront development, D'Seaview, launched in January 2016, saw over 80% of its 300 units in Phase 1 subscribed by Cambodian and foreign homebuyers.

Phnom Penh property prices plunged by around 40% from 2009 to 2010 due to the global crisis. The housing market started to recover in 2011, buoyed by strong economic growth and the introduction of the new foreign ownership law.From 2011 to 2015, the economy expanded by an average of 7.2% per year, fuelled by strong tourism, garments manufacturing, and agriculture. Cambodia is expected to sustain this strong economic growth in the coming years, with projected GDP growth of 7% this year, and another 7.1% in 2017, according to the Asian Development Bank (ADB).

New foreign ownership law boosts demand
Foreigners are now allowed to own apartments and condominium units, but not land, and therefore not the first floor of buildings, under the new foreign ownership law approved by King NorodomSihamoni in May 2010.  Just after the passing of the law, tax revenues from property-related transactions soared 60% to KHR76.21 billion (US$19.5 million) in 2010, from KHR47.7 billion (US$12.2 million) in 2009.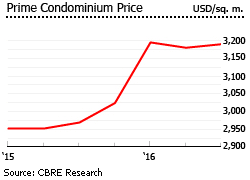 In 2005, the Cambodian government amended its investment law to allow foreign ownership of buildings. However, the law not then implemented and the idea floundered, since the country was then experiencing one of the biggest property booms in Asia.

Land ownership is against the Constitution and is still out of the question. Land can however be held by foreigners on long (renewable) leases and through majority locally-owned companies incorporated in Cambodia. These structures are argued by lawyers in Cambodia to be safer than legal schemes in any other South East Asian country in which foreign land ownership is formally prohibited.