Uganda's property market remains depressed
January 06, 2015
Uganda's property market went through an acute depression in 2013, according to Judy Rugasira Kyanda of Knight Frank, because interest rates had shot from 16% to 30% in late 2011 and early 2012, after annual inflation had reached 30.5% in October 2011.
Property prices dropped significantly. More people preferred to rent instead of buying property. Mortgage defaults rose.
The property market continued to struggle in 2014, despite robust economic growth. Many new developers offered discounted prices to prospective buyers. Construction activity was down.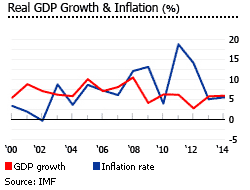 "Some of these developers are quoting rates as low as US$9 per square metre compared with similar space offered by bigger facilities like UAP Business Park located in Nakawa, which charges US$14 per square metre", said real estate analyst Moses Lutalo of UAP Properties Uganda. "This trend has also led to loss of clients by highly priced residential apartments located in the Kololo area."
Residential construction activity has been falling, with the price of construction materials falling. The construction sector price index for residential buildings fell by 9.9% in October 2014 from the same period last year, according to Uganda Bureau of Statistics (UBOS). The index measures the cost of given baskets of construction goods and services for residential buildings, relative to their cost in the base period (Q1 2006=100).
The 1996 Constitution grants land ownership rights solely to citizens of Uganda. Foreign nationals and corporations may, however, obtain leases for 49 or 99 years.
Uganda's economy was estimated to have expanded by a robust 5.9% in 2014, from real GDP growth rates of 5.8% in 2013, 2.8% in 2012, and 6.2% both in 2011 and 2010, according to the International Monetary Fund (IMF). The economy is projected to grow by 6.3% this year.
Uganda is a democracy with considerable issues with freedom of expression and human rights abuse.  This is ironic, because after President Yoweri Museveni came to power in a rebellion in 1986 he was widely seen as the best of a new wave of democratic leaders, after the horrendous regimes of former presidents Idi Amin (1971-1979) and Milton Obote (1980-1985). He stabilized the country, introduced democracy, liberalized the press, and responded effectively to the HIV/AIDS crisis, and cooperated with IMF stabilization programs despite an early Marxist background.
Recently things have deteriorated. In 2005 Museveni had the constitution changed to allow him to stand for a 3rd and then 4th term (2011- ). He has also repeatedly involved the Ugandan armed forces in external conflicts. Restrictions on press freedom have greatly increased, and the introduction of the death penalty for homosexuality (2014) caused international concern. Internally he is suspected of planning to hand over power to his son when he retires. Despite these concerns, no-one suggests that the abuses have reached the extreme levels of the previous Amin and Obote regimes.
Local house price variations
Kampala, the capital and the largest city in Uganda, has the most expensive housing in the country. The average price of apartments in city centre was recently estimated to be UGX12 million (US$7,047) per square meter (sq. m.), according to local property experts.
Outside the city centre, apartments sold at an average price of just UGX1.26 million (US$444) per sq. m.
Because of the relatively low prices of land and properties in neighbouring areas of Kampala, such as in Mpigi, Mukono and Wakiso, big property developers are now eager to build new housing projects in these areas.
"The sale price of land in these areas is more affordable than the land in the CBD and surrounding areas. Property developers are continuing to invest in properties in these areas and the extension of these services is definitely going to make these properties some of the most sought after in the region," said Shakib Nsubuga of Lamudi's Uganda office.
Shortage of low cost housing
There is a continued increase in the demand for low-cost housing in Uganda, amidst rapid population growth. Accordingly, there is currently an accumulated nationwide housing shortage of 500,000. Kampala alone has a housing deficit of about 100,000 units.
Despite this, only around 500 to 1,000 low-cost housing units are expected to be supplied in 2015.
Mortgage rates still high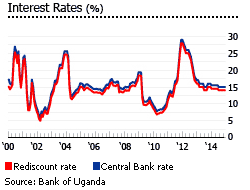 The Bank of Uganda, the country's central bank, has kept the Central Bank Rate (CBR) unchanged at 11% in December 2014, after cutting it by 50 basis points in June 2014, as economic growth and core inflation continue to trend close to the central bank's targets. The rediscount rate and the bank rate also remained unchanged at 14% and 15%, respectively.
Mortgage rates remained high by international standards, though they have stabilized in a range of 16% to 24%.
Mortgage market underdeveloped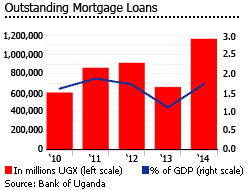 Uganda's mortgage market is still underdeveloped. Properties are usually sold in cash. In fact, the size of the mortgage market is currently just about 1.7% of the country's GDP in 2014, slightly up from 1.6% of GDP in 2010 and from 0.3% of GDP in 2002.
Yet recently, mortgage loans have been soaring. In October 2014, the total mortgages outstanding from commercial banks rose 46% from the same period last year to UGX1.16 trillion (US$414.6 million), according to the Bank of Uganda. Total outstanding residential mortgages also skyrocketed 36% y-o-y to UGX673.2 billion (US$239.7 million) in October 2014.
In addition, the total loans to private sector for land purchases climbed by 97% y-o-y in October 2014, to reach UGX81.4 billion (US$29 million), according to the central bank.
Five banks dominate the housing finance market in Uganda. These include the Housing Finance Bank, the DFCU Bank, the Stanbic Bank, Standard Chartered Bank, and Barclays Bank.
"The lack of a secondary mortgage market is still constraining overall growth in the real estate industry," said Gerald Paul Kasaato of Uganda's National Social Security Fund (NSSF).
Huge rental market
Uganda's rental market is huge, as people prefer to rent than to buy property.
In the city centre, a one-bedroom apartment earns a monthly rent of UGX650,000 (US$229) while a three-bedroom apartment rents for an average of UGX1.4 million (US$493) per month, according to local property experts.
Rental yields in different locations in the country vary considerably. In the city centre, gross rental yields average only 1.3%. On the other hand, gross rental yields outside the city centre can go as high as 10.3%.
Robust economic growth, low inflation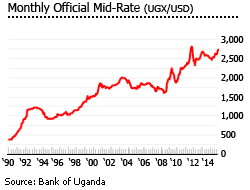 Uganda's economy was estimated to have expanded by a robust 5.9% in 2014, from real GDP growth rates of 5.8% in 2013, 2.8% in 2012, and 6.2% both in 2011 and 2010, according to the International Monetary Fund (IMF). The economy actually grew by an average of 7.6% from 1995 to 2008.
The economy is projected to grow by 6.3% this year.
Inflation in Uganda dropped sharply in 2014. The headline inflation rate in the country stood at 1.8% in December 2014, down from 2.1% in November 2014 and 6.7% from a year earlier, according to Bank of Uganda. On the other hand, core inflation stood at 2.7% in December 2014, up from 2.3% in November 2014 but considerably lower than the 5.7% seen in the previous year.
However, Ugandan shillings (UGX) continue to weaken against the US dollar. In November 2014, the monthly average exchange rate stood at USD1= NAD2,734.22.
Uganda is expatriate-friendly
Uganda is perhaps Africa's friendliest country, and the warmth and hospitality of the locals often amazes visitors. Kampala's expatriate areas remain uncrowded, peaceful and pleasant despite the rapid expansion of the city.
The three decades of unbroken growth has led to an increase in the number of expatriates. The development of new residential areas within the outskirts of Kampala has increased the housing supply. The luxury housing sales market is dominated by investor-landlords intending to let to foreigners. The expatriate market can be broadly divided into two, according to Knight Frank, the old areas and the new.
The old areas have been established expatriate housing areas for almost two decades. These areas are within the city centre. They are generally more expensive. The new areas are on the outskirts of the city. They usually have better views, and are less expensive.
Uganda - More data and information