Tanzania's thriving property market
January 19, 2015

Tanzania's property market is set to grow sharply in coming years. Tanzania has strong economic growth, with GDP rising an average of 6.9% from 2000 to 2014, partly because of a promising oil and natural gas market.

The country is currently experiencing large scale real estate developments, including the construction of villas, apartment complexes, office buildings, hotels and shopping malls, driven by enormous demand for residential housing, industrial and commercial premises.

The most expensive residential properties can be found in the Oyster Bay and the Msasani Peninsula in Dar es Salaam, and on the Lake Victoria shores of Capri Point in Mwanza.

In Dar es Salaam, Tanzania's largest city and the economic capital, a 3-bedroom residential property located near a beach or in a prime location is priced between US$200,000 to US$400,000. However in other areas, 3-bedroom houses are priced starting US$50,000. 

The expatriate market in Dar es Salaam is relatively small and dominated by employees of donor agencies and other multilateral institutions. Although experiencing rapid economic growth, Tanzania remains one of the poorest countries in the world, with GDP per capita of just US$719 in 2013, according to the International Monetary Fund (IMF).

Non-citizens may only acquire land (leasehold) for investment purposes, subject to the approval of the Tanzania Investment Center (TIC) for the mainland or the Zanzibar Investment Promotion Authority (ZIPA) for Zanzibar. All land in Tanzania is owned by the state, and can only be leased to individuals for five to 99 years.


Analysis of Tanzania Residential Property Market »
Yields in Tanzania are high at 9%-12%

Yields are relatively high at around 9% to 12%, because supply of good quality property is so limited. The rent for a 200 sq. m property on the mainland would be around TZS1.77 million (US$1,358) per month, or around Tanzanian shilling (TZS) 7,000 to TZS 8,800 (US$5 – US$7) per square metre (sq. m).

The rent for a 200 sq. m beach estate in Zanzibar would be about TZS2.36 million (US$1,811) monthly. Yields here too are around 9% to 12%.
Tanzania's rental income tax is high
Rental Income: Nonresidents are liable to pay tax on their rental income earned in Tanzania. Net rental income is taxed at the corporate tax rate of 20%.

Capital Gains: Capital gains from the disposal of Tanzanian assets by non-residents are taxed at 20%.

Inheritance: No inheritance or gift taxes are levied in Tanzania.

Residents: Resident individuals are taxed on their globally-sourced income at progressive rates, up to 30%.
The roundtrip transaction cost is high in Tanzania
The total round-trip transaction cost is around 9.26% to 19.26%, with the real estate agent's commission at around 5% - 10%. The notary fee is usually 3%.
Pro-landlord landlord and tenant laws

Tanzania's rental market practice is pro-landlord. Rents are freely determined. Advance payments can reach up to 6 months or one year, the legal limit is only two months' rent. Because the formal, legal eviction process can take years or decades to conclude, landlords often resort to intimidation, threats and violence to evict tenants.
Poverty and separation issues linger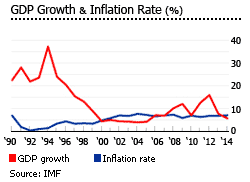 Tanzania was created by the union of the mainland Tanganyika and the island of Zanzibar in 1964. Mainland Tanzania offers exciting safaris, scenic national parks, and tropical rainforests. Tourists often flock the mainland to experience the thrilling climb to the famous Mount Kilimanjaro.
Meanwhile, the islands of Zanzibar offer a more relaxing atmosphere. Nestled in the vast Indian Ocean, visitors can bask in endless sand, sea, and surf in the two main islands of Unguja and Pemba. But remember, although the Zanzibaris are very hospitable people, tourists should be very sensitive to their culture and religion. With 95% of the population Muslim, tourists are expected to dress conservatively when away from the beach.
The economy is still highly dependent on agriculture and foreign aid. However in recent years, the transition towards a multi-party democracy has led to the government adopting more liberal economic policies to attract foreign direct investment.
Tanzania has experienced strong economic growth in recent years, with an average real GDP growth rate of 6.8% from 2000 to 2013. In 2014, growth was estimated to have been a spectacular 7.2%, according to the IMF. The economy is projected to grow by another 7% this year.
In October 2014, the country's overall inflation rate slowed to 5.9%, from 6.6% in the previous month and 6.3% in the same period last year, according to the Bank of Tanzania. This was a decline from an average inflation rate of 10% from 2006 to 2013, according to the IMF.
The current account deficit increased 2.1% y-o-y to US$4.68 billion during the year to end October 2014, according to the Bank of Tanzania.
The country's external debt reached US$13.71 billion in October 2014, an increase of about US$744.4 million from the previous year.