Tanzania's thriving property market
January 19, 2015
Tanzania´s property market is set to grow sharply in coming years. Tanzania has strong economic growth, with GDP rising an average of 6.9% from 2000 to 2014, partly because of a promising oil and natural gas market. 
The country is currently experiencing large scale real estate developments, including the construction of villas, apartment complexes, office buildings, hotels and shopping malls, driven by enormous demand for residential housing, industrial and commercial premises.
The most expensive residential properties can be found in the Oyster Bay and the Msasani Peninsula in Dar es Salaam, and on the Lake Victoria shores of Capri Point in Mwanza.
In Dar es Salaam, Tanzania's largest city and the economic capital, a 3-bedroom residential property located near a beach or in a prime location is priced between US$200,000 to US$400,000. However in other areas, 3-bedroom houses are priced starting US$50,000.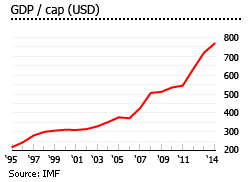 The expatriate market in Dar es Salaam is relatively small and dominated by employees of donor agencies and other multilateral institutions. Although experiencing rapid economic growth, Tanzania remains one of the poorest countries in the world, with GDP per capita of just US$719 in 2013, according to the International Monetary Fund (IMF).
Non-citizens may only acquire land (leasehold) for investment purposes, subject to the approval of the Tanzania Investment Center (TIC) for the mainland or the Zanzibar Investment Promotion Authority (ZIPA) for Zanzibar. All land in Tanzania is owned by the state, and can only be leased to individuals for five to 99 years.
Rapid urbanization transforming the country
Tanzania has seen rapid urbanization in the past two decades, amidst unbroken economic growth. Currently, more than 30% of the country's 45 million people live in urban areas.
Dar es Salaam has seen the fastest urbanization. All government offices are headquartered there and all diplomatic missions and private organizations have a presence in the city. Not surprisingly, Dar es Salaam has the country´s most expensive housing and land.
The southern city of Mtwara, Tanzania's second largest city, is also experiencing a strong rise in land prices mainly due to natural resource discoveries and the influx of foreign investors.
"There have been gas finds there so you have got an influx of foreign investors that are going there, [with] no places to stay and in a nutshell that is what is making the whole place interesting," said Mwijage Bishota of Fusion Capital Tanzania.
Legislation changes driving the property market
To boost the real estate market and attract more foreign investments, the government has fostered an investment-friendly environment. The government has introduced regulations for mortgage financing, established a framework for Real Estate Investment Trusts (REITs), signed several double taxation treaties and multilateral and bilateral agreements, and enacted the Unit Titles Act (also called the Condominium Law).
The Unit Titles Act no. 16 of 2008 sets out the rules and procedures for the management and regulation of divisions of buildings into units, clusters, blocks and sections, owned individually or in common use for the purpose of promoting efficient and effective use of landed property in the country.
"The real estate market is beginning to transform, and this has primarily been driven by change in legislation," said Fusion Capital´s Bishota.
Acute shortage for affordable housing
Tanzania faces an acute housing shortage. The current housing deficit in the country stands at over 3 million units, with an annual increase in housing demand of about 200,000 units, according to Tanzania Ministry of Lands, Housing and Human Settlements Development.
To abate the situation, several housing developments are expected to commence in the near future, which include the following:
The National Housing Corporation (NHC) plans to develop a minimum of 15,000 housing units by June 2015. Of which, 5,000 units will be affordable houses for the low-income group.
The Civil Servants Housing Scheme is also expected to construct about 50,000 affordable houses in the next 5 years.
Parastatal Pension Fund (PPF) also ventured into low-cost housing by developing a 580-house project in Kiseke, Mwanza. Other pension funds are also venturing on similar projects.
Other residential developments are also expected to be launched in new locations, where land is relatively inexpensive, such as Kinyerezi, Ukonga, Mtoni Kijichi, and Gongo la Mboto, among others.
Mortgage interest rates remain high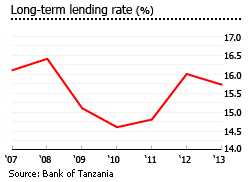 Mortgage interest rates currently range between 18% and 21%. Interest rates are usually variable although some banks offer a limited fixed period for first five years. Mortgage interest rates are commonly benchmarked to the prime lending rate or other key interest rates.
The repo rate actually increased 5.5% in October 2014, from 3.21% in the previous month and 2.64% in a year earlier. On the other hand, the overall lending rate fell slightly to 15.58% in October 2014 from 15.73% in the previous month and 15.88% in a year earlier. The lending rates for short-term loans increased to an average of 14.03% in October 2014, from 13.73% a year earlier. 
The typical loan-to-value (LTV) ratio does not exceed 80% of the appraised property value with a term period between 10 years and 20 years.
Mortgage market remains underdeveloped
The number of mortgage loans climbed by 47% y-o-y to 2,784 in 2013, the average mortgage loan size being about TZS62 million (US$35,462).
Tanzania's mortgage market is tiny, about 0.36% of GDP in 2013, up from 0.24% of GDP the previous year, based on figures from the Bank of Tanzania. Total mortgage loans outstanding in Tanzania in 2013 were around TZS156 billion (US$89.23 million), up 46% from a year earlier, according to Bank of Tanzania.
Despite the sharp improvement in the condition of Tanzania´s property market in recent years, there is still a need to cut interest rates and to increase the availability of mortgage financing. Currently, housing finance in Tanzania is comprised of mainly banks, and other financial intermediaries such as the established mortgage credit facility, TMRC, which supports banks to undertake mortgage lending by means of refinancing the mortgage portfolios of banks.
The following table shows the total mortgage debt outstanding in Tanzania by lender:
TOTAL MORTGAGE DEBT OUTSTANDING, 2013
LENDER
NUMBER OF ACCOUNTS
AMOUNT IN TZS BILLION
% MARKET SHARE
Azania Bank Limited
701
38.04
24.30
Stanbic Bank (T) Ltd.
114
32.46
20.74
Commercial Bank of Africa (T) Ltd.
144
23.63
15.10
Equity Bank Tanzania Ltd.
20
11.75
7.51
EFC Tanzania M.F.C. Ltd.
679
8.65
5.53
Barclays Bank (T) Limited
60
7.11
4.54
DCB Commercial Bank PLC
580
6.47
4.13
Bank of Africa Tanzania Ltd.
44
5.86
3.74
African Banking Corporation (T) Ltd.
31
5.49
3.51
I & M Bank Tanzania Ltd.
25
3.85
2.46
Exim Bank Tanzania Ltd.
13
2.93
1.87
KCB Bank Tanzania Ltd.
15
2.89
1.85
National Microfinance Bank (T) PLC.
16
2.39
1.53
Citibank Tanzania Ltd.
14
2.36
1.51
CRDB Bank PLC
35
1.34
0.85
Akiba Commerical Bank Ltd.
290
0.83
0.53
NIC Bank Tanzania Ltd.
1
0.25
0.16
First National Bank Tanzania Ltd.
2
0.23
0.14
TOTAL
2,784
156.50
100
Source: Bank of Tanzania
Rapid economic growth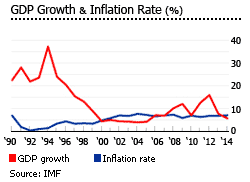 Tanzania has experienced strong economic growth in recent years, with an average real GDP growth rate of 6.8% from 2000 to 2013. In 2014, growth was estimated to have been a spectacular 7.2%, according to the IMF.  The economy is projected to grow by another 7% this year.
In October 2014, the country's overall inflation rate slowed to 5.9%, from 6.6% in the previous month and 6.3% in the same period last year, according to the Bank of Tanzania. This was a decline from an average inflation rate of 10% from 2006 to 2013, according to the IMF.
The current account deficit increased 2.1% y-o-y to US$4.68 billion during the year to end October 2014, according to the Bank of Tanzania.
The country's external debt reached US$13.71 billion in October 2014, an increase of about US$744.4 million from the previous year.
Tanzania - More data and information