South Africa's housing market accelerates
February 13, 2018

It has been a long wait. The country's house prices rose by only around 3.7% in 2017, according to the First National Bank (FNB), and in real terms significantly less  -  house prices declined by 2.4% in (after-inflation) terms, based on CPI data.  After 7% nominal growth in 2014, annual house price growth slowed to 5% in 2015, and to 4.8% in 2016. But in real terms there has been little to celebrate for a decade.

However, things are looking up.  The house price trend for the last few months of 2017 suggests that prices are recovering. The house price index rose by 5.47% during the year to November 2017, according to the FNB. When adjusted for inflation, the average house price rose by 1%, the second consecutive month of y-o-y real house price growth, following 0.24% growth in September. Prior to that, South African house prices had declined y-o-y in real terms for 16 consecutive months.

The previous weak performance of the housing market was mainly attributable to the country's weak economy. The central bank also tightened the mortgage market by raising the repurchase rate by about 200 basis points, from 5% in early 2014 to 7% in 2016.

The newly positive outlook for the housing market was reflected in ABSA's Homeowner Sentiment Index (HSI) for Q3 2017 with an overall score of 81%, up from 74% in the previous quarter. While country credit rating downgrades negatively affected property market sentiment for the first two quarters of 2017, improving macro conditions positively affected property market sentiment for Q3.

"After 3 years of slowing annual average house price growth, we believe that 2018 could see a slightly stronger growth rate, but would caution against expecting too much. From an average house price growth rate of 3.7% last year, we project the 2018 average to shift a little higher to nearer to 5%," according to FNB's Property Economist John Loos. However, Loos pointed out some risks that might affect the price growth such as the political uncertainty leading to the 2019 general elections, as well as credit rating downgrades.

Falling trend of foreign homebuyers
Property in South Africa is now dramatically less expensive for foreign buyers than six years ago. The rand has fallen from US$ 1 = ZAR 6.76 in July 2011, to US$ 1 = ZAR 13.12 in December 2017.

Despite that, home-buying by foreigners has recently declined, according to the First National Bank (FNB). From a peak level in Q4 2014, FNB's Foreign Home Buying Confidence Index ―an index reflecting the level of foreign buying on a scale of +2 (a lot more foreign buying) to -2 (a lot less), has gone down since 2015 and was in negative territory in four out of the last six quarters. As of Q3 2017, the index was at a slightly negative level (-0.01), indicating less foreign buying from a year ago. FNB attributed this to:

Weaker investor sentiment towards South Africa, due to the country's stagnation
Uncertainty about the country's future economic policy
Negative news, such as credit rating downgrades

Foreigners own around 3% of all South African properties, a proportion which is still growing, according to Tyson Properties' Sharon Cockerell Brown. Most foreign owners are based in Europe, mostly in the United Kingdom, as well as Germany, Italy, Holland, and France. There are also buyers from African countries such as Mozambique, Zimbabwe, Angola, Cameroon, and Nigeria. An increasing number of buyers from China and Dubai are also eyeing properties in the KwaZulu-Natal and the Durban area, according to Craig Hutchison, chief executive of Engel & Völkers Southern Africa.

Foreigners can own immovable property in South Africa without restriction. However, all foreign funds remitted to the country must be declared and documented. The property must also be endorsed 'non-resident', as a condition for repatriation of funds.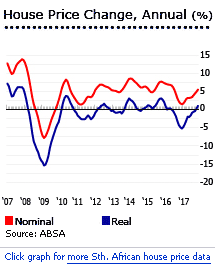 Non-resident investors have to pay Capital Gains Tax when they later sell their properties. The purchaser of the property is required to deduct a prescribed percentage from the proceeds of the sale and remit it directly to the South African Revenue Service before paying the balance to the seller.

The rand has partially reversed its losses in recent months. After reaching an all-time low of ZAR 16.36 = US$ 1 in January 2016, 29.3% down on a year earlier, it has gained around 24% against the US dollar, reaching an average exchange rate in December 2017 of ZAR13.12 = USD 1.