Nigeria's housing market depressed, amidst economic recession
February 20, 2017

Nigeria's housing market remains depressed, undermined by a combination of problems – economic recession, high interest rates, high inflation, rising unemployment, as well as worsening insurgencies. Demand has fallen sharply. House prices are also declining, especially in real terms.

InLagosIsland, house prices fell by 5.58% during 2016, after an annual decline of 25% in 2015 and y-o-y rises of 4.62% in 2014, 11.14% in 2013, 4.62% in 2012, and 28.87% in 2011. When adjusted for inflation, house prices in LagosIsland actually dropped a dramatic 18.17% during 2016.

On Lagos Mainland, average house prices rose by a modest 2.33% during 2016, a sharp slowdown from y-o-y growth of 20% the previous year, according to Residential Auctions Company (RAC). However due to high inflation, this translates, in real terms, into house prices dropping 11.3% y-o-y in 2016.

Lagos remains the most expensive city in Africa in 2016, according to real estate firm Savills, despite falling house prices and rents.

The average price of four- to five-bedroom houses in Lagos Mainland was NGN 75.51 million (US$239,900) in 2016 while similar properties in the LagosIsland cost around NGN 172.21 million (US$547,150), according to RAC.

The house price index in LagosIsland represents the high-end market in Nigeria. On the other hand, Lagos Mainland's house price index represents price movements in the mainstream market.

Demand is falling sharply in most Nigerian cities. "It now takes a longer time to conclude transactions, while in some cases, there are renegotiations on rents," said EmekaEleh, the former president of Nigerian Institution of Estate Surveyors and Valuers (NIESV). While the impact of the economic recession varies from one place to another, high-end properties, such as in Ikoyi, are the worst hit, Eleh added.

Land transactions in Lagos also dropped 30% in 2016 from a year earlier, despite cuts in various land transaction-related rates. In 2015, consent fees were reduced from 6% to 1.5% while the capital gains tax rate was cut from 2% to 0.5%, in an effort to spur property demand.

In 2017, house prices are expected to continue falling in most cities, but should then improve, beginning with Lagos.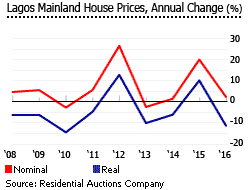 "The likelihood that house prices will continue to fall in most [cities] this year is very high," said RotimiAkinlose, the managing director of RAC."However, Lagos being the economic and financial base of the country will start to see house prices rise again across the board." Akinlose added.

The economy was estimated to have contracted by around 1.7% in 2016, after expanding by 2.7% in 2015, 6.3% in 2014, 5.4% in 2013, 4.3% in 2012, and 4.9% in 2011, according to the International Monetary Fund (IMF). Nigeria is expected to return to growth this year, with a projected GDP growth rate of 0.8%.