The property market in Mauritius continues to thrive, several years after the government decided to open up the island to wealthy foreign homebuyers.

In 2004, the government introduced the Integrated Resort Scheme (IRS), in an effort to boost direct foreign investment (FDI) into the country. Under the IRS, foreigners can purchase luxury villas of up to 1.25 arpents (5,276 sq. m.) each. As a property-owner, a residency permit is also granted, which is extended to the investor's family. A minimum investment of US$500,000 is required to obtain residency status.

Then in 2007, the government introduced the Real Estate Scheme (RES), allowing foreigners to buy cheaper, albeit still expensive, properties. Prices start from around US$300,000, although any real property valued at less than US$500,000 does not grant the coveted status of permanent residence. The RES allows small landowners to create clusters of mixed-size dwellings targeted at foreign investors.

The following entities qualify to buy real estate in the country under both schemes — a non-citizen of Mauritius, a company registered as a foreign company under the Companies Act 2001, a company incorporated under the Companies Act 2001 (local company), a Society where its deed is deposited with the Registrar of Companies, and a trust where the trusteeship services are provided by a qualified trustee.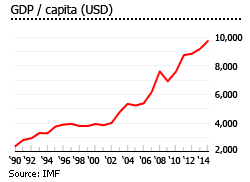 "The fact that the Mauritian property market was closed to foreign buyers until 2004 created a pent-up demand for homes, especially leisure property," says Jonathan Tagg of Pam Golding Properties.

"Until 2008 the only available properties were within IRS schemes, where prices were beyond the reach of most buyers. In late 2008 the government introduced the RES projects and property was available from $400,000. These new developments enabled buyers to acquire property in the popular towns of Grand Baie and Tamarin, which created an additional wave of interest which has driven the market," Tagg added.


Analysis of Mauritius Residential Property Market »