Madagascar (pop. 18,881,000; GDP/cap US$292) is the fourth largest island in the World after Greenland, New Guinea and Borneo. Its isolation in the Indian Ocean, with Comoros and Mozambique being its nearest neighbors, has allowed unique flora and fauna to flourish. There are roughly 200,000 species, a third of which exist nowhere else on the planet.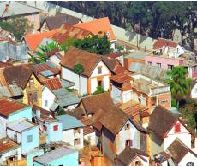 President Marc Ravalomanana is one of the few national leaders in Africa who seem to be genuinely liked by his constituency. Ravalomanana assumed power in 2002 after a six month tug-of-war between Ravalomanana and the incumbent, President Didier Ratsiraka after the national elections. Ravalomanana is a self made man, and began selling home-made yogurt off the back of his bicycle. His peddling grew into an established dairy and oil products business, making him the owner of the largest locally-owned company in Madagascar.

Even though the country is serious in fighting poverty, it remains one of the poorest countries in the world.

In 2004, legislation that allowed foreigners to own land was passed. Foreigners must invest up to US$500,000 in real estate, banking, and tourism sectors, for them to own land. A one-stop office was created to assist foreign investors in those sectors. Another choice is to lease land, which is allowed for up to 99 years. Despite these quite liberal policies, foreigners still find it hard to invest in the country because of bureaucratic obstacles.