Kenya's house prices are now falling rapidly, amidst political uncertainty
February 15, 2018

After seven years of strong house price rises, Kenya's residential property market is now slowing sharply, as political uncertainty persists after petitions have been filed before the Supreme Court to overturn Uhuru Kenyatta's victory in the October repeat election.

During the year to Q3 2017, the Hass Composite Property Sales Index, a measure of asking sales prices of residential properties, fell by 5.1%, in sharp contrast with a y-o-y rise of 10.4% during the same period last year, based on a report released by HassConsult Limited. It was the second consecutive quarter of y-o-y price declines after falling by 2.2% in Q2 2017.

Quarter-on-quarter, residential property prices dropped 1.8% in Q3 2017.

"Buyers are sensitive to risks associated with the political process and are therefore unlikely to make decisions until there is an end to this period," said Sakina Hassanali, Head of Development Consulting and Research at HassConsult.

The Hass index is based on 4,000 to 6,000 properties tracked across Kenya, which are collected from multiple estate agencies and all publicly available house sales, including in property magazines, property websites and the national media.

The average value of a residential property in the country surged to KES29.8 million (US$287,367) in September 2017, from just KES7.1 million (US$68,467) in December 2000 – equivalent to about 4.2 times increase, according to HassConsult. The average price for a 1-3 bedroom residential property is currently KES13.6 million (US$131,148). On the other hand, the average price for a 4-6 bedroom residential property is KES43.1 million (US$415,622).

Several Nairobi suburbs registered nominal house price rises. Muthaiga, Nairobi's long-established Beverly Hills, registered a rise in house prices of 12.5% during the year to Q3 2017, followed by Loresho (8.9%), Langata (7.6%), Nyari (6.5%), Kitisuru (4.6%), Gigiri (4.6%), Spring Valley (2.6%), Karen (2.1%), Eastleigh (1.5%), Ridgeways (1.4%), and Runda (1%). However when the 7.06% inflation rate in end-Q3 2017 is taken into consideration, real house prices in most Nairobi suburbs have actually declined year-on-year during the period.

Among the capital city's suburbs, Kilimani, one of Nairobi's affluent neighborhood, registered the biggest decline in nominal house prices of 9.2% during the year to Q3 2017, followed by Upperhill (-9%) and Kileleshwa (-8.3%). Minimal house price declines were also seen in Lavington (-1.9%), Parklands (-1.6%), Donholm (-1.2%) and Westlands (-1.1%). The decline is obviously bigger when adjusted for inflation.

In Kenya, most property purchases are for cash. Because of this, the mortgage market remains underdeveloped. In 2016, the size of the mortgage market was equivalent to just over 3% of GDP and there were fewer than 25,000 mortgage loans outstanding – highlighting the inaccessibility of housing finance.

Political uncertainty is now adversely impacting the housing market. Uhuru Kenyatta, the son of Kenya's founding president Jomo Kenyatta, took up his father's mantle to become head of state in April 2013. He was re-elected for a second term in the August 2017 general election, but after opposition protests the Supreme Court declared the election null and void because of irregularities. Kenyatta was also declared winner of the October re-run, which was boycotted by the opposition. Currently, petitions to overturn Kenyatta's victory in the October repeat election are pending before the Supreme Court.

Yet Kenya's economy remains robust. In 2016, the economy expanded strongly by 5.8%, slightly up from a 5.7% growth in 2015, according to the International Monetary Fund (IMF), making it one of the fastest-growing economies in Sub-Saharan Africa.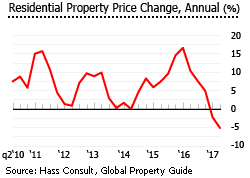 In Q2 2017, the economy grew by 5%, after growth of 4.7% the previous quarter and 6.3% during the same period last year, according to Kenya National Bureau of Statistics (KNBS). The economy is projected to expand by a healthy 5% this year and by another 5.5% in 2018.

Foreigners can freely buy 'commercial class' land in Kenya. This type of land is for income or revenue-making purposes.