Ghana's housing market is gaining momentum, as its economy booms
Lalaine C. Delmendo | October 25, 2019

After years of lacklustre growth, Ghana's housing market is now gaining momentum, boosted by strong economic growth, and the influx of non-resident Ghanaians and foreign homebuyers, according to local real estate experts.

"Ghana's economic growth and increasing supply of prime real estate assets make it one of Africa's most interesting markets for investors," said JLL. "The capital, Accra, is well placed as a hub for business and travel in West Africa and we expect a pick up in the real estate market to reflect that in the mid-term."

Ghana is predicted to become the world's fastest growing economy this year, with an estimated GDP growth of 8.8% - double the pace of the emerging economy average and well ahead of world growth, according to the International Monetary Fund (IMF).

Demand is stable, especially in the high-end market. Based on figures from Broll Ghana, there have been about 85,000 residential property transactions, for both sales and rentals every year, over the past decade.

Ghana has seen a steady stream of European and American passport holders of African descent arrive at Kotoka International airport in recent years, as a response to the country's resource boom and strong manufacturing growth. They collect their possessions from shipping containers at Tema port and search for homes in Accra's popular residential areas. They come for what seem like the limitless opportunities in what has often been seen as one of Africa's best-run countries. Ghana's mining sector, specifically gold mining, has witnessed a massive influx of multinational mining companies – increasing the demand for expat accommodation further.

Accra, the capital, has undergone major transformation, witnessing a number of luxury gated villa developments, high-end apartments, western styled retail developments, and five-star hotels over the past decade, according to Broll Ghana. Currently, prices for fully-furnished three-bedroom houses in Accra range from US$100,000 to US$500,000 – about 15% higher than in rest of Ghana.

Most high-end residential properties are in Accra's traditional prime nodes: Airport Residential Area, Cantonments, Labone, Roman Ridge, and Ridge. However the newer residential communities in Airport Hills, Burma Hills, East Legon Hills and East Airport are becoming increasingly popular.

Penthouses and townhouses are the most expensive property types in Accra, with their sales prices ranging from US$450,000 to US$2.5 million in the first half of 2019, according to Broll Ghana. For high-end apartments, the average sales price currently ranges from US$85,000 to US$620,000.

JLL warns that Ghana remains a relatively risky prospect for investors. "The primary risks for all African investments are currency weakness which stems from poor fiscal management by the government and an over-reliance on the export of commodities to support fiscal buffers," said Tom Mundy of JLL EMEA.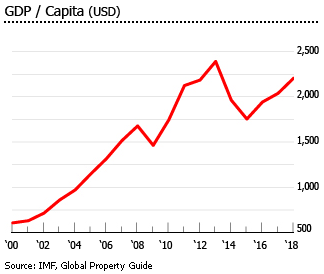 There are no restrictions on foreigners buying property in Ghana. However, there are four forms of land ownership, some of which cannot be privately owned. Each involves differing modes of acquisition. These are: Government Land, Vested Land, Customary/Stool Land, and Family/Private Land.

Potential buyers should first consult the Ghana Investment Promotion Center regarding procedures, and to be directed to the appropriate agencies involved in legally acquiring property, since identifying legal ownership can be a problem.