Cape Verde's tourism numbers are up
April 12, 2017
The tourism sector has been key to Cape Verde´s growth. And despite the fear brought by the Zika virus and sluggish growth in Europe ― where most tourists come from, Cape Verde´s tourism sector remains robust, welcoming around 644,000 tourists in 2016.
Tourist arrivals were up by 13.2% in 2016, according to the National Statistics Institute (INE), Cape Verde. The rise brought direct contribution of travel and tourism to around 17.2% of Cape Verde´s GDP in 2016, and total contribution to around 44.5% of GDP, according to the World Travel & Tourism Council´s (WTTC) 2017 report. 
Tourism in the country has rapidly grown in the last decade, with tourist arrivals rising from 150,000 in 2003 to around 569,000 in 2015.
Most of Cape Verde´s tourists came from the United Kingdom (20.5%), Germany (11.1%), Portugal and France (both 10.1%). These tourists mostly visited the island of Sal, accounting for around 45.6% of hotel entries, and Boa Vista (31.6%).
"The fact that Cape Verde is experiencing a tourism boom tells us there is a continued demand for holiday rental properties, from private villas right through to beachfront holiday resorts," according to Rich Moore, UK sales director for The Resort Group, in OPP Today.
On March 16, 2017, Cape Verde´s first casino was officially opened. Casino Royal, a €5 million-project attached to the Hilton Hotel located on Santa Maria on the island of Sal. The casino is expected to employ more than 80 people.
In February 2016, Macau Legend Development, a Macau-based casino and hotel operator, also started constructing a €250 million casino resort on Praia on Santiago Island. The introduction of gambling in Cape Verde was seen by the government as a chance to further boost the country´s attractiveness.
The government also signed a memorandum of understanding with Spain in January 2017 covering a wide range of assistance to enhance Cape Verde´s air and sea transport facilities and infrastructures.
French business groups are also studying investing in the country.
"In the first week of next year (2017), we will receive a visit from three or four big French companies, in the second week, we will have other companies, notably related to maritime transport," said Prime Minister Ulisses Correia e Silva.
The Cape Verdean government is also studying the possibility joining the Schengen area, an agreement among 30 European countries that allows the free movement of people between the member countries.
Zika virus scare has ended
After a sudden and significant outbreak in 2015, the Zika virus appears completely under control.  Since June 2016 no more cases have been observed.
National director for health Tomas Valdez attributed the fall to a series of public health campaigns. "The epidemic has been progressively curbed", according to Valdez. "In January suspected cases went down, in February and March even more, and in the last week we have counted just four cases, with zero cases some days".
On October 21, 2015, the World Health Organization (WHO) had been notified of the first reported outbreak of the Zika virus infection in Cape Verde. The U.S. Centers for Disease Control (CDC) then issued a Level 2 travel alert (Practice Enhanced Precautions) on Cape Verde and other Zika-affected countries in January 2016. Pregnant women, in particular, were advised not to travel in the affected areas.
"Cape Verde has historical links with Brazil and it seems very likely it has got there from Brazil," explained Zika expert Nick Beeching of the Liverpool School of Tropical Medicine.    
Cape Verde´s attractions
Unlike some other countries in the region there is hardly any malaria, the climate is consistent year-round, varying from 22 to 30 degrees celsius, there is (comparatively) little poverty and no political or religious strife.
Sal, known as "the sunniest island" in Cape Verde, receives most tourists, since it houses the country´s sole international airport capable of accepting charter flights from Europe. Its hotels accommodate almost half (46%) of total overnight stays in Cape Verde. It has Africa´s longest runways, and is undergoing a large amount of infrastructure work, ranging from roads to luxury developments.
Boa Vista island now has around 3,000 hotel rooms, similar to Sal, mostly in the five star category.
Efforts are also being made to encourage vacationers to visit other islands, which include São Vicente with its lively capital Mindelo, the hilly and scenically attractive Santo Antão and the volcanic island of Fogo.
The capital city, Praia, on Santiago Island, is not yet considered a top destination, but the island contains a World Heritage Site and beach facilities are being improved. In mid-2000s, a new airport was also built in the capital to accommodate the influx of travellers, both business and leisure.
Stable politics; MPD won parliamentary elections after 15 years
Aside from beaches and good weather, Cape Verde has another plus: it is politically very stable.  In fact it experienced a near-miraculous journey to Africa´s best-rated democracy.
A Marxist one-party state was established following independence in 1975. But in 1991, after pressure for a more pluralistic society, multi-party elections were held. Since then, the then-ruling party (African Party for the Independence of Cape Verde [PAICV]), and the opposition (Movement for Democracy [MPD]) have alternated in government.
Elections are free and fair, the rule of law is respected, and there is press freedom. Freedom House grants Cape Verde rankings of "1" for political rights. and "1" for civil liberties, the only African country with this status. Cape Verdean property law, which derives from Portuguese colonial rule, is one of the best in Africa. Cape Verde maintains close links with Portugal and the Euro zone. Special partnership status has been granted by the EU, and in 2008 Cape Verde joined the World Trade Organization.
Such gains cannot be taken for granted, however. Cape Verde was only in second place, next to Mauritius, in the 2016 Ibrahim Index of African Governance (IIAG). The country totalled 73 points, 1.9% higher than in 2006, based on four criteria: Safety and Rule of Law, Participation and Human Rights, Sustainable Economic Opportunity and Human Development.
The MDP emerged as the victor in the country´s parliamentary elections in March 2016. The MPD, which took back the power enjoyed by the PAICV for 15 years, won around 40 seats in the parliament. The PAICV got 29 seats, while the Democratic and Independent Cape Verdean Union (UCID) won three seats in the parliament. Ulisses Correia e Silva, MPD´s leader, replaced former prime minister José Maria Neves, and sworn into office as Cape Verde´s new prime minister in April 2016.
President Jorge Carlos Fonseca of the MPD managed to retain his post, after being re-elected during the October 2016 presidential elections. President Fonseca won his second term with an overwhelming victory of 74.1% of the total votes, against independent candidates Albertino Graça (22.5%) and Joaquim Monteiro (3.4%).
More incoming property development projects
In the next few years, an upsurge of new hotels is expected in Cape Verde. In 2016, hotel company Meliá Hotels International, announced that it will add five more hotels within the Cape Verde archipelago in the next five years. The first two hotels were the Melia White Sands Hotel & Spa in Boa Vista, and Meliá Salamansa Hotel in Salamansa. The two 5-star hotels have a total of 1,097 rooms (835 rooms in Melia White Sands and 262 rooms in Meliá Salamansa) and are expected to open in 2018. Santiago Island will be the home of a resort comprised of the three other Melia hotels, the Meliá Lusofonia Resort & Spa, Meliá Lusofonia and Meliá Lusofonia Residences, which are projected to have a total of 600 rooms. The three hotels are expected to open between 2019 and 2020.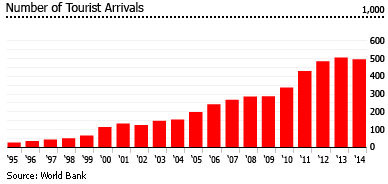 Meliá Hotels International currently has three hotels in Sal namely: Meliá Tortuga Beach Resort, Meliá Dunas Beach Resort & Spa, and the newly opened Meliá Llana Beach Resort & Spa.
After forging a partnership with Meliá Hotels International, The Resort Group, Cape Verde´s leading developer will be partnering with Hilton Hotels & Resorts to build two new Hilton Hotels: one in Boa Vista, and another in Praia, Cape Verde´s capital. The Hilton development in Boa Vista will consist of 400 rooms, and other amenities such as a spa, swimming pools, gym and water sports centre, shops, bars, and restaurants. The Hilton Praia will contain 201 suites and guestrooms, and will be built near the Nelson Mandela International Airport (RAI) and the Port of Praia.
The Thomas Cook Group also expressed opening its own brands of hotels in Cape Verde during the last quarter of 2016. The New Horizons Hotel and Resorts complex, which will house the two hotels "Sunwing-Family Resorts" and " Sunprime Hotels", was officially launched in October 2016 and is expected to open in winter of 2017/2018, as reported by Turisver. The resort complex will be constructed on the Island of Sal, and will offer a total of 600 rooms.
In early 2017, Belgium´s Rezidor Hotel Group announced that they will be opening their first Cape Verde resort on the island of Sal. The Radisson Blu Beach Resort, which is projected to open in Q3 2019, will have 240 guest rooms, two restaurants, four bars, a wellness spa, swimming pools, lounges, and a conference center.
Robust economic growth to continue in 2017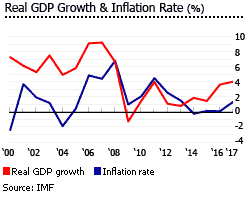 Cape Verde´s economy has posted strong growth for the fourth consecutive quarter in Q3 2016. Cape Verde´s GDP went up by 4% during the year to Q3 2016, beating the previous quarter´s 3.8% y-o-y growth and up from 1.1% y-o-y contraction in Q3 2015, according to the National Statistics Institute (INE), Cape Verde.
"The better dynamics of economic activity was due to decisive contributions, on the supply side, from the public administration, agriculture, and accommodation and catering sectors", according to the Bank of Cabo Verde´s (BCV) Monetary Policy Report in October 2016. The BCV also noted that on the public sector side, the growth of current expenditures slowed and investment sharply contracted, "reflecting possible administrative constraints related to the change of government and the phasing- out of the public investment program".
In 2016, the economy was expected to have grown by 3.6%, and predicted to further rise by around 4% in 2017, according to the IMF. The country´s economic growth was slower from 2012 to 2015, with growth of 1.1% in 2012, 0.8% in 2013, 0.6% in 2014, and 1.1% in 2015, based on the figures from the INE Cape Verde.
Growth in gross domestic product (GDP) per capita averaged 7.1% between 2005 and 2008, well above the average for sub-Saharan Africa. From 2002 to 2010, the national poverty headcount rate dropped from 37% to 27%, while the extreme-poverty rate dropped from 21% to 12%. Unemployment was at 12.4% in 2015, down from 15.8% in 2014, 16.4% in 2013, and 16.8% in 2012.
Prices in Cape Verde are deflating, as inflation stood at -0.4% in January 2017, an improvement from -1.2% in January 2016.
Moderate interest rates; ballooning public debt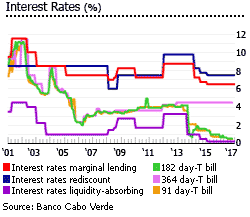 In an attempt to stimulate the economy, the BCV reduced its key interest rate by 25 basis points to 3.5% in February 2015. Reserve requirements were also cut to 15% from 18%.
Mortgage loans, which had the largest share of loans to individuals (70% of total loans to individuals), were up by 2.2%, according to the Bank of Cabo Verde (BCV) 2015 Financial Stability Report.
In March 2014, credit rating agency Fitch Ratings lowered Cape Verde´s credit rating by a notch to B from B+, noting that public sector debt reached around 125.8% of GDP in 2015 according to the IMF. The Public Investment Programme, although it addresses Cape Verde´s infrastructure needs, was seen by the IMF as a contributor to the significant rise of public debt in the country. However according to Finance Minister Olavo Correia, the country´s public debt, the highest in sub-Saharan Africa, "presents no risk" since it is "exclusively subsidized".
Although the IMF sees a positive economic outlook for Cape Verde, it indicated that "growing debt and weak economic growth associated with the appreciation of the dollar have increased the debt risk" of the country.
In August 2016, Finance Minister Correia announced that the government will implement measures to cut public debt and budget deficit, including an increase in tax revenues and reduction of public expenditures.
The Homes for All Program: still 50% below the target and a debt restructuring plea to Portugal
Cape Verde has been keen to use the fruits of tourist development to pursue social goals, drawing up a series of measures to promote social housing across the country. In 2009 it formed the Casa Para Todos (Homes for All) Program to reduce the national housing deficit, which now stands at 40,776 dwellings in terms of quantity and 66,013 dwellings in terms of quality.
Subprograms include the Habitar CV Program, which aims to build about 8,496 housing units; the Pro Habitar program to build at about 1,000 homes in rural areas; and Reabilitar to rehabilitate approximately 16,000 households. The target of constructing more than 8,000 housing units was later reduced to around 5,920 housing units due to changes in the banking access model and the policy of resolvable incomes for the needy families as reported by the Expresso das Ilhas newspaper.
The implementation of the project was mainly financed by a credit line from the Portuguese government of around €200 million (US$ 214.74 million), but also required the government of Cape Verde to co-finance around 10% of the total amount of the project. However, the project, managed by the Imobiliaria, Fundiária e Habitat (IFH), later brought "financial difficulties" to the company, which made it difficult for the government to pay the agreed 10% co-financing contribution. Cape Verde ended up not receiving the full financing amount from Portugal, as the latter closed the credit line in January 2015. At end of April 2015, contractors and subcontractors decided to halt more than 30 construction works due to lack of payment. A year later, the IFH was reported to be "in technical bankruptcy" with a debt of more than CVE 2 billion (€18 million), according to Infrastructure Minister Eunice Silva.
In 2016, it was revealed that although around 83% of the €200 million were already consumed, the number of completed dwellings are still less than half of the proposed target. As of August 2015, there were 2,188 apartments ready and the process of property registration has been concluded, according to the National Political Commission spokesman Moisés Borges. About 843 families are benefitting from the program, which has an occupancy rate of 65%. 
In February 2017, Prime Minister Ulisses Correia e Silva was reported to have been negotiating a possibility of a debt restructuring with Portugal. While the prime minister hopes for an optimal result of debt relief from Portugal, a partial relief would also be "very good". The management of the houses built under the program (Class A) was recently transferred to the municipalities where these houses are located.
Cape Verde - More data and information