Botswana's property market offers huge growth potential
August 02, 2017
Botswana's residential property market remains largely underdeveloped, but seems to offer huge growth potential. Because of the absence of official and timely house price statistics in Botswana, it is difficult to analyse the market, but local real estate experts say that house prices in the country have continued to rise in recent years.
The relative lack of housing supply has led to high rental yields in Botswana, according to research conducted by Global Property Guide suggesting that yields of 6.5% to 9.5% can be enjoyed on residential property in Gaborone and Francistown. This is supported by a recent research conducted by Centre for Affordable Housing Finance in Africa (CAHF), which shows that rental properties in the city centre currently offer high gross rental yields of 7.9%. Residential properties located outside the city centre also offer healthy rental yields of about 5.5%.
The price of a newly built house measuring 60 square metres (sq. m) starts at BWP370,000 (US$36,000) in 2016, while the average rent for a residential property stood at US$315 per month, according to the CAHF.
Botswana is rated the most attractive investment destination in Africa by the Africa Investment Index 2016 published by Quantum Global Research Lab, due to its improved credit rating, favourable current account ratio, import cover, and ease of doing business.
Botswana is also considered one of the freest economies in the region by Heritage's 2017 Index of Economic Freedom. The government's regulatory environment encourages growth and openness to trade and foreign investment.
The Botswana Government actively seeks out foreign investment and is happy to sell land to foreigners. Only tribal land and state land cannot be sold to foreigners, and in most areas of Gabarone (and indeed Botswana) land can be bought.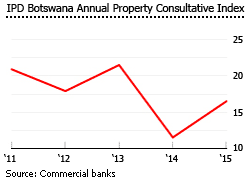 According to the World Bank, it takes about 12 days to register a property in Botswana in 2016, compared to an average of 57.5 days for sub-Saharan Africa. The process costs around 5.1% of the value of the property. To increase tenure security and improve transparency on land and property ownership, the Ministry of Lands and Housing is implementing a nationwide land registration system.
According to the IPD Botswana Annual Property Consultative Index, which is published annually by investment research firm MSCI, the total return for all properties (residential and non-residential) in Botswana stood at 16.5% in 2015, from annual returns of 11.5% in 2014, 21.5% in 2013, 17.9% in 2012, and 20.9% in 2011. For residential properties, total returns stood at 6.4% in 2015. The income return for residential properties was 4.1%, whilst the capital return was 2.2%.
Both demand and property values in Botswana are expected to continue rising modestly this year, amidst improving economic conditions, according to local property experts.
According to Lloyd Sungirirai of real estate investment and development company Vantage Properties, the residential real estate market remains upbeat, with demand for low to mid-income properties expected to be very high, amidst inadequate supply. However, Sungirirai noted that the tightening of lending criteria, and the rising popularity of unsecured credit, hinder the growth of the real estate market.
Botswana's economy grew by 2.9% in 2016 from a year earlier, an improvement from a contraction of 1.7% in 2015 but still far below its average annual growth rate of 6.9% from 2010 to 2014. The economy is projected to grow by a healthy 4.1% this year and by another 4.2% in 2017, according to the International Monetary Fund(IMF).
Interest rates continue to fall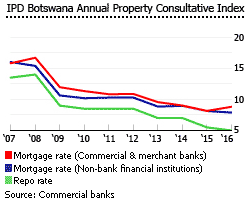 The average mortgage rate of commercial and merchant banks was 8.81% in January 2017, down from 8.99% in the same period last year, according to the Bank of Botswana. On the other hand, non-bank financial corporations offer slightly lower mortgage rate at an average of 7.88% in January 2017, down from 8.13% a year earlier. This is far below the mortgage rates between 15% and 17% seen in 2008.
The repo rate has been continuously falling in recent years, from 14% in 2008 to just 5% in 2016. In February 2017, the repo rate was held unchanged at 5%.
Mortgage market remains underdeveloped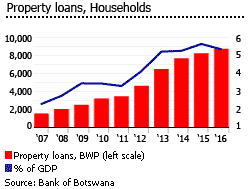 Botswana's mortgage market remains underdeveloped since bulk of household lending is made of unsecured credit. The mortgage market accounted for about 5.35% of GDP in 2016, up from 4.14% in 2012, 3.46% in 2009, and 2.32% in 2007.
The value of outstanding property loans increased by 6.3% in 2016, down from a 7.2% growth in 2015 and far below the annual average growth of 26% from 2008 to 2014 (a change partly accounted for by lower inflation).
In January 2017, total outstanding property loans to households rose again by 5% to BWP8.72 billion (US$849 million) from the same period last year, based on figures from the Bank of Botswana.
There were about 20,000 outstanding mortgages in the country in 2016 and the average size of mortgage loans amounted to US$50,500, according to the CAHF. Mortgages are available for up to 25 years, with a requiredminimum downpayment of 18% of the assessed property value.
There are ten commercial banks in Botswana, including Barclays Banks, Stanbic Bank, Standard Chartered Bank, Bank Gaborone, First National Bank, Capital Bank, Bank of Baroda, Banc ABC, State Bank of India and Bank of India - plus two other deposit-taking institutions, the Botswana Savings Bank and the Botswana Building Society. All, except Capital Bank, offer mortgage loans.
Government-sponsored housing
The supply of ready-built housing units in Botswana is very low in all market segments, with most people building their houses on their own. Over 50% of households in the country live in their own self-built houses while 42.5% live in rental or institutional accommodation, according to the 2009/10 BCWIS. This implies that only 3.3% of households live in a house they purchased.
In an effort to solve the housing shortage, the government established the Botswana Housing Corporation (BHC), which is now the country's primary housing developer. Currently, the BHC offers large estates of flats and townhouses, , mostly in Gaborone and Francistown, and a mix of high, medium and low income houses.
BHC's housing units are typically offered to low-income households at interest-free loans, repayable over a period of 20 years. BHC's smallest housing unit, measuring 58 sq. m on a plot of 400 sq. m or larger, is priced from BWP600,000 (US$58,413) with a minimum mortgage installment of BWP5,500 (US$535).
Economy improving, as diamonds rebound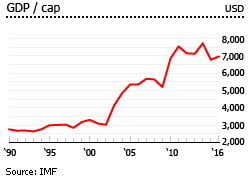 After the discovery of three of the world's richest diamond mines within its territory, Botswana experienced the world's highest average growth rate from 1966 to 1999, transforming itself into a middle-income country with a per capita GDP of almost US$7,000 in 2016. Real GDP per capita grew by more than 240% from 1980 to 2005, the highest in Africa and one of the highest growth rates in the world.
Since then, the economy has become mainly dependent on mining; it is the world's biggest diamond producer by value. Diamond mining accounts for about a third of GDP and 75% of all exports. The export of diamond and other minerals such as copper, nickel and gold have made Botswana one of the most prosperous African countries.
After contracting by 7.7% in 2009 due to the global financial crisis, the economy rebounded quickly in the following year with real GDP growth of 8.6%. Good management of public finance has resulted in budget surpluses in recent years.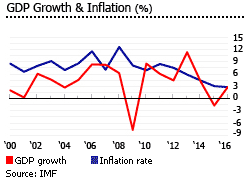 Botswana's economy grew by 2.9% in 2016, after contracting by 1.7% in 2015, thanks to an increase in diamond production. However, it is still far below the economy's average annual growth rate of 6.9% from 2010 to 2014.
Diamond production increased 20.8% in Q4 2016 from the previous quarter and by 14.3% when compared to a year earlier, according to the Central Statistics Office (CSO). The mining production index stood at 82.4 in Q4 2016, up from 74.4 the previous quarter and 77.9 in the same period last year. 
Debswana Diamond Company, a partnership between the government of Botswana and De Beers Group of Companies, produced 20.9 million carats of diamonds in 2016, up from 20.4 million carats in 2015. Moreover, diamond sales reached 26.3 million carats in 2016 generating BWP40 billion (US$3.9 billion), compared to just 14.7 million carats sales in 2015 that generated BWP24 billion (US$2.3 billion). 
The economy is projected to grow by a healthy 4.1% this year and by another 4.2% in 2017, according to the IMF.